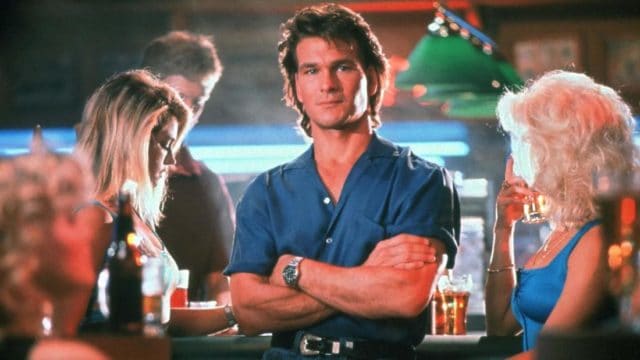 If you happened to like the movie Road House then by all means you had good taste in 80's action movies. But if someone decided to give you grief for it then oh well. The 80's were kind of an odd decade for movies in some ways but the action, no matter how unrealistic at times, was flat out spectacular and was that hard-hitting, no-nonsense type that didn't need all the flashy, spinning kicks, even though some did have them, to get the point across. CGI wasn't as big of a thing back in those days and hadn't taken over yet, it was just men, and sometimes women, duking it out to settle their problems and eventually end things once and for all. Road House was one of the leaders in the minds of many people when it came to action and to the overall story, though it was pretty simple and didn't offer a whole lot of challenge. That was the draw of it though, you didn't have to think, you just had to watch. While some people might call this lowbrow when it comes to cinema, the whole idea of going to the movies is just to kick back, relax, and enjoy the film. If you have to think about an action movie and what they're still hiding then chances are it's not as simple as it probably should be.
Granted, it's okay to have plot twists and mind-bending revelations in an action film that make you almost jump out of your seat. But in the 80's these weren't always the desired fare that people wanted to see. If you wanted an action movie it meant that you wanted something that wouldn't challenge you and would just show you what was going on rather than keeping a lot hidden until the very end. Movies like Road House were up front and to the point and didn't bother with a lot of hidden meaning within the movie.
That's one reason why they were so popular.
5. Bloodsport
Whether or not Frank Dux is being completely honest about his role in the famed Kumite or about being trained by Senzo Tanaka is hard to really know for certain without having been there when he was a younger man. What is known however is that the story he told was the basis for this movie. Going AWOL to participate in the Kumite would have been a serious offense that would have been more likely to bring the US military down on him a lot harder than is shown in the movie, but the film itself was quite impressive since it featured Jean Claude Van Damme in one of his best roles ever.
4. Lethal Weapon
How can you possibly say no to this one? Lethal Weapon wasn't based on a true story and didn't have to fabricate anything really to be entertaining. Mel Gibson never attempted to convince people that he was anything but an actor and Danny Glover was a perfect actor to partner him up with as the relationship between these two men goes from reluctant partners to the eventual friendship that forms by the end of the movie. Obviously they had some sort of chemistry as the film produced three sequels and a TV show.
3. Above the Law
In a lot of his movies Steven Seagal is seen to act outside the parameters of the law and to simply break bones and cripple people. He's been very vocal about what he can do and what his skill set is over the years and has even gone so far as to talk about other martial artists and why their styles are less effective than his own. As the years have gone by however his movies are still great, but his claims about his fighting prowess have began to be questioned by a lot of people.
2. Mad Max: The Road Warrior
As movies go this one is just down and dirty. The main protagonist isn't left untouched as he takes his fair share of beatings along the way and is forced to struggle just as much as everyone else. Mel Gibson made this role his own without much difficulty as he became the man known only as Max, the reluctant savior that wanted nothing to do with other people after the world ended. Of course if one wants nothing to do with society it usually happens that society ends up needing them in some fundamental way.
1. Over the Top
This movie was seriously underrated in its time and even now. It might not be as action-packed as the other movies but the main point of it is possibly a lot more positive than several other movies. Lincoln Hawk is a man that lives on the road and does his best to survive and to make sure that his son is taken care of. When he has to try and reconnect with his son however things tend to get a little messed up. But when he starts fighting to keep his son in his life he finally finds a purpose and a way to fight back so that he can provide for his kid and himself.
There are a lot of 80's movies that are still pretty great. These are just a few of the best.