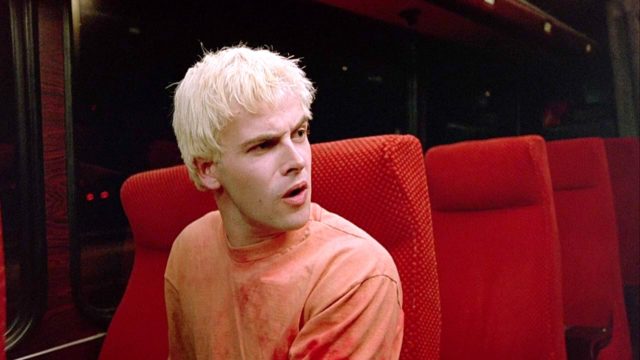 Jonny Lee Miller is one of those performers whose presence on screen can never be overlooked. Always polished, often with more than a touch of sophistication, the third generation artist who 20 years ago was known as the guy married to Angelina Jolie, has since managed to build a solid fan base entirely in his own right. Despite his archetypal British looks he has proved to be strikingly versatile, inhabiting successfully a range of personas from Sherlock Holmes to heroin addict and anything in between.
Here are the top five feats of his illustrious career so far (in no particular order)
1. Endgame – 2009
Miller earned accolades for his top form in this political thriller with suspenseful plot based on real-life events unfolding towards the end of the Apartheid era in South Africa. Wearing glasses, suit and his best English accent he is convincing as Michael Young, a company man turned negotiator, thrown deep into the midst of the South African townships rocked by fervent political struggles. Conscious that he playing a real person, Miller researched the role diligently. The result was satisfying for fans and critics alike.
2. Hackers – 1995
Everybody interested in trivia knows that Miller met his future wife Angeline Jolie on the set of this fast-moving, cool-looking, computer-age adventure. The couple certainly displayed great on- screen chemistry as possibly the cutest geeks in 1990-s. As a whole, despite its naivety, the film turned out to be a precursor to Miller's and Jolie's respective careers (as well as romantic entanglement) and a whole lot of techy innovations which were still to come in the real world.
3. Dark Shadows – 2012
Miller had wanted a chance to work with Burton for a while, and got his wish (in addition to a now famous comb over wig) in this gothic comedy – with great results. He entered the fantasy world of Tim Burton through the part of Roger Collins, an offspring of a vampire played by Johnny Depp.
4. The Flying Scotsman – 2006
The actor's task here was a particularly difficult one as he had to portray a much loved figure – the champion Scottish cyclist Graeme Obree who achieved success on the background of great personal struggle, having been plagued by bouts of severe depression throughout his life. Miller plays the part of the working class maverick with great sensitivity and depth, providing insight into the inner world of a complex man who was tough and vulnerable in equal measure.
5. Trainspotting – 1996
It is almost inevitable that in any list of Jonny Lee Miller's achievements the crown should always go to the legendary comedy drama. His Sick Boy is among the cult movie characters of the 90-s and epitomizes the energy of the decade — wild, youthful, wacky. Bond films buff, heroin-user, but also quitter, purveyor of quotes about everything – art, love, relationships, Miller's Sick Boy is charming in his very own slightly possessed way and carries a big wave of the frantic energy that helped to propel the movie into the stratosphere of all-times British favorites. Miller did his homework on the part so brilliantly that he was virtually indistinguishable as the only non-Scottish member of the main cast.