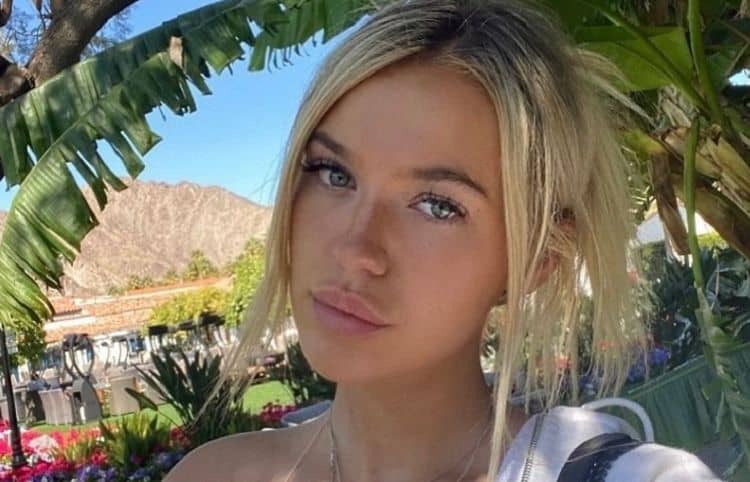 Kate Haralson is one of those women who made herself marginally famous by using the TikTok platform. She dances and shows off photos of herself as well as short clips, and fans love her. However, she found a lot more fame when she was allowed onto the secretly selective Raya app, which is a dating app for celebrities. It's not technically that kind of app, but it really is an app like that. Page Six calls it "the exclusive app for influencers, artists, and A-through C -list celebrities looking to find love, a fling – or maybe even an agent," and it's where Kate Haralson – influencer – matched with Matthew Perry – celebrity. Then, she did the worst thing possible – she talked about it. So, who is she?
1. She Matched with Matthew Perry
She was only 19 at the time, and he was 51. It's a large age difference, and the influencer thought it was just a joke. However, he kept asking her questions, and he even FaceTimed her to talk to her about things. She talked about it, and that was the thing that did not go well for her.
2. She's Been Kicked Off the Dating App
The rules of the game are very simple. You get onto Raya, and you don't talk about it to anyone. You don't share anyone's identities or who they are. You don't talk about matches. You don't say a word about it to anyone, and she shared a video – now deleted – of herself having a FaceTime conversation with Matthew Perry. She violated the terms, and she was removed from the app.
3. She is Being Called a Bully
A lot of people are calling her a bully for posting videos like the one she did, but she doesn't see it that way. She sees it as her making a point to tell young women to watch out for these older men who are looking actively for very young women who could be their own children. It's gross.
4. She is Confident
Most of her photos online involve wearing as little as possible, and that tells us that she is very confident in her body and with her life. She puts herself out there and does so without worrying what anyone else will think of her, and that is a good quality to have. May she never lose that.
5. She Says Matthew Perry is a Nice Guy
While she did upload a video of him asking her all kinds of questions via FaceTime, she did mention that he is a very nice guy. She clarified that he did not ask her to do anything inappropriate nor was he creepy or mean in any capacity. She said he is very nice, and that he seems like a great guy. She just thought it would be a joke to match with someone that much older than she is.
6. Her Match is Not Recent
While many people are wondering what happened with this situation, we should clarify that this happened May 2020. The young influencer was 19. The star was 51. He was briefly on a break from his fiancé, Molly Hurwitz, when this happened. He did not cheat on his fiancé, and she was not the reason that they called off their engagement at the time.
7. She's Become Friends with Another TikTok Star
When another young woman matched with Ben Affleck on the app in recent months, she came forward to say that it was a little creepy. She unmatched herself with he star, and he then continued to send her messages asking why she unmatched him and trying to prove it was him and not someone faking it. The two young stars have been in contact over their own experiences with these much older men.
8. She is a Personal Assistant
Kate Haralson might be doing well online, but she has not made it to the kind of influencer famous that allows her to do all the things she wants to do in life. She still works for someone else, and she is their personal assistant. We don't know what she does, and we don't know who she assists, but she does have a day job.
9. She Doesn't Have a Ton of Followers
Some people are wondering if she came forward with this so that she could grow her social media following. She has fewer than 10k followers on Instagram, which means she's not yet a micro-influencer. Some are wondering if this is her way of seeing if she can gain some more followers and launch her internet career.
10. She Loves Animals
She often shares photos of her dog and her cat, and they are darling. She seems to have a love for animals, that's always a positive thing. She calls her dog her little bunny, and he is definitely a sweetie.
Tell us what's wrong with this post? How could we improve it? :)
Let us improve this post!