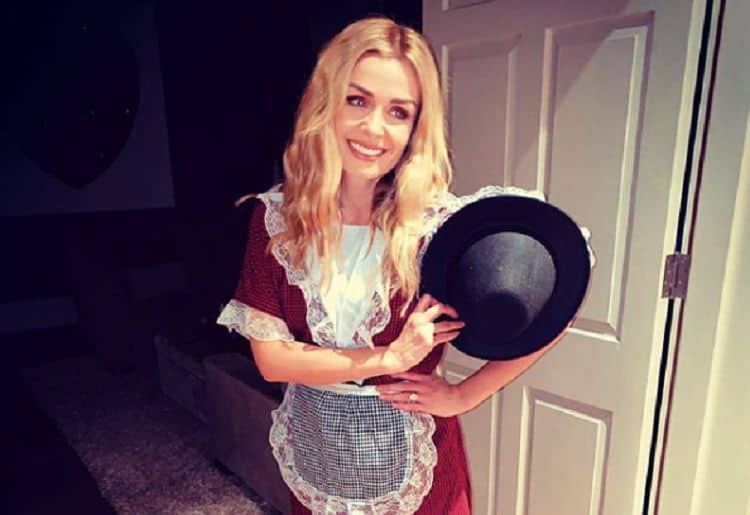 Katherine Jenkins is a Welsh classical singer who performs as a mezzo-soprano. She is considered to be one of the most successful classic singers to have come from the UK. Here are ten things about her that you may not know.
1. She Was Born In Neath
She was born and raised in Neath, South Wales with her sister and parents. Her father died when she was 15 and she always dedicates any awards that she wins to him. Her sister told Wales Online that both girls had a very close relationship with their father when they were growing up. Their father's death was hard on both the girls as they were both so young at the time.
2. She Started Singing When She Was Eleven
When she was eleven years old, she joined the Royal School of Church Music Cathedral Singers. During her time with the choir she passed the St. Celia Award. This is the highest award that the school gives, and so it was a real achievement for her to gain this award at a young age. During her time at the school she also won the BBC Radio 2 Welsh Choirgirl of the Year competition on two occasions. Her singing took up a lot of her time but she still performed well at school, gaining A grades in both GCSEs and A-Levels.
3. She Studied At The Royal Academy Of Music
When she was seventeen she was awarded a scholarship to the Royal Academy of Music. The Academy was founded in 1822 and is the oldest conservatoire in the UK. The Academy is based in London and so Katherine had to move away from Wales when she won her place here. She graduated from the school with honors and was also the recipient of a music teacher's diploma. She had always had a natural talent for singing, but she was able to hone her skills while she was here.
4. She Worked As A Model
Before her music career took off she worked as a model to make ends meet. She was named the Face Of Wales in 2000. She did enjoy some of the modeling work but she didn't enjoy all the waiting around that often came with the job. Other jobs that she had included voice coaching and a London tour guide. She always knew that she wanted to make a career out of her music, and having these other jobs reinforced that for her.
5. She Was Offered A Six Record Deal By Universal
She sent a demo tape to Universal music in the hope of getting a record deal. Universal were very impressed with what they heard and they offered her a deal to record six albums. BBC News reported that this deal was estimated to be worth £1 million. This deal is considered to be one of the most lucrative that has ever been given to a classical artist. In the five years after this deal she released a total of seven studio albums. To date she has released twelve studio albums in total.
6. She Was The First British Classical Artist To Have Two Number One Albums In The Same Year
She became the first British singer to have two number one albums on the classical chart in the same year in 2004. Her first album, Premiere, was released in April 2004 and this album made her the fastest selling mezzo-soprano singer in UK chart history. She released her second album, Second Nature, in October of this year and this also went to number one. Second Nature got to number 16 in the general album chart, which is a fairly high place for a classical album.
7. She Has Sang At Many Welsh Rugby Union Matches
There have been many occasions where she has performed the Welsh national anthem before the Welsh Rugby Union team have played one of their matches. This has included several performances at the Millenium Stadium. She was named as the official mascot of the Welsh team in 2005. She performed for the first time at the Sydney Opera House at the 2003 Rugby World Cup which was held in Australia. There have also been occasions where she has performed alongside other classical singers such as Bryn Terfel.
8. She Has Made A Cameo Appearence In Emmerdale
She has made a cameo appearance on the British soap Emmerdale, which she has said is her favorite soap. Her appearance coincided with the conclusion of a murder storyline where the killer was finally revealed, and over 11 million viewers tuned into this episode. She starred as herself as the guest star of a pageant that was held to celebrate the 500th anniversary of the village being established. It was a chance for Katherine to experience something different but it did not make her want to pursue acting as a career.
9. She Appeared In Dancing With The Stars
She appeared in the 14th season of Dancing With The Stars. Her partner in the show was Mark Ballas, who had won the competition twice before. The partnership was very successful and they eventually finished the series as runners-up. The couple were consistently awarded high scores throughout the show, with eight being the lowest score that they received. Katherine received an injury in the semi-final and Mark told Access Online that they were both worried they would not make it to the final. They did get through but ultimately finished in second place behind NFL star Donald Driver and his partner Peta Murgatroyd.
10. She Is Married With Two Children
She began dating Andrew Levitas in 2015. He is an American professor who also works as an artist, and acts in and directs films. They were married at Hampton Court Palace in London but the service was performed by a vicar from Neath. The couple have two children, a girl and a boy. The couple gave their son the middle name Selwyn, which was the name of Katherine's father.