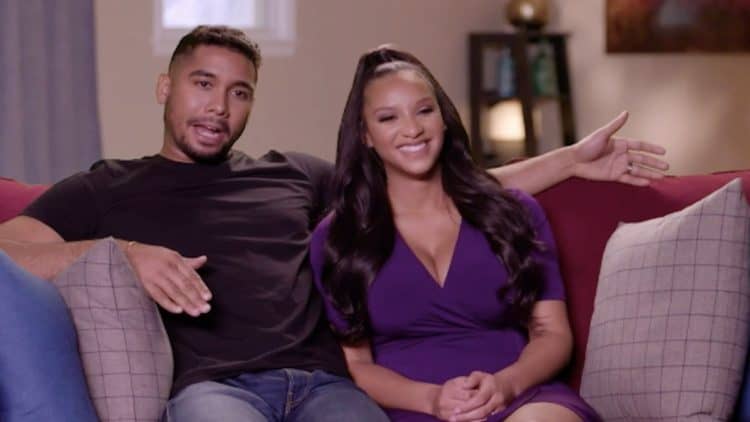 Since making her reality TV debut in 2016, Chantel Everett has become one of the most popular people in 90 Day Fiance history. Chantel, who was born in the United States, found herself receiving some backlash from her family when she started dating Dominican Republic native, Pedro Jimeno. Even after the couple tied the knot, family members on both sides were skeptical about the couple's relationship. Although there are plenty of people hoping they fail, Chantel and Pedro continue to push through, and they've even gotten their own reality spin-off in the process. Keep reading for 10 things you didn't know about Chantel Everett.
1. Her Name Isn't Really Chantel
90 Day Fiance fans and the rest of the world knows her best as Chantel, but that isn't actually her name. Her real first name is CeAir although it appears that Chantel is her middle name. Some sources have also indicated that her last name is Wylie and not Everett. It's not entirely clear why she chose to use her middle name on the show, especially because finding information on her real name isn't difficult at all. Either way though, The Family Chantel certainly has a much better ring to it than The Family CeAir.
2. She Is A Brand Ambassador
Not only has 90 Day Fiance turned Chantel into a reality TV star, it's also turned her into a social media influencer as well. Since being on the show she has built a strong social media presence which has given her the opportunity to work with brands. She is currently a brand ambassador for Teami Blends.
3. She Loves The Outdoors
Chantel may seem like the type of girl who doesn't ever like to break a sweat or get her hands dirty, but that's not true at all. She is an adventurous person and she loves spending time outdoors taking in all of the things that nature has to offer. Some of her favorite outdoor activities include hanging out by the water and going on hikes.
4. She Was A 90 Day Fiance Fan Before Being On The Show
Even before becoming a member of the 90 Day Fiance family, Chantel was a big fan of the show. She and Pedro even used to watch it during the early days of their relationship. At the time, they probably had no idea that they would become some of the franchises biggest stars.
5. She Did The Show To Show Off Her Perfect Relationship
Let's be honest, anyone who watches 90 Day Fiance passes a little bit of judgement on the couples on the show; Chantel was no different. She once said, " I really wanted to be a part of the show because I wanted to show everybody how perfect I thought my relationship was." Sadly for her, it didn't take long for it to becoming glaringly obvious that her relationship was anything but perfect.
6. She Is An Avid Traveler
Spending time outdoors isn't the only way Chantel likes to let her adventurous side show. She also loves to travel and enjoys getting the chance to experience new places and be surrounded by different cultures. It was actually this love for traveling that helped her and Pedro cross paths.
7. She Met Pedro Through A Friend
Love has a tendency to find people when they least expect it, and that's kind of how things worked out for Chantel and Pedro. After expressing an interest in learning Spanish, a friend of Chantel's introduced her to Pedro. The idea was for her to learn Spanish and for Pedro to learn English, but they both got much more out of the deal.
8. She And Pedro Started A Company
Chantel and Pedro aren't just husband and wife, they're officially business partners, too. In 2019, the couple started a company together called Pedro & Chante,l LLC. The business doesn't have a website or anything, but it's likely just a way for them to make their reality TV earning more legitimate.
9. She Loves To Stay Active
Having a beach body all year long isn't an easy thing to accomplish, but Chantel is truly about that life. She loves to keep herself looking and feeling good and staying active is the perfect way for her to do that. Exercise is a part of her regular routine and she's all about making healthy eating choices.
10. She Is A Pretty Private Person
Despite being on a reality TV show that puts a lot of her business on blast, Chantel actually seems to be a very private person. Outside of what she shares on the show (which some people think is scripted anyway), she doesn't share much information about her personal life.
Tell us what's wrong with this post? How could we improve it? :)
Let us improve this post!