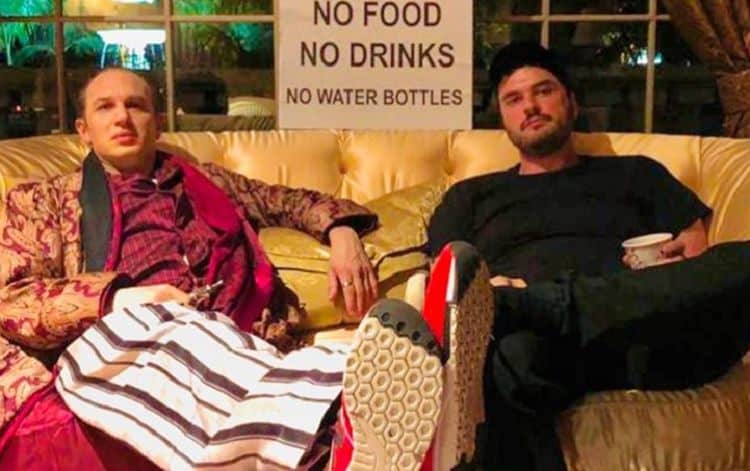 Remember Fantastic Four? Realistically, who could forget it? 5 years since the superhero adventure caper bombed on an epic scale, its director, Josh Trank, is back with another controversial offering – Capone. The film, which captures Al Capone's decent into syphilitic madness, has already sparked some less than flattering comments (none more so than Next Best Picture's) 'Disgusting, sadistic and devoid of any sympathy for its lead character and its story"). So, how's Trank coping with the backlash? Find the answer to that and a lot more besides with these ten fast facts.
1. His stepmother changed his life
Trank was born in LA in February 1984. When he was 13 years old, his parents, Pamela Trank, a schoolteacher, and Richard Trank, an academy-award winning filmmaker, divorced. His father later remarried the comedian and actress, Judy Toll. Initially, Trank was skeptical of his new stepmom, but the pair later bonded over their shared love for entertainment. Toll even invited the teenage Trank to perform with the legendary improvisational comedy troupe, The Groundlings — an experience Trank has since described as life-changing.
2. Beating Steven Spielberg was his goal
There's ambitious, and then there's Trank. By the time the filmmaker graduated high school, he'd already set his eyes firmly on the stars. Determined not to become just another mediocre director, he set himself a goal: beating Steven Spielberg. "I wanted to go make my dreams come true," he's since said. "So I made a deal that if I didn't get my first movie by the time I was 27, I would quit. And the reason I picked 27 is because that's when Spielberg started working on Jaws. I felt like if I couldn't get it at that age, then I'd probably be really depressed or something and then move on."
3. YouTube made his name
After graduating, Trank spent a couple of years skirting around the edges of showbiz but struggled to find his place. And then along came "Stabbing at Leia's 22nd Birthday", a short, R-rated YouTube video that changed the course of his career overnight. Trank shot the video for less than $100 at a friend's apartment in Echo Park. When he went to bed the night after posting it, hardly anyone had seen it. When he woke the next day, the viewing count had leapt to 300,00. His inbox, meanwhile, was heaving with emails from the likes of Paramount Pictures. Warner Bros. MTV, et al, all asking the same question: "Are you in LA?" "To this day, nothing was as surreal as the feeling of when I woke up the next morning and had 100 emails in my inbox," the director has since told Polygon. "It had racked up 300,000 views. It went viral. It was on the front page on Yahoo. It was crazy." Within a week of the video going viral, Trank went from no-one and no-where to being commissioned to write and direct a spinoff of Donnie Wahlberg's thriller 'The Kill Point' for Spike TV.
4. He's an award-winner
In 2012, Trank released his directorial debut, Chronicle. The science-fiction thriller picked up rave reviews, not to mention an 85% approval rating on Rotten Tomatoes. After earning a nomination for Best Feature Debut at Online Film & Television Association, Trank was on top of the world. The director had ARRIVED, and for a while, the new kid on the block was being touted as Hollywood's new messiah. And then along came Fantastic Four. To say the film bombed would be an understatement. As well as losing around $100 million at the box office, the film suffered a vitriolic response from critics, with Rolling Stone summing up the general consensus with the comments "the cinematic equivalent of malware" and "worse than worthless." It didn't, however, stop Trank's roll of awards glory — although given the next title he'd pick up would be 'Worst Director' at the Golden Raspberry Awards, we doubt he was too thrilled about it.
5. He had PTSD after Fantastic Four
When Fantastic Four tanked, so did Trank's career, at least temporarily. Overnight, he went from the next big thing to the biggest laughingstock in Hollywood — and the blow was crushing. Speaking about the experience to Esquire, Trank describes how he was left so wounded by his fall from glory, he suffered from a mild form of PTSD. "I was just humiliated on social media. That was the worst of what happened, and that's surreal in and of itself, because like many people I was bullied as a kid, and felt like an outsider. But when you're bullied in real life, at least you have a tangible connection to it. When it's on social media, it's so abstract. It doesn't make sense in a real-life way, but it feels real, so it can make you crazier in a way. It just felt crazy. So there was a PTSD from that. It took maybe three years to wane."
6. He's not letting the reviews for Capone get him down
The reviews for Fantastic Four may have dealt Trank a crushing blow, but this time around, he's not letting the bad press get him down. Since its release, Capone has generated some withering comments from the critics, with IndieWire calling it "admirably uncommercial" and Next Best Picture calling it out as "(lacking) any form of direction, sympathy and/or purpose." Taking to social media to give his response, Trank showed he's taken the comments on the chin with the message: "Loving and appreciating all reviews of Capone today — the good and the bad makes me want to see the film again and enjoy it all over."
7. His favorite film is Barton Fink
What does a film director do when he's not directing his own movies? In some cases, it's probably best not to know. In Trank's case, it probably involves watching his all-time favorite film, Barton Fink by the Coen brothers. "It sounds weird, but I first saw Barton Fink when I was 9 or 10 years old," he tells Hollywood Reporter. "You don't really think of Barton Fink as being a movie a 9-year-old would go crazy for, but I did for whatever reason; I just always loved everything about that movie. In middle school, I had to do a book report, and I wrote a movie report on it instead. I didn't get a good grade on it for that reason."
8. He walked away from Star Wars
While shooting Fantastic Four, Trank was offered the gig of a lifetime — the chance to direct a Star Wars film. In the end, Trank left the project after a year, citing a desire to work on more original, smaller-scale projects as the reason.
9. He's an occasional actor
Trank may be best known for his work behind the scenes, but he's happy enough to step in front of the camera when the occasion calls. So far, he's made cameo appearances in three features — Big Fan (2009), Arrested Development (2013), and Capone (2020).
10. He's divorced
In October 2013, Trank married his partner, screenwriter Krystin Ver Linden. After weathering the storm of the Fantastic Four together, the couple eventually divorced in 2017.