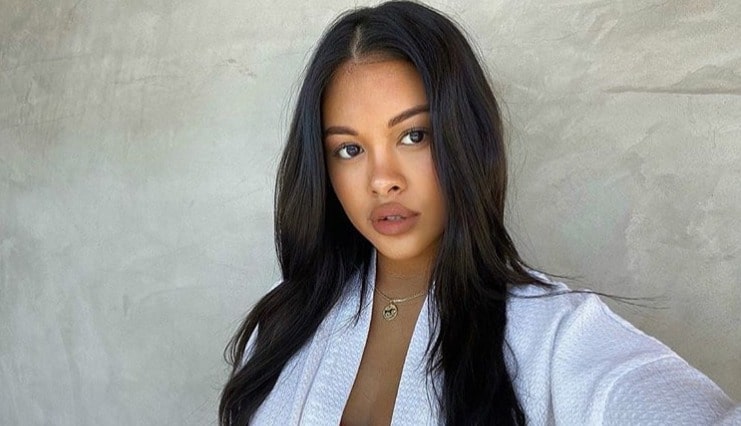 The name Ammika Harris has been trending in the past few days and more popular in blogs and news articles. Ammika is the on and off girlfriend to famous RnB singer Chris Brown. She just gave birth to a baby boy in late November, Chris Brown's second child. The news confirms rumors that were prevalent around May 2019 when it was said she pregnant with the singer's child. Commonly referred to as baby mama by both brown and their fans on social media platforms, notably Instagram, she is quite low key. As she keeps her personal life on the down-low, below are ten sneak peeks of her that you may not know of.
1. She Is Well-Studied
Nothing is as striking as a learned lady, and Ammika Harris is precisely that. On her Facebook profile, she states that she was a student at the famous university of Los Angeles. On the same profile, it is also indicated that she resides in Los Angeles, the home of the university in question. Though at the moment, the claims are not yet proved and she apparently deleted her Facebook. If correct, then kudos to her.
2. Diverse Heritage
When you take a look at Ammika's photos, it is quite hard to tell her heritage. Some might describe her as Samoan looking as she has some Asiatic features. The truth is that she is of mixed heritage. On her Instagram bio, she describes herself as Blasian with Cherokee blood. Blasian means she has black and Asian ancestry, and Cherokee refers to one of the many Native American tribes. As confirmed from Bio Wiki, her father is black while her mum is Thai. With such a rich bloodline, it is not hard to see where she gets her pretty looks from.
3. She Is A Model
Ammika Harris is a model and uses her various social media handles to show her beauty. Instagram seems to be her platform of choice, and she has a decent following of roughly 100,000. Her Instagram page is a lush display of her beauty in various settings and uses the platform to communicate to her fans. The news of the birth of her firstborn son was shared cryptically on the 'my stories' feed. It is from here where her loyal fans got a hint that she had delivered.
4. Chris Brown Was Her Crush
Nearly everyone has that celebrity that they crush on and wish that they could grab their attention even for a minute. Ammika is no different, and on her social media handles, she revealed that she had a crush on none other than her baby daddy, Chris Brown. How lucky was she as it is a dream to many to meet their celebrity crush, let alone date them.
5. She Is A Fan Of Karrueche Tran
It seems Ms. Harris had a thing for the Browns as she admits to being a huge fan of Karrueche Tran, who has been the longtime girlfriend of Chris Brown. In 2014 when Tran and Brown had relationship issues, Ammika tweeted her showing solidarity with her stance at the time. It is impressive that at the moment, she is associated with the former boyfriend of her idol.
6. Their Relationship Is On And Off
Despite rumors indicating that she is in a relationship with the singer, their actual relationship status has never been confirmed. Reports of their dating emerged around 2015 after Chris broke up with Karrueche. She never confirmed if they were dating at all, though photos taken together would occasionally surface, further fanning the rumors. They were spotted in early 2019, getting all cozy during their holiday in Paris.
7. The Paris Incident
If you have been keen on celebrity gossip, then you have an idea of what happened to Chris Brown early this year in Paris. As a CNN report suggests, he was arrested on allegations of rape and narcotics. A woman claims she met with the singer at a night club on different dates, where she claims overnight she went to spend time with him in his room. It is here where he allegedly raped the woman. The Ammika connection is that during this trip to Paris, she was with Chris and even shared photos of them on their PDA on Instagram. The fantastic thing is that Ammika did not comment on the incident and pushed on as if nothing happened. From number six above, you get to know this is among the times they showed affection for each other live.
8. Resemblance To Karrueche Tran
When rumors of Ms. Harris dating Tran's ex began surfacing, one thing was striking, their resemblance. Just like Ammika, Karrueche also identifies as an Asian with black ancestry. They have a similar complexion and height that many fans and followers chimed in that Chris had a type he preferred.
9. Her Pregnancy News Led To Chris' Break Up
When the news of her pregnancy emerged around May in 2019, it caused the breakup of Chris from the lady he was seeing at the moment. According to a celebrity dating database, Chris brown had links to several ladies during this period, and speculation is that it was his onetime girlfriend, Indya Marie.
10. Her Relationship Status Is Currently Unknown
Despite the link to the RnB singer, there is no confirmation if they are back together, especially with the looming news of their newborn. Celebrity relationships are quite complicated, and you may not have an idea of who is seeing who. Considering that Ammika is entirely private, it seems it will take some time before we know who is seeing her.
Final Word;
The 26-year old Taurus recently gave birth to a baby boy, her first and her baby daddy's second born. The news of the delivery has had her trending all over the internet, especially as there were rumors of her being pregnant in mid-2019. Speculations were rife that it was Brown's pregnancy, a fact that seems to be confirmed by the two parents. Ammika Harris is private about her personal life, though you can have a glimpse of her photos and what she shares on her social media handles, twitter, and Instagram.
Tell us what's wrong with this post? How could we improve it? :)
Let us improve this post!