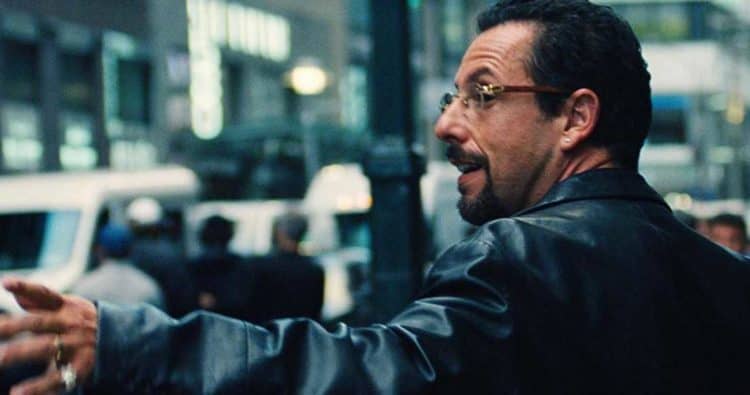 Let's just say that Uncut Gems is a movie unlike anything that we've seen from Adam Sandler and have that it be it for the moment. Moving on from that it might be that the Academy is in shock from the idea that this was Adam Sandler, ADAM SANDLER that did this, not some other actor that has made a habit of acting in dramatic movies for most of their careers. As Kevin Burwick of MovieWeb states this movie did get a snub when it came to the Oscars, but at the same time it's easy to think that the Academy really had to sit back and think about this for a moment, perhaps wondering if this was just a one-off for Sandler, who, like it or not, has been the stumbling, bumbling man-child for so much of his career that taking him seriously has been more than a little difficult even in recent years when he's shown his propensity for playing serious characters. In fact Reign Over Me should have been a performance that he was widely lauded for but many people still have to be reminded that he was even in it to see that he's done dramatic before and turned in a great performance. Maybe this year the Academy is snubbing him just to see if he can do it again, though of course that's a rather poor reason to not include him in the mix, and it could end up biting them next year if Sandler decides to come back and give another performance that many feel is worthy of an Oscar, or at least a nomination.
Just looking over the trailer makes it clear that this movie is anything but what Sandler is normally known for since there's no cute factor, there are no funny faces, no funny voices, and certainly no moronic version of Sandler making a complete ape of himself. This is about as realistic as it gets for him and to be fair it's something that surpasses just about anything else he's done in his career. That's likely why the snub is offending a great number of people since it would appear that Sandler finally woke up and realized that to get to the top spot he's going to need to do something that was outside of his wheelhouse for the longest time, at least in the opinions of a lot of people. Well, he's done it, now the time for recognition needs to start, and it needs to start before he decides to go back to form, if he ever does. This is one of the few guys that made a good living off of pulling funny faces and using weird, out of control antics and voices to make himself popular, even if he kind of overdid it after a while and got old. But there's nothing stopping him from going back to do it again, unless of course someone's finally going to give him some credit for having grown up and joined the adult world in a big way. Toph Eggers of Salon has more to say on Sandler.
That doesn't sound entirely fair does it? Well, take a run down Sandler's resume and see how many serious movies you can find that he's known for versus how many goofy movies he's been known for and you might discover that the goofball routine still manages to outweigh the serious movies in a big way, especially when it comes to public opinion. This Billy Madison, Happy Gilmore we're talking about, he's the guy that made his own CD's and made us laugh at stuff like the Lunch Lady or Piece of S**t car, so when I say that he's still known for being a goofball it's not an insult, it's a fact that a lot of people might agree with since a big part of his career has been bound up in being as utterly hilarious as he could be without thinking twice about what it might have been doing to his standing in Hollywood. Now he comes out with a movie that's entirely serious and is an effort to 'run with the big boys' and people are loving it and rightfully so. Unfortunately I still hold by my idea that it might have stunned the Academy if only because they weren't fully prepared to take him seriously and might have dropped a jaw or two at the mere mention that there wasn't one fart joke or strange voice to be heard in the entire movie. Lia Mappoura of Dazed has more to offer on the subject.
Should Sandler continue to impress like this and still not be nominated it would be a travesty to be sure and a good way to indicate that, like always, the awards are kind of a joke since there are times when the best quality shines through and still doesn't get noted. This year it might be a fluke, but if it happens next year then yeah, there's something up.