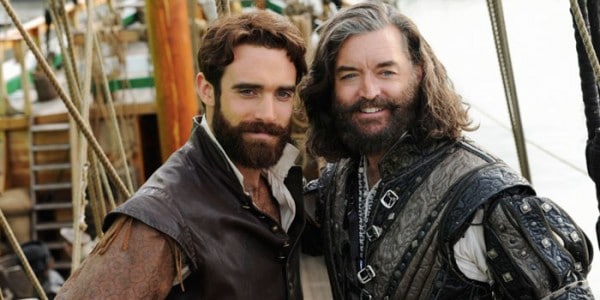 If for some ridiculous reason you have yet to watch an episode of Galavant (which if so, what are you doing with your life?), all you need to know is that it's essentially a musical comedy set in medieval times. And it is hilarious. Each episode brings new songs to get stuck in your head all week as you wait in anticipation for the next episodes. After an incredible first season, they had a lot to live up to in terms of musical numbers for their second season. Songs like "Togetherness", "Lords of the Sea," and "Maybe You're Not the Worst Thing Ever" were going to be hard to top, but somehow they managed to do it. Between "Les Mis", "West Side Story," and "Grease" parody songs, they provided even more laughs this season. With the season two finale airing tonight, I wanted to take a look back at my favorite songs from this season. While it was incredibly difficult to narrow down, I managed to make a list of my Top 5 songs from Galavant season two (in no particular order because that would be impossible).
1. "World's Best Kiss"
No good story is worthwhile without romance and Galavant has given us that with the story of Galavant and Isabella. So often in musicals, characters share a magical moment together and cannot help but burst into song about how wonderful that moment was. That's exactly what happens at the beginning of this musical number, as Galavant and Isabella, in love but unable to be together, reminisce on their first kiss. As they sing, they realize that maybe the world's best kiss was actually the world's worst kiss, describing it as "clumsy and forced" and "messy and wet." This show constantly takes concepts and ideas from musicals and turns them on their head. So much of the humor from this song comes from the fact that these characters want to remember the kiss as perfect but can't help but realize that it was truly awful, like so many first kisses actually are. Taking a romantic and well-known concept such as perfect first kisses and showing a more realistic portrayal of them, is why this song made my Top 5 list.
2. "What is This Feeling?"
Madalena has had quite the journey this season, taking over as queen, grabbing as much power as she can, and even falling in love along the way. I won't lie, last season she was probably the least interesting character to me as she remained stagnant throughout the season. This season has been an 180 degree turn in my feelings towards her, as she's now one of my favorites. And this song really started it all. Giving her real feelings and emotions was the best thing the show could have done for her, as it made her more human and allowed us to see her as more than just an evil, cold-hearted person. Realizing that she has been through a lot to get where she is and being given a glimpse into what made her so cold-hearted has made the character so much more interesting. Not only that, but this song is also just musically very good as Mallory Jansen pours her heart into it.
3. "Giants vs Dwarves"
They've done quite a few parodies of actual songs found in musicals throughout this season of Galavant and my list wouldn't be complete without including at least one of them. While the "Les Mis" and "Grease" songs were both very well done, the one I had to pick comes from "West Side Story". The battle between the giants and the dwarves, who were actually the same size, was one of my favorite jokes on this season of Galavant. I also might be biased because growing up "West Side Story" was my favorite musical. But there was just something about the way this song was written and acted that put it a step ahead of the other musical parodies. The dancing was fantastic, exactly replicating what was seen in the original musical, and the interludes by Bobbi were spot on in their similarities to the interludes by Maria in "West Side Story". Overall, it was just a really fun song and was executed perfectly.
4. "I Don't Like You"
This epic rap battle between Madalena and Isabella was inspired from the rap battles in Hamilton so that automatically makes it a favorite. Both ladies did an incredible job with the song, as they tried to one-up each other while tearing the other person down. At some point, they have both been with Galavant and because of that there is bad blood between them and this rap battle was the perfect way for them to express those feelings. Because no good musical parody show would be legit without a 'cat fight.' The lyrics are fun, the music is catchy, and Mallory Jansen and Karen David both wowed with their ability to nail the rap aspect of the song. And to top it off, this song was different than any other style of song Galavant has done and that uniqueness alone would be enough for it to make my Top 5 list.
5. "A Good Day to Die (Reprise)"
Picking just one song from the final two episodes was quite the feat because really, that whole finale was perfect. But in the end, I had to go with "A Good Day to Die (Reprise)" This song brought the whole season to a crescendo, featuring almost all of the amazing cast and bringing everyone together again. With throw away lyrics like "Oh please, this isn't Game of Thrones" and a perfect cliffhanger ending to the song, it also brought the comedy in full force that we've come to expect from this show. And not to mention the meta, with Isabella's father insisting that they won't die because there's still another episode left. Everyone lamenting on what they would lose if they died in this battle made it even more sweeter that in the end, they all gained everything they dreamed of.
Narrowing down my list to only five was incredibly difficult. Honorable mentions go out to literally every other song, but especially "Today We Rise", "My Dragon Friend and Me", and "Galavant Recap" What were some of your favorite songs from the second season of Galavant?
[Photo via ABC]
Tell us what's wrong with this post? How could we improve it? :)
Let us improve this post!