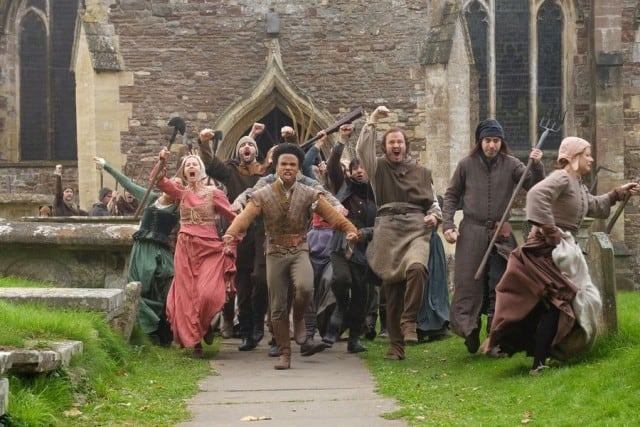 We are now more than halfway through Galavant's sophomore run, and what a run it has been so far. All of the switch ups from Season 1 make for a truly compelling and different, yet still hilarious new season. I enjoyed Season 1, but Season 2 has been just as much if not more enjoyable. The music is strong, the humor is on point, and the story is interesting and continually separates itself from anything else on television.
This week on Galavant: Gareth tells Sid that he has feelings for Madalena, and Sid advises him not to act. Galavant and Richard are at odds over Richard's latest blunder, so they choose opposite sides in an impeding war between "dwarves" and "giants". Isabella is finally freed from the mind control of the evil wedding planner, and ends her impending marriage to her cousin. Galavant, Richard and Roberta stumble upon Galavant's fathers house, much to Galavant's chagrin. Sid, now in exile from Valencia, runs into Wormwood on his search for Galavant. Galavant sustains a life-threatening injury.
A lot happened in this week's episode(s), but moving forward it will benefit the show greatly. This impending "war" between Gareth and Madalena's (can we come up with a ship name for them, like Mareth or Gadalena?) kingdom, and Isabella's. That will, of course, weaken the ever strengthening bond between Richard and Galavant, which has to be one of my favorite elements of the second season. Joshua Sasse and Timothy Omundson both have an affinity for the slightly ridiculous, a deadpan delivery, and impeccable comedic timing. They've got great chemistry and they're a blast to watch.
One of my favorite things about this show is the extent of the little throwaway bits that you don't always catch. For instance, the leader of the giants (guest star Nick Frost) was named "Andre" ( "Andre the Giant"! Get it?). The giants vs. dwarves battle was extremely West Side Story-esque, and the second episode began with Sid singing a lengthy (but hilarious) takeoff on Les Miserables. Galavant gets a lot of strength from the Princess Bride/Shrek vibe it gives off, and these are some of the strongest contributions yet.
I'm revoking one star this week for the (mostly) unnecessary song with Princess Jubilee. I thought it was a little out of place and not necessary, though I'm extremely glad to see the mind-control crown off of Isabella. Karen David has been so great, but I much prefer her character when she's free of mind control.
While I'm still praising the cast, I think Vinnie Jones and Mallory Jansen make a deliciously evil couple from hell. That's all I have to say about that.
As always, here are some of my favorite quotes/moments from the episode:
"I super believe in you, Tad Cooper"
"You've only punched a couple of people today, and I know it sounds crazy but I feel like you took a bath"
"Spoken like a true giant. A giant jerk-face, that is."- Richard, King of insults
"Tell me, why do musicals always get me so worked up?"
"We had to eat that family of hobbits!" It's starting to get confusing which fantasy creatures do and do not exist in this world.
"I smell a backstory. I love backstory!"
Favorite song of the week was a really tough choice, but "Someone" wins out.
All in all this was a strong installment of the comedy extravaganza, and it got me extremely excited for what's to come. This war (and Galavant's injury) should be both compelling and hilarious, as these episodes were.
What did you guys think? Did you enjoy the episode? Let us know!
Galavant airs Sundays at 8/7c on ABC
Tell us what's wrong with this post? How could we improve it? :)
Let us improve this post!