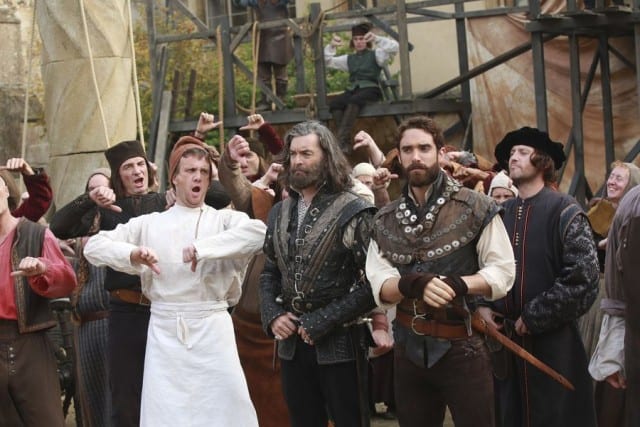 As sometimes can be expected in the week after a premiere (or a week opposite the Golden Globes), I felt like maybe there was a slight dip in quality from week one to week two of Galavant. Fortunately, the quality of week one was so high, that this week's double episodes still landed among the stars.
This week on Galavant: Richard is shocked to learn that his old kingdom disassembled his castle and became a democracy. Galavant attempts to raise an army through the new democratic process. Sid must comfort Gareth as he deals with nightmares about his betrayal of Richard. Isabella becomes mind-controlled by a psychopathic wedding planner aiming to take over Hortencia. Gwynne, unable to deal with the lifestyles of the rich and famous, wants to leave the castle, and Vincenzo decides to leave with her. Galavant tries to shift Richard's focus to the budding romance right in front of his eyes. Madalena deals with some demons from her past.
As you can see, a lot happened this week. The (slight) dip in quality I noticed was really just telling a LOT of story in two short episodes. I find some of the characters and stories more compelling than the others, but I was quite impressed with some all of them this week. Galavant and Richard, for instance, are in my favorite Season 2 story. This odd-couple story/budding bromance has brought out a lot of growth for the characters, and the funniest bits of the show.
Overall, I found this week less about the humor and music (though there was some really great stuff) and more about character growth. Richard had some grieving to do about his kingdom, and was faced with an identity crisis. Gwynne couldn't deal with her life of luxury (excuse me if I can't sympathize with that one). Madalena had to face down some demons (and actually seemed like a REAL human by the end). Even Gareth was dealing with feelings of guilt and loneliness. These episodes were extremely clever in the way they maintained the sharp, quick-witted humor that I've come to love about Galavant, while still telling a wonderfully compelling story about real, broken characters. More than anything, I appreciate comedies who achieve this delicate balancing act, and Galavant handled it smoothly as ever.
Timothy Omundson and Karen David remain the top performers in a very strong cast. Though in this week's episodes, each cast member gave an incredible performance. Joshua Sasse's Galavant was impressive as usual, and Vinnie Jones is always a delight. I have to compliment Mallory Jansen on an excellent showing as Madalena. Madalena is always an entertaining character, but in this week's showing as an insecure character with "feelings", Jansen blew her previous performances out of the water. This week seemed to be about humanizing all of the characters, and Jansen's portrayal was excellent.
As always, here are some of my favorite quotes/moments from the episode:
"Progressive, for the Middle Ages." – Galavant, re: the local voting requirements
"What's guilty?"- Gareth
"…and Knight Beat Magazine's Swordsman of the Year, three times running."- Galavant, explaining his credentials
"She's one of the children my parents used to hire to play with me!"- Richard, re: their new companion
"She's like a sister, and not the kind of sister you marry."- Richard
"Like I'm going to sleep in the thing that people give birth and die in."- Gwynne, re: …a bed.
Favorite song of the week was a really tough choice, but I'm going to have to go with "Maybe You Won't Die Alone".
All in all, while I didn't get as excited about this week's episodes as the previous weeks, it was still a wonderful pair of episodes. I so look forward to Galavant each week.
What did you guys think? Did you enjoy the episodes? Let us know in the comments!
Galavant airs Sundays at 8/7c on ABC
Tell us what's wrong with this post? How could we improve it? :)
Let us improve this post!