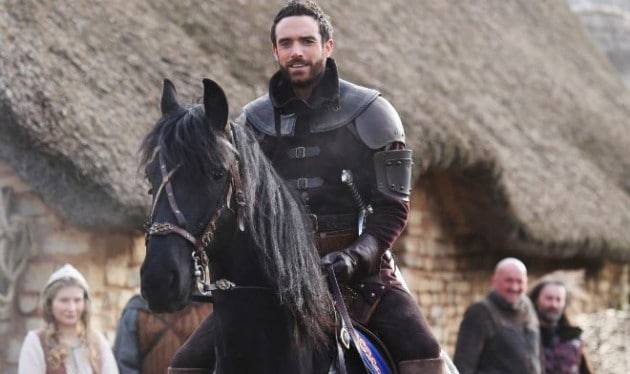 Certainly don't get me wrong. I adore my usual Sunday night programming. Between Brooklyn Nine-Nine, Once Upon a Time, and The Walking Dead, I'm more than satisfied with my usual Sunday night options. However, Galavant has provided a fun, warm, new option for my January…and I LOVED it!
I'll begin with a brief synopsis. Galavant (Joshua Sasse; The Neighbors) is a gallant knight who fell hard for a beautiful woman, Lady Madalena (Mallory Jansen; Young & Hungry). The evil king Richard (Timothy Omundson; Psych) steals her away for himself, but when Galavant comes to rescue her, she chooses fame and fortune over love, and sends Galavant into a self-destructive spiral. After a year, a young princess (Karen David; Castle) comes to seek Galavant's help in saving her parents from King Richard. Though she may have ulterior motives, Galavant's squire, Sid (Luke Youngblood; Community), is there to wear him down and soon, their adventure begins.
Let me begin by saying I'm a big fan of several different types of comedy. I like dumb comedy that relies on slapstick. I like witty, smart comedy. I love satire, and throwing modern references into a high concept setting. Galvant had all of these things. If you've read up on Galavant at all, you'd know that it feels like a Monty Python and the Holy Grail/Princess Bride/Shrek/Disney mash up. Honestly? This is a pretty accurate description. However, is that a bad thing? Absolutely not. I LOVED the comedy in Galavant. I loved the slapstick (Jean Hamm vomiting, and that ridiculous joust), I loved the music, and I loved the way the characters established themselves within the series. Joshua Sasse is an excellent leading man, but Timothy Omundson was by far the strongest comedic player. The second episode (with guest star John Stamos) was comedically stronger than the first, but the hour block made it feel like one long episode.
For a silly comedy show like this, the characterizations are surprisingly strong. The previews for this show suggest that Galavant is just an idiot who lost his woman to a rich king. However, the show clearly revealed that the character has far more depth than that. Galavant is shown as a once strong warrior who lost everything, and he clearly has more to him than the knight persona he puts forth. King Richard shows another strong characterization. There's a second opportunity that the show would have to fail and just make Richard a classic evil king, but there is clearly more to his character. He's got a dark, troubled past with his family and he's a broken character just like his archenemy, Galavant. Timothy Omundson does an excellent job playing him (and is clearly having fun). It's really quite interesting to watch. Lady Isabella, Sid, and Gareth (Vinnie Jones; The Cape) are all very strong characters and they add a lot to the show, both comedically and otherwise.
The only characterization I was dissatisfied with thus far was that of Lady Madalena. While her character is certainly essential to the main story, I'm not a huge fan. Her motivation to act the way she does is unclear, and I hope to find more of that in upcoming episodes. Based on what I've seen, I'm confident that it will be there, but I didn't see it this week.
We've addressed the story, and the comedy, and now let's talk about that big elephant in the room: The Music. There were high expectations of the music considering that composer Alan Menken is a household name to us 90's kids. We weren't sure if we should expect Disney, or Spamalot, or Shrek the Musical with it. I'd say it leaned toward Spamalot, but it had Disney's catchy tunes and the irreverent attitude of Shrek. Ultimately, not only was it catchy but it was also extremely funny. I'm definitely buying the soundtrack should one be released (this being ABC, I'm not worried).
Each week, I plan to pick my favorite quote and my favorite song. This week, that was made pretty easy:
Favorite Quote: "Oh No! I got gravy on my tummy flowers."- King Richard
Favorite Song: "Maybe You're Not The Worst Thing Ever"- Galvant, Madalena, Richard and Isabella.
This show makes me laugh, the songs are catchy, and you'd be hard pressed to find a more fun show on television right now. There are strong comedic performances, strong singers, and the show has tons of potential to grow even better. I'm looking forward to the way the show progresses and to see where the story goes.
What did you guys think of Galavant? Will you be tuning in again? Did you like it as much as I did? Let us know!
Photo via ABC