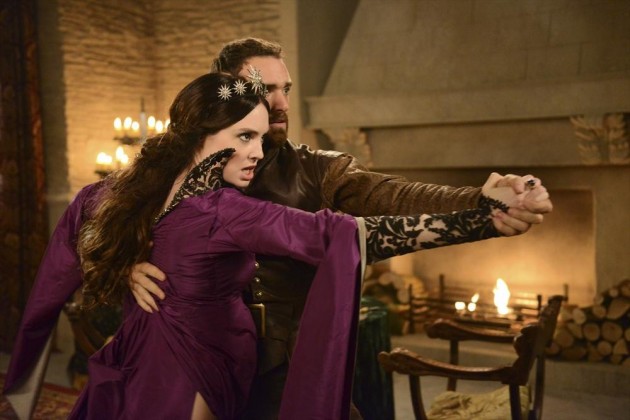 What a fun time I'm having watching Galavant. It's really hitting its stride, both within the narrative and musically, and the whole thing is just musical, comical fun!
In the first episode, Galavant and company reach their destination of Valencia. After consulting with the singing group, "The Monks," they reach the castle but finally Richard gets the drop on them. Galavant and Sid then find out the truth behind Isabella's original quest. In the second episode, Galavant finally realizes who Madalena really is and what motivates her. Richard, along with the chef and Xanax, comes to the same realizations about himself. Galavant and company, meanwhile, come up with a plan to take back their futures. Richard also gets a surprise visitor from his past.
Galavant is continually improving. It's always been entertaining, but it's certainly more and more fun to watch the longer it goes. Galavant's character is growing, and the cast around him is so much fun. The music is getting better, the lyrics are stronger, and the whole series is really coming together. I even loved the little throwaway bits, like the one in which Sid invents the fly for pants (it WOULD be easier, Sid!), and Galavant tells him it's stupid. There are a lot of little moments like that throughout Galavant that simply adds to the fun.
The cast is so perfect. This week's guest cast included "Weird Al" Yankovic as the leader of "The Monks," Ricky Gervais as the B-list magician Xanax, and Rutger Hauer as King Richard's bully brother, Kingsley. On top of the always well-used guest cast, the main cast is really improving upon its already strong base. Joshua Sasse is great as Galavant, and he's even better when he sings and belts. He's got a great leading man's voice. Karen David has been wonderful, and I love the work that Vinnie Jones does week in and week out. I think Luke Youngblood (Sid) should have his own show. If Galavant doesn't work out, I'd love to see Luke Youngblood headline a show. Even if it's about Magnitude and he just says "Pop pop!!"
I know you'll probably tire of hearing this from me, but atop all of the strong cast members and guest stars is Timothy Omundson. King Richard is clearly the most complex character, and he has shown the most depth of any character. I love that he's got depth because it shows that he's more than a Lord Farquaad. There is real heart behind his performance. On top of all that, his delivery is top notch, his physical comedy is gold, and everything he does has tremendous comedic value. I also love that the King is besties with the chef. They're a great comedic pair, and Darren Evans' work as the chef is delightfully awkward.
More than anything, I'm excited for next week's conclusion. The way that the story is set up, I'm betting that Galavant and company will have to team WITH King Richard, to take down the evil combination of Madalena and Kingsley. Since Galavant's crew and King Richard are the most fun parts of the show, it will certainly make for some funny moments (and hopefully some great music!).
Each week, I am picking my favorite quote and favorite song. Here are my picks for this week:
Favorite Quote: "If you don't bring me Galavant I will kill them. For realsies."- King Richard
Favorite Song: "If I Could Share My Life With You"- The chef and the handmaiden, Gwen.
King Richard is always saying hilarious things, and the song was perfectly Python-esque. It reminded me of "Always Look On the Bright Side of Life" kind of feel. Wonderful!
What did you guys think of this week's Galavant? Did you enjoy it as much as I did? Are you excited for the conclusion? Let us know!
[Photo via ABC]