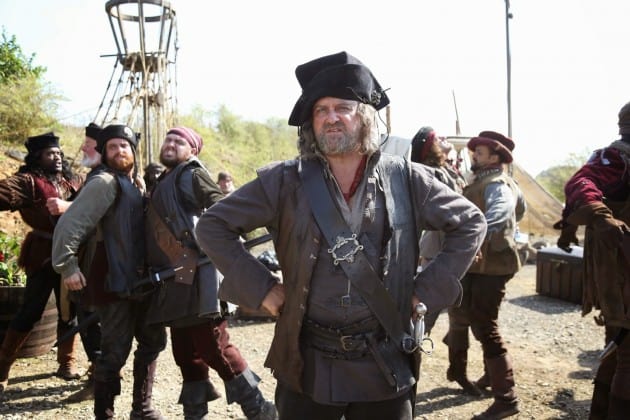 After a strong opening performance, Galavant came into week 2 with a lot to prove. Obviously, some shows can put forth a pilot or initial showing that could be considered a "fluke." However, I don't think Galavant has anything to worry about!
In the first episode, King Richard tries to liven up the boring kingdom he's conquered with some jokes and other mostly insensitive routines. In the meantime, Galavant, Isabella, and Sid visit Sid's hometown, the occupants of which believe Sid to be the knight and Galavant to be the squire, and Isabella to be engaged to Sid. Sid receives a hero's welcome, which becomes a test of character for all of our heroes.
In the second episode, Galavant, Sid and Isabella are attacked by land pirates as they approach Valencia. Their fate was decided by the "Pirate King," aka Downton Abbey' s Hugh Bonneville. Meanwhile, King Richard seeks the jester's help in winning over his wife with humor. While Richard's efforts are seemingly futile, Galavant and friends learn much about themselves and each other in the situation they've been faced with. Ultimately, they pull out of the situation as a more cohesive unit.
This show has a lot of strengths, the main one being its cast. Aside from a strong lead in Joshua Sasse, the whole cast is very talented. The first episode centered on Sid, played by Community's Luke Youngblood. I mentioned in my previous review that Luke Youngblood was a strength of this show, and I was not disappointed in the slightest. He took center stage in this episode and he was so much fun to watch. I must confess that I would've been happy to see him say nothing but "Pop Pop!" the whole time, but he's done much more than that and he's only added to the fun of the show.
All of the cast is great in Galavant, but the MVP is clearly Timothy Omundson. King Richard is clearly a layered character, but his over-the-top British accent, goofiness, and clever line delivery make him the perfect character for what this show is trying to accomplish. I loved Omundson's work on Psych, and you could often see on behind the scenes footage that Omundson clearly prefers to be part of the antics. Well he's definitely cut out for the silliness he is involved in here. You could cut out all the other characters, and I would still watch a show about just King Richard and Gareth.
Ultimately, I love the direction they're headed with Galavant. The songs are catchy, fun, and the lyrics are cleverly written. The story, while I can see where it's headed, is compelling and fun to follow. The characters are just hilarious, and EVERY character shows growth EVERY week. Well, almost every character *cough* Madalena*cough. Overall, the show's creators have given this incredible story to tell and done so in a very fun way.
Each week, I plan to pick my favorite quote and favorite song. Here are my choices this week:
Favorite Quote:
"You know what? You're having a timeout. Go to your tent. And don't give me that look."- The Pirate King
Favorite Song:
"Jack*** In A Can" – Galavant and the squires
This is just a brief taste of the hilarity that was to be had this week on Galavant. I'm expecting great things from the last two installments, and I'm sure that I won't be disappointed.
What did you guys think? Are you enjoying this show as much as I am? Let us know!!
[Photo via ABC]
Tell us what's wrong with this post? How could we improve it? :)
Let us improve this post!