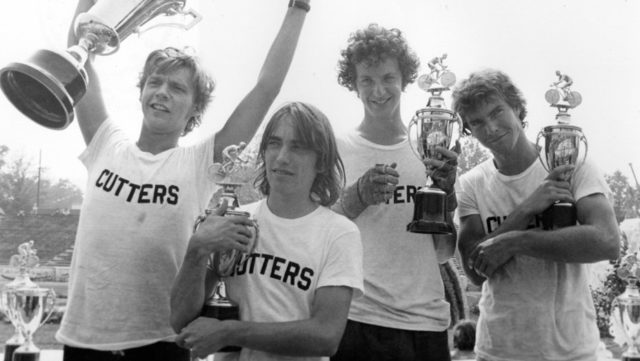 There are many elements of a movie that make it exciting and capture the interest of the audience. The plotline is an important aspect of this and it is vital that a movie includes moments of suspense that have moviegoers sitting on the edge of their seats in anticipation of what is going to happen next. A large percentage of movies also have a happy ending that lifts the audience in the latter part of the movie. Having a race where the main characters win is one of the ways in which writers, directors, and actors can add both these elements to a movie as a race has the potential to create suspense while seeing the heroes of a movie win gives a film the perfect happy ending. There are many different genres of movies that have scenes which involve a race and these can be anything from an athletics event to a drag car championship and from a horse racing event to a cycling race. The winning the race scenes are often some of the most memorable parts of a movie and it is these scenes that audiences talk about long after they have visited a movie theatre. Here are 20 of the best winning a race scenes from the movies.
20. Seabiscuit
This 2003 equestrian sports film is based on a novel called 'Seabiscuit: An American Legend' by Laura Hillenbrand. It was adapted into a screenplay by Gary Ross who also directed and co-produced this movie. The movie starred Tobey Maguire, Jeff Bridges, Chris Cooper, Elizabeth Baxnks, Gary Stevens, and William H. Macey. It is about three men who become associated through a horse called Seabiscuit. They are his jockey, his trainer, and his owner. The horse helps all three men overcome troubled times to achieve fame and success. The final race of the season is at Santa Anita. In the previous race on this track, Seabiscuit was injured. However, he is triumphant in the final race. 'Seabiscuit' was nominated for seven Academy Awards and grossed $148.3 million at the box office.
19. Speed Racer
Released in 2006, this sports action-comedy is based on a 1960s Japanese anime and manga series. It was written, directed, and co-produced by the Wachowski Brothers, Andy, and Larry. When a young automobile racing driver's brother is killed, he follows in his racing career.This movie starred Emile Hirsch, Christina Ricci, Matthew Fox, John Goodman, and Susan Sarandon. Originally, this movie was commercially unsuccessful but people now refer to this movie as underrated and critical reviews have improved over the years. If nothing else, it is worthy of watching for the exciting racing scenes.
18. The Black Stallion
"The Black Stallion' is based on a novel of the same name by Walter Farley and was released in 1979. This movie was directed by Carroll Ballard and adapted into a screenplay by Melissa Mathison, Jeanne Rosenberg, and William D. Wittliff. It is about Alec Ramsay getting shipwrecked on a dessert island with an Arabian Stallion. When the boy and the horse are rescued, Ramsay is determined to enter a race against two champion horses. Although they are behind at the midpoint of the race, they win the race by two lengths. The movie stars Kelly Reno, Mickey Rooney and Teri Garr.
https://www.youtube.com/watch?v=62lcf7oJHjU
17. Need for Speed
Written by George Gatins and John Gatins, this 2014 action film was directed by Scott Waugh. It is based on a series of video games and is about a street racer who races cross-country to avenge the death of his friend. The movie stars Aaron Paul, Dominic Cooper, Imogen Poots, and Ramon Rodriguez. 'Need for Speed' had a budget of $66 million and was a commercial success as it took $203.3 million at the worldwide box office.
16. Hidalgo
A biographical Western, this 2004 movie is based on the long-distance horse rider Frank Hopkins and Hidalgo, his mustang. The movie tells the tale of Hopkins competing in an event in Arabia against pure-blooded Arabian horses in 1891. John Fusco was the writer of this film which was directed by Joe Johnston. 'Hidalgo' stars Viggo Mortenson, Said Taghmaoi, Zuleikha Robinson, and Omar Sharif. On a budget of $40 million, this movie grossed $108.1 million. It also received positive reviews from both critics and moviegoers.
15. Grease
Grease is one of the greatest musical films of all time and has many memorable scenes throughout. One of these is the race scene at Thunder Road when the T-Birds compete in their 'Greased Lightning' car against a rival gang and win. Grease is a romantic musical film that was released in 1978 and is set in 1959. The two lead roles in the movie are played by John Travolta and Olivia Newton-John. It is based on a novel of the same name by Jim Jacobs and Warren Casey and was adapted into a screenplay by Bronte Woodard. Randal Kleiser directed the movie. This film was made on a low budget of just $6 million but grossed a staggering $395 million at the worldwide box office.
14. Cars
This 2006 Pixar Animation Studios film is a computer-animated comedy-adventure. John Lassler directed, co-wrote, and co-produced this movie. This was the last motion picture produced by Pixar before they were purchased by Disney. The movie is set in a world of anthromorphic vehicles with Lightning McQueen as the lead character in the movie. In the final race, Lightning McQueen has the chance to win the championship but stops just short of the finish line. The ecstatic winner of the race is Hicks who cannot believe he has won the trophy. However, the crowd are more captivated to watch McQueen reversing over the track to help out former champion Weathers who has crashed out and push him over the finish line for his final race. Many actors provided voices for characters in this movie, including Owen Wilson, Paul Newman, Bonnie Hunt, and Larry the Cable Guy. This movie grossed a staggering $462.23 million at the worldwide box office.
13. Without Limits
'Without Limits' is a biographical sports film which was released in 1998.Robert Towne co-wrote and directed this movie. The storyline is about the relationship between Steve Prefontaine, a record-breaking distance runner, and his coach Bill Bowerman. The movie stars Billy Crudup, Donal Sutherland, and Monica Potter. Although this movie was not a commercial success, it did receive excellent reviews from critics and has moments in the film that are really touching.
12. Race
'Race' is a biographical sports drama movie about Jesse Owens, an African American athlete. At the 1936 Berlin Olympic Games, Owens won a record-breaking four gold medals. Stephen James played the lead role in this movie and other cast members included Jason Sudeikis, Jeremy Irons, Clarice van Houten, and William Hurt. The movie was directed by Stephen Hopkins and written by Joe Shrapnel and Anna Waterhouse. From a budget of only $5 million, this movie grossed $25.1 million at the box office.
11. Unbroken
'Unbroken' is based on a novel of the same name by Laura Hillenbrand. It was adapted to a screenplay by Joel and Ethan Coen, Richard LaGravenese, and William Nicholson. Angelina Jolie directed and co-produced this movie. Released in 2014, this American World War II film is about the United States army officer Lois 'Loiue' Zamperini who survived on a raft during the war and becomes an Olympian. Ge is captured and becomes a prisoner of war. This movie was a critical and commercial success as it grossed $163 million and received excellent reviews from critics.
10. Secretariat
Walt Disney Pictures released this movie in 2010, It is a biographical sports drama about the 1973 winner of the triple Crown, Secretariat. A housewife takes over her father's stable and Secretariat is one of the horses for which she is responsible. The movie was directed by Randall Wallace and written by Sheldon Turner and Mike Rich. Starring in 'Secretariat' are Diane Lane, John Malkovich, Margo Martindale, Dylan Walsh, James Cromwell, Kevin Connolly, and Scott Glenn. The movie was a moderate success at the box office grossing $60.3 million from a budget of $35 million. It won the Christopher Award for Best Feature Film in 2010.
9. American Flyers
Steve Tesich wrote this 1985 sports drama film about bicycle racing after his success with 'Breaking Away', a 1979 bicycle racing movie. John Badham was the director of this movie which starred Kevin Costner, David Grant, Rae Dawn Chong, Alexandra Paul, Janice Rule, and Luca Bercovici. When David Sommers' younger brother becomes ill and can no longer race, Sommers faces the difficult decision of whether to stay and look after his brother or to compete against the odds in a cycle race. He chooses the latter and scrapes the win. Initially, this film was a commercial disaster. However, as Kevin Costner has become famous, this is now a cult film and has predominantly positive reviews.
8. Rush
This biographical sports drama is based on the rivalry between two Formula 1 racing drivers; Niki Lauda and James Hunt. FReleased in 2013, this movie was written by Peter Morgan and directed by Ron Howard. It starred Chris Hemsworth, Daniel Bruhl, Olivia Wilde, Alexandra Maria Lara, Pierfrancesco Favino, and Natalie Dormer. The final scenes depict the climax of the Japan Grand Prix in 1976. As this was a rain-soaked event, the race was particularly exciting. This movie was a moderate commercial success but received excellent reviews from moviegoers and the critics.
7. Ben Hur
This 1959 epic historical drama film won 11 Academy Awards. It starred Charlton Heston in the leading role and is based on 'Ben Hur: A Tale of Christ' which is a novel written by Lew Wallace and published in 1880. It is was adapted into a screenplay by Karl Tunberg and was directed by William Wyler. Others who starred in this movie include Jack Hawkins, Haya Harareet, Stephen Boyd, Hugh Griffith, and Martha Scott. One of the most exciting scenes in the movie is the chariot race which involves a brutal battle to cross the finish line. With a budget of $15.2 million, this movie had the largest budget of all movies produced at that time. From its initial release, this movie grossed $146.9 million.
6. Dreamer
John Gatins made his directorial debut with this 2005 sports drama movie, which he also wrote. The inspiration for the film came from the true story of Mariah's Storm, an injured Thoroughbred racehorse. It premiered at the Toronto International Film Festival and was nominated for the Critics Choice Award for Best Family Film, despite being only a moderate success at the box office. The movie stars Kurt Russell, Dakota Fanning, Kris Kristofferson, and Elisabeth Shue. For her performance in the movie, Dakota Fanning won Young Artist Awards for Best Performance in a Feature Film and Leading Young Actress. The movie also won the Young Artist Award for Best Family Feature Film-Drama.
5. True Blue
One of the most famous boat races in the world is the race that takes annually between the Oxford and Cambridge University teams in England. 'True Blue' is about this race and is based on a novel by Daniel Topolski and Patrick Robinson called 'True Blue: The Oxford Boat Race Mutiny'. Ferdinand Fairfax directed this movie which was adapted into a screenplay by Rupert Walters, Daniel Topolski, and Patrick Robinson. Released in 1996, this sports drama was also known as 'Miracle at Oxford' for its release in the United States. At the beginning of the film, the Oxford crew lose to Cambridge by eight lengths. In the final race, Oxford are triumphant as they cross the finish line a full two lengths ahead of Cambridge. This movie stars Dominic West, Johan Leyson, Geraldine Somerville, Nicholas Rowe, and Bill Nighy.
4. Velvet National
When a young girl called Velvet wins a Gelding in a raffle, she calls him 'The Pie' and trains him to compete in the Grand National Steeplechase. She struggles to find a jockey willing to ride him, so she slips on the jockey's colors and rides him herself. To her own surprise, as much as everyone else's, she wins the race and proceeds to faint. This 1944 Technicolor sports film is based on a novel of the same name by Enid Bagnold and adapted to a screenplay by Helen Deutsch. It was directed by Clarence Brown and starred a young Elizabeth Taylor. The movie also starred Mickey Rooney, Donald Crisp, Angela Lansbury, and Anne Revere. The movie was preserved in the United States National Film Registry in 2003 by the Library of Congress. This is because 'National Velvet' is considered culturally, aesthetically, and historically significant.
3. Days of Thunder
A sports action drama film, 'Days of Thunder' was one of the biggest movie releases of 1990, It is based on a story by Robert Towne and Tom Cruise and adapted into a screenplay by Robert Towne. The movie was directed by Tony Scott and starred Tom Cruise, Robert Duvall, Randy Quaid and Nicole Kidman. This is the first of three movies to have starred both Tom Cruise and Nicole Kidman who were later married. It is a story about a racing driver who is recruited to drive in the NASCAR Winston Cup Series. The film featured many real NASCAR racing drivers, including Rusty Wallace, Harry Grant, and Neil Bonnett. Furthermore, commentator Dr. Jerry Punch who worked for ESPN also makes a cameo appearance in the film. This Paramount Pictures movie was a box office success as it grossed $157.9 million worldwide.
2. Breaking Away
This is a coming of age comedy drama that was released in 1981. It follows four teenage boys who have recently graduated from high school, one of whom is obsessed with competitive bike racing. He is ecstatic when he has the chance to compete against the Italian racing team and then makes his own team with his friends. In the big race, he crashes before making lost ground and winning the race with his team. The movie was written and produced by Peter Yates while Steve Tesich directed the movie. It starred Dennis Christopher, Daniel Stern, Dennis Quaid, and Jacki Earle Haley. In 2006, this movie was ranked eighth in a list compiled by the American Film Institute of America's 100 Most Inspiring Movies.
1. Chariots of Fire
One of the most famous races in movie history is in the final scene of 'Chariots of Fire'. This 1981 historical drama film is based on the true story of two athletes who competed in the 1924 Olympics. Harold Abrahams is a Jew from England who is competing to overcome prejudice. Eric Liddell is a Scottish Christian who is running for God's glory. In the final race, the British team are triumphant. Ben Cross and Ian Charleston starred in the lead roles in this movie. The idea for the movie came from David Puttnam who was also a producer for the movie and it was written by Colin Welland. It was directed by Hugh Hudson. Not only did this movie win awards for its music, it was also a commercial success as it grossed $59 million from a budget of just $5 million.
Tell us what's wrong with this post? How could we improve it? :)
Let us improve this post!