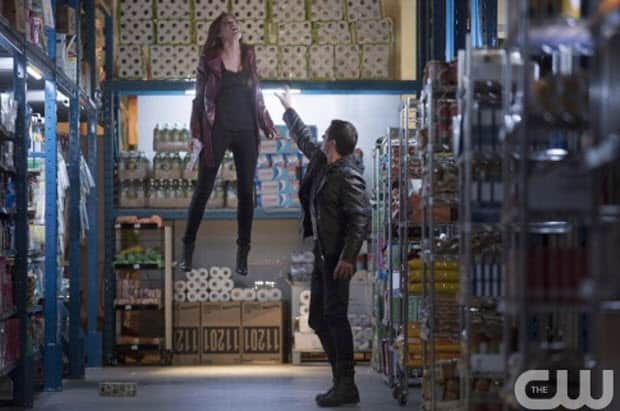 This week was for most fans of The Tomorrow People both great and sad because while we got a phenomenal episode, this marked as the final week of Amell-Wednesdays with this show and Arrow being paired up together.
While the freshman show hasn't been able to get over 2 million viewers since their second episode, Amell-Wednesdays was still a strong and fan-driven night for The CW. In addition, if you look at shows like Reign and their ratings, it's only a little difference between those two shows. For some reason, it's a "success" for them while The CW thinks that the numbers for this show is so "bad" that they have to move it to another night.
"Enemy of My Enemy" featured the return of Julian, one of the wicked villains of the season and also Cara's personal nemesis. Despite the fact that he was ruthless on an ultimate level, we always enjoy a powerful antagonist. Even though it was a bummer to see him go, thanks to Jedikiah's bomb pill that got put in his head, we got to see a huge emotional response from Jedikiah when he thought that Stephen died in the explosion. It turns out that our dear and evil Dr. Price does in fact care a lot about his nephew. We love the fact that no one is really able to put their finger on whether he is evil or not. Only time will tell and Mark Pellegrino is doing a perfect job giving us several teases to what kind of person he actually is.
Something that a lot of viewers have wanted to learn about since the pilot is how John and Cara met each other. This episode finally gave us that background and it was really one of the best things about "Enemy of My Enemy". Their relationship has been deep ever since the pilot and while they have been struggling for the past few weeks, it was great to see their past and now a look into what their near future is going to be like.
One of our favorite parts of this episode was without doubt the focus on John and Astrid who are really hitting it off and has received great responses from the fans. Their interaction and chemistry was loved so much that they were trending on Twitter that night. Looks like that we may be in for a Astrid/John/Cara triangle in these next couple of episodes.
Without slamming on the great chemistry between Luke Mitchell and Peyton List, Mitchell sure has an equal level of chemistry with Madeleine Mantock. Both dynamics are great, but for completely different reasons. The arc with Astrid trying to overcome her fear after the events she had to through a few weeks ago was a great story to follow and from a writing perspective, having her turning to John for help was perfect.
Overall, "Enemy of My Enemy" was a solid episode with a lot of great moments and it continues to build up to bigger things to come. As we mentioned earlier, it's incredibly disappointing that The CW has decided to split up the Amell shows and put it on Monday nights (that are quite frankly the network's most struggling night).
It will always remain a mystery to us that Reign's numbers was enough to grant them a second season, even though they were only slightly higher than The Tomorrow People. Instead of getting to keep their timeslot, they get moved in the middle of the season which isn't always a good thing.
Make sure to spread the word to your friends that the show is moving to a new night as well as introduce new people to the show while the show is on its one week hiatus. This has been one of the strongest new dramas of the season and with a strong cast like this one, as well as great stories, we want to see it live on for another season.
The Tomorrow People is off next week and will be moving to Monday nights, starting on March 17th, 9/8c on The CW.
[Photo via Katie Yu/The CW — ©2014 The CW Network, LLC. All rights reserved]