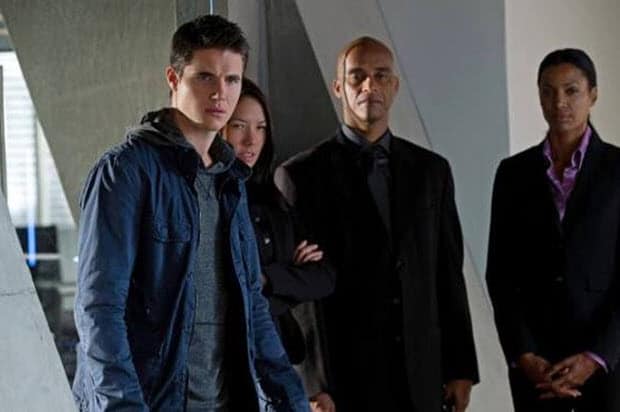 Wednesday nights, or also known to CW fans as "Amell Wednesdays" has been a hit for the network because Arrow and The Tomorrow People continues to be one of the best nights of television each week.
Mark Pellegrino's Jedikiah has been a strong player since the show started with his witty personality in the villain he plays. "Thanatos" went deep into him as the viewers' got to see a damaged layer to Jedikiah regarding his relationship with John. The writers explaining this is powerful because it helps to cement the complicated relationship between Jedikiah and John.
The greatest thing with Jedikiah being kidnapped was that they made it seem so fun to kidnap him. He took it so well and was just joking around the whole time. That is why Pellegrino's villain is so special because he has multiple layers to Jedikiah. In "Thanatos", they explore more of Morgan, the love interest of Jedikiah. Hopefully she will play a bigger role later this season because she was intriguing and her influence on Jedikiah was nice to see.
Cara's frustration with Jedikiah was something that needed to come out as she has been building it up for a very long time. It also shows once again that no one should make her angry. The thing that was left unanswered, for now, was that Jedikiah knows now that Cara still has her powers. What does that mean for Stephen? Will he get away with it through an excuse or could the mid-season finale perhaps feature Jedikiah making him pay? Better tune in next week to find out.
Just like the previous 4-6 episodes, the amazing writing staff decided to give the fans another big twist with John being assigned to shoot Stephen's father. This just adds more tragedy to his character and also makes one feel sorry for him because John has so far been tortured the most. Whether it's mentally or physically, he is a hero that has to suffer so that he can take care of his people. But for some reason, it feels like that Roger is not out of the game just yet.
"Thanatos" also introduced Spartacus's Simon Merrells as The Founder and just like Jedikiah, he is a force to be reckoned with. There is some origin explained about Ultra which was nice to learn because there is still so much backstory to this organization that can be told. The concept of the "Brain-trust" was incredibly fascinating to follow, especially in the visuals as they were searching for Jedikiah through New York. Hopefully this will be featured again because it was a new concept that was fun to see.
One of the biggest aspects with this episode was obviously Nicholas Young who portrayed John on the original The Tomorrow People show in the 70's. Aldus Crick was a fun character and having Young on as one of the original cast members was great. Hopefully his character and John will have some great scenes in future episodes, should he come back again.
The reason for that is that it would be great to see them having a passing-the-torch kind of moment. That is always a great thing, for example, Smallville did it with Christopher Reeve when he did his guest spots.
There were several funny moments in this episode that needs to be mentioned. First off, Russell's comment about bad guys always having such a nice style couldn't have been said better. Then there was Stephen's phone call with Jedikiah's security and whatever accent he was trying to do. While this next one isn't a funny one, it needs to be remembered and that is the beauty that was John Young's beard. May it rest in peace, until it grows out again.
Overall, "Thanatos" was a great returning episode and while it's a bummer that the show is going on a hiatus (along with Arrow), after next week, it will be fascinating to see what the mid-season finale has in store for the fans. Hopefully Astrid will be back because it feels that she hasn't been able to play a big part so far. That is the only hiccup that can be said about the show so far because Madeleine Mantock is a fantastic actress and with Astrid, she brings a lot of fun stuff to the show so hopefully she will be featured more in the next couple of episodes.
The Tomorrow People airs Wednesday nights, 9/8c on The CW.
[Photo via Facebook]