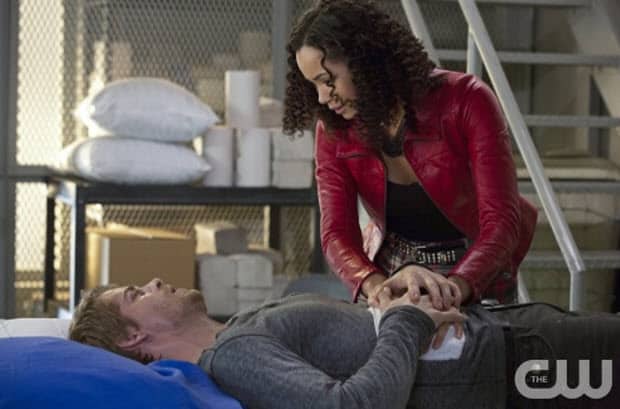 The Tomorrow People has only had a few flaws so far in its first season and one of them has been the lack of Madeleine Mantock's Astrid. "Sitting Ducks" finally gave us more of her because as a viewer, there is still a lot we don't know about her. Mantock is a great actress so it's a shame if they don't use her.
What really clicked in this episode were John and Astrid, which we got a hint to in "Death's Door" last year. While the chemistry between Peyton List and Luke Mitchell is really strong, Mitchell and Mantock do work pretty great together. One question though, will John ever be able to catch a break from violence at all?
Because either he gets beaten up brutally by several Ultra gents or he gets shot and seriously injured. But despite that, it gave Astrid and John the opportunity to bond by her saving his life. While it's unclear what the current status of John and Cara is right now, a John/Astrid hook-up would definitely not be a bad idea. If they are aiming to get these two together, then they should definitely not rush it and just build up to it in a good pace.
It was a highlight to see the two female leads of the show finally getting to share some scenes together and both kick some butt as well. While it took a long time to finally get a scene between Cara and Astrid, the wait was worth it. Hopefully a friendship between them will form and it will give us even more scenes between these wonder characters.
However, a difficult decision had to be made by the Tomorrow People in order to protect Astrid and that was that she has to remain in the Tomorrow Cave. When Stephen was trying to calm Astrid down, Stephen's face looked just as heroic and caring as Oliver Queen's (Stephen Amell) face on Arrow. Feel free to agree or disagree, but that was just an observation and a nice one. A pleasant surprise was getting to hear Astrid singing and all that can be said about her singing is that it was absolutely beautiful. Mantock has an amazing singing voice and hopefully we will get to hear her sing again soon.
It was quite adorable and funny with The Flash #159 cameo and we know that it was most likely for executive producer Greg Berlanti as he is currently developing a Flash show as a spin-off from Arrow. The flashbacks featuring John's past was also pretty good and it continued to expand the complicated relationship between Jedikiah and John. We also got to see John's first meeting with Roger Price and as always, Jeffrey Pierce's performance was great.
Despite his enormous mystery, you can't deny that Peter is incredibly charming. Despite what we learned later in the episode, Stephen had every right to be suspicious of Peter. But pushing Peter down off a cliff was honestly a little bit too dark, even for Stephen. But in a sense, it works from a writing perspective because we need to remember that Stephen is still a teenager.
One theory (or question) in the series so far has been whether or not Luca could be a homo superior as well. Finally, after 12 episodes it was finally confirmed as Stephen and the gang realized that Luca is in fact breaking out. Jacob Kogan's Luca has, just like Astrid, been one of those likeable characters that haven't been featured a lot, but now it looks like that he will get to play a bigger role in these remaining episodes. Will we perhaps see Stephen become a helping big brother for him or will Jedikiah perhaps find out and try to get Luca on to his side? Only time will tell so keep watching in order to find out what will happen.
"Sitting Ducks" was, just like this week's episode of Arrow, one of The Tomorrow People's strongest episodes so far. On another good note, the show went up a bit in the ratings this week and hopefully it will only continue to go upwards.
The Tomorrow People airs on Wednesday nights, 9/8c on The CW.
[Photo via Jack Rowand/The CW — ©2014 The CW Network, LLC. All rights reserved]
Tell us what's wrong with this post? How could we improve it? :)
Let us improve this post!