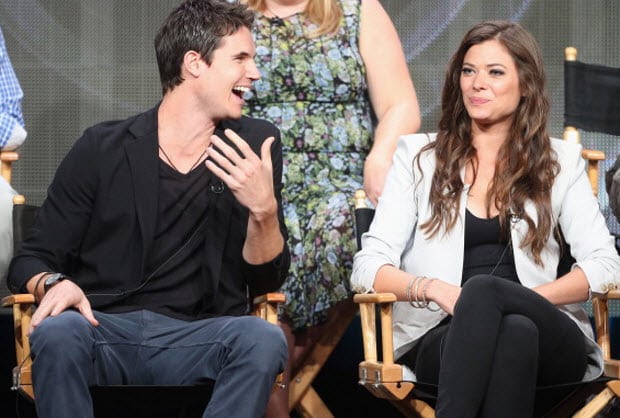 We have become so used seeing Cara as this strong female character that when they featured flashbacks of how she was years ago, it was a bit of a surprise. It's not bad by any means, because Cara's backstory is the origin that we want to learn more about. It looks like that Jedikiah is perhaps not the villain that we should hate the most because last night, The Tomorrow People added perhaps one of its most wicked enemies so far.
The actor who portrayed Julian Masters did a great job as an antagonist and despite the huge dislike for his character, he made the character powerful. It's hard to imagine that Cara would ever run into someone as awful as him. But at the same time, it gives more explanation to why Cara became the strong woman that she is today through her experiences with people like Julian.
"Rumble" was really a Cara centric episode which is one of the reasons why it was so good. While it's apparently incredibly pressuring for her being a leader, as a viewer, one actually appreciated that she got the leadership in last week's episode. While some say that there is perhaps too much focus on Cara right now, it's not really a problem. Even though most of the main characters get beaten up, it was tragic to see all the beating that Russell had to take this week.
Whatever they do, they better not do that again to him (or anyone for that matter) because that was just too brutal. Despite Julian's ruthlessness, it was good that they left the door open for him to return because while Jedikiah and Ultra have been great antagonists so far, the show needs to have additional threats from other directions and that makes the show bigger.
Just like the majority of the episodes, the action scenes were phenomenal last night and it's really becoming more intriguing of seeing Homo Superior fighting each other. Because the thing that is so great with this show is that it has never been about who HAS the best powers, but who USES them the best. That is why The Tomorrow People was able to quickly separate itself from the X-Men similarities.
This week they introduced a new recurring character, Hillary Cole (played by the butt kicking Alexa Vega) and she did a great impression in her first episode. She is so far one of the best guest stars of the show and one can't be happy enough that Vega's role is a recurring one. It's hard to know whether she is another antagonist or perhaps someone that may end up on the good side. It would be interesting to see if she actually wants to get out of Ultra at some point.
The character of Charlotte (who they saved last week) was heartbreaking to watch this week because of her pain. The good thing about her character was that John is now getting something new to do and even though it's basically babysitting, he showed that he has the potential to be a great mentor to her. Perhaps through this arc, the other Tomorrow People will start to eventually trust him again. It was a twist that Charlotte showed up during the battle and basically went all out on every Homo Superior in that room.
Overall, "Rumble" was a solid episode that both continued the overall story for the season while introducing a few players whose roles may or may not be a threat later this season. The only downpart was that there was too little Astrid, but they will most likely make up for that in the later episodes of the season.
The Tomorrow People airs Wednesday nights, 9/8c on The CW.
[Photo via Frederick M. Brown/Stringer]