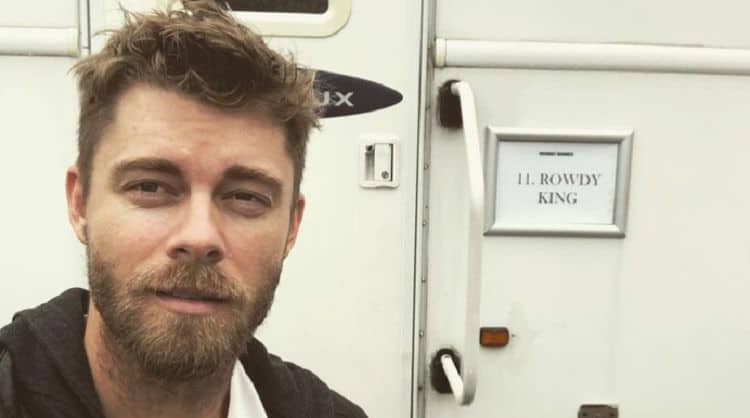 Luke Mitchell has spent more than 10 years as a professional actor, and he has achieved a lot of success during that time. Even though he doesn't have the longest list of credits, he has been fortunate to land recurring or starring roles on almost every project he's been a part of. Luke's handsome face, undeniable talent, and work ethic have proven to be the perfect ingredients to build a solid career. Man people will recognize him most from shows like Agents of S.H.I.E.L.D. and The Code. Now, he's hoping that his latest show, The Republic of Sarah, will be yet another project that people remember him for. Here are 10 things you didn't know about Luke Mitchell.
1. He Is A Formally Trained Actor
Actors often debate about whether going to acting school is necessary or if it's better to just jump right into the audition process. Luke decided that he wanted to get some formal training under his belt before trying his luck in the industry. He studied acting at the Film and Television Studio International in Australia.
2. He Is Married
Luke Mitchell is probably at the top of a lot of people's celebrity crush list. Sadly for those people, Luke is off the market. He is married (since 2013) to actress Rebecca Breeds who he met when they both starred in Home and Away. The couple doesn't have any children.
3. He Is A Model
When the camera loves you as much as it loves Luke, it makes sense to spend as much time in front of it as possible. In addition to being an actor, Luke has also done some modeling. We were not able to find a list of the brands/companies he's worked with over the years.
4. He Was A Tennis Player
Becoming an actor wasn't always the future Luke envisioned for himself. Instead, sports were a huge part of his life for many years, and his original plan was to become a tennis player. He played tennis from the ages of five to 19, but he eventually decided to give it up.
5. He Is A Producer
Acting has been the main focus of Luke's career since he got started, but there's a chance he may eventually shift gears. Luke produced a short film called Air although it has yet to be released. It wouldn't be surprising if he decided to step behind the camera more in the future.
6. He Loves Coffee
There are a lot of people who feel like they need coffee to function, but many of those people drink coffee simply for the caffeine and not because they like the taste. Luke, however, is a self-proclaimed coffee enthusiast. He really loves coffee and enjoys getting the chance to try different kids.
7. He Likes To Eat A Healthy Diet
They say health is wealth, and Luke is all about doing whatever he can to take care of his body. For him, a big part of that is following a healthy diet. Luke once said, "I try to stay away from processed foods. I eat lean meats and get as many veggies as I can on my plate, so when mum calls me on a Sunday, I can tell her I'm eating enough veggies! I love pasta, but I don't eat carbs a whole lot, and I love fruit."
8. He Is A Dog Person
All of the dog lovers out there know that there's simply nothing like the love of a dog. The relationship between a human and their pup is one of the most special things a person can experience. Luke is thankful that it's something he gets to enjoy. Luke has a cocka-poo named Alfie who has become the star of Luke's Instagram pictures.
9. He Is A Fairly Private Person
Despite having spent over a decade in the entertainment industry, Luke has never been the type of actor who likes to put his personal life on display for the world. While he's shared some things, he has remained pretty private for the most part. From what we've seen happen to other celebrities, a more private approach usually tends to work out better.
10. He Is An Outdoors Kind Of Guy
Just because Luke is a huge international star doesn't mean he's afraid to get his hands a little dirty. Being outdoors is one of his favorite ways to spend his free time and it's the perfect way for him to take his mind off of work. He loves doing different activities such as hiking, paddle boarding, and playing golf.