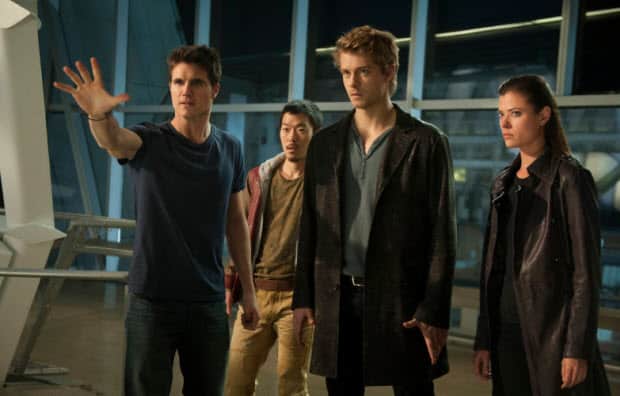 The Tomorrow People is based on a cult British sci-fi series that aired in the 70's, and had an American remake later in the early 90's. How does this new version of the show feel for someone from my generation?
It's exactly the type of show that I'm looking for. Disclaimer before you read on; I never saw Heroes (at least not enough episodes to use it as a comparison) or Alphas so I'm not going to able to comment on any similarities that a lot of critics out there have.
The show opens up with Stephen Jameson (Robbie Amell) whose new powers are causing him problems. He's frozen out by his fellow classmates, except for his best friend Astrid (Madeleine Mantock) , he is having sleeping problems as he is constantly teleporting to random places. He has to take a lot of medicine in order to stop it, but clearly isn't helping.
As a leading man, Amell is just like his cousin Stephen Amell (On CW's Arrow), someone that gets into his character fully and is very believable as a teenager in high school dealing with mysterious powers. The way he introduces himself as a character feels refreshing, despite being something that we have seen before.
After hearing a female voice inside his head, Stephen meets the Tomorrow People that consists of the other main characters John Young (Luke Mitchell), Cara (Peyton List) and Russell (Aaron Yoo). As an ensemble; these actors work very well together as they fit both visually as well as acting wise.
John is the leader of the Tomorrow People and he is the one that we will come to see become both an mentor for Stephen but also someone that he will bicker a lot with, especially since that there is clearly going to be a love triangle between those two and Cara.
Mitchell is a new face to me and seeing him as a leading man; he is doing a fine job as the rebel leader and does have a good dynamic with Amell's character as well as the others. I think him being the rebel out of all them is what separates him, which is an aspect I like because it would feel weird if all of them had too similar of personalities.
Cara is the more mature character who tries to keep everyone safe. This is actually the first time I have been able to see List as a main female character and that feels great because she is truly a strong actress who brings a lot of good elements to Cara. The one thing that may concern me about her is that she may become a bit too serious as the show progresses which I hope is not the case. It would be great to see her having a good time with her abilities as well, and not just having to be on her guard.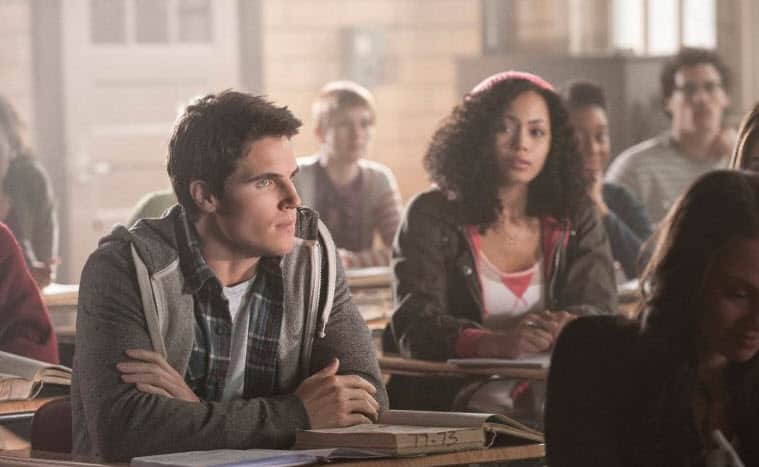 Russell is the one that is the most fun out of the characters; I'm not saying that the others aren't fun to watch, but Russell is the one that seems to be able to actually enjoy his powers. One goal for the Tomorrow People is to not be captured by Ultra, Dr. Jedikiah Price's (Mark Pellegrino) group that wants to get rid of the so called "Homo Superiors."
But Russell still finds a way to both enjoy life with superpowers and still being on his guard from being captured. It's important to have a character like him when you have a show like this. The only sad part was that his character got the least screentime which I can understand why because it's a pilot and not everyone will always get the same amount of screentime.
Just like Russell, Astrid was also someone who didn't get a lot of screen time either despite the fact that she is Stephen' best friend and someone that he cares a lot for. Mantock is also a new face to me and she brings a lot of charm to Astrid as she is sassy as well as a good person for Stephen to have around as he is pretty much alone in high school. I'm sure that she along with Russell will get more screen time in upcoming episodes.
The structure that The Tomorrow People has when it comes to superpowers is a concept I think will make the show strong. The fact that they all have the same abilities (Teleportation, Telekinesis and Telepathy) is actually something that we don't see a lot of in hero-based shows.
It makes them equals, because it won't come down to who has the best abilities, it will come down to who uses them the best so that it's an exciting thing to think about. The mystery surrounding Stephen's ability to stop time – that he most likely inherited from his father who is also a mystery – is intriguing and something that will be great to explore throughout the season.
One concern I had about the show when it was announced that The CW was developing it was that would it look visually pleasing. Would it be something a CW budget could handle? As it turns out, I had nothing to worry about as their way of doing teleportation as well as other powers looks great while it still doesn't look too expansive.
Dr. Price turned to be a different villain than I expected and as we learn that he is actually Stephen's uncle, the show really gave itself a seed that can pretty much go anywhere. As a viewer, that is really appreciating to see that they did something that we weren't expecting. However, what they shouldn't have done was reveal it in the first trailer that came out for the show back in May. We know that there is something between him and John that makes them a nemesis to each other and that is something that I think will come to play a big role throughout the series.
Pellegrino is just an amazing performer that pretty much, like Mark Sheppard, is a master of villains (if you don't know; he has done a lot of villainous roles) and the show made a great decision to cast him in the role of Jedikiah Price.
One of the things that really made the show unique in its first episode is the twist that takes place at the end when Stephen decides to join Ultra which was something that I wasn't expecting to see. It gives us another great storyline to get excited for in the show's first season and I'm just glad that they didn't accidentally reveal that in the trailer for the show. Another concept that I didn't see coming was the Tomorrow People's inability to kill and that, along with how Homo Superiors started out, will be interesting to learn more about.
Knowing that it comes from executive producers Julie Plec (The Vampire Diaries, The Originals) and Greg Berlanti (Arrow), two very passionate fans of the original series as well as two talented writers/showrunners; they did a fantastic job of adapting a children's sci-fi show into a show that is more grounded and mature.
Director Danny Cannon did a great job directing the show's first episode and setting up the feel and the looks of this series, based on a script by Phil Klemmer (who was a writer and co-executive producer for one of my all-time favorite shows, Chuck) who is also an executive producer for the show.
There weren't many things to complain about this pilot as it gives us a proper introduction to the characters, a clear theme and most importantly its story. Other than the limited screentime that Yoo and Mantock had, it was a successful pilot and it will definitely be a show that I will be tuning in for after Arrow every week.
The Tomorrow People airs on Wednesday nights, 9/8c on The CW.