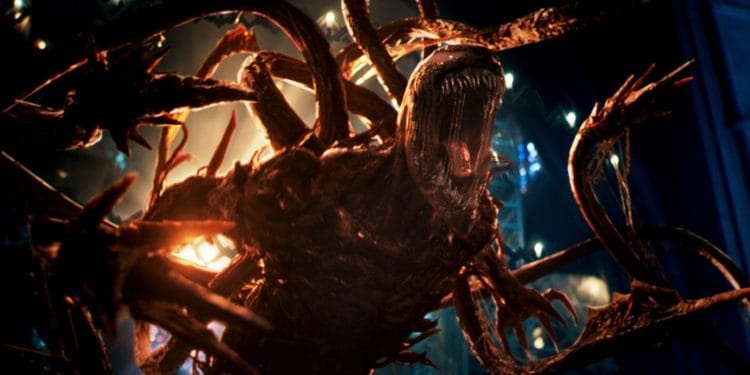 Even with the lackluster theatrical performance of Sony/Marvel's Venom back in 2018 starring Tom Hardy as the titular symbiote villain turned hero, fans still seem excited about the upcoming sequel Venom: Let There Be Carnage. For those who may have not seen the original film, there was a stinger scene that gave folks more of a thrill than the entirety of the movie they had just sat through where there were given a sneak peek as to who will be the big bad in the follow-up. In the stinger, a very maniacal (and red toupee adorned) Woody Harrelson plays serial killer Cletus Kasady who spouts from a prison cell the line, "Let there be Carnage."
Needless to say, the fan community was excited to know that there was still hope for the Venom franchise after two less than stellar appearances in Sam Raimis' much-maligned Spider-Man 3 (2007) played laughably bad by Topher Grace, and the Tom Hardy version, which came off as a bit too goofy to be intimidating. The addition of Harrelson, who has proven his mettle at playing a psychotic murder in Natural Born Killers (1994), is perfect casting for one of Marvel's most ironically savage villains. According to the Carnage Wiki Page,
Carnage belongs to a race of amorphous extraterrestrial parasites known as Symbiotes, which form a symbiotic bond with their hosts and give them super-human abilities. Originating as an offspring of Venom, Carnage is much more powerful than his parent symbiote because of the symbiotes' biology, and is in many ways a darker version of him. Like Venom, Carnage has had multiple hosts over the years, but his most famous one remains his first, serial killer Cletus Kasady, whose sadistic personality perfectly matches that of the symbiote.
Already Carnage sounds far more interesting than Venom did in either movie he appeared in.
The first trailer for the film was dropped back on May 10th, 2021, giving fans a taste of what Venom: Let There Be Carnage is going to have in store for them when it is expected to hit theaters on September 24th of this year. Sony has further added to the fervor behind the sequel by putting out a second trailer chock full of more of what comic book readers are clamoring for, footage of Harrelson as Carnage, and let me tell you, the trailer does not disappoint in that department.
Written by the franchise's original scriptwriter Kelly Marcel, who penned Disney's Cruella (2021), the tone feels very similar to the first film with Eddie Brock trying to balance work and single life, all the while having a goopy rage monster alien living inside of him, constantly berating Brock about why he is such a loser (a storyline that got kind of old really quickly in the first go-around). While covering a story, Brock visits Cletus Kasady in prison where the red-haired maniac viciously chomps down on Eddie's hand, thus ingesting some of the symbiote material and becoming a much more brutal version of the original creature. The rest of the new trailer is a hodgepodge of minor story points and Easter Eggs, mixed with a fair amount of Woody Harrelson chewing up the scenery in the best ways possible.
What I was not aware of was who the director credit went to this time around. None other than the Mo-Cap Master himself, Mr. Andy Serkis, who has been wowing audiences since his time as Gollum in The Lord of The Rings films twenty years ago. Between the casting of Woody Harrelson as the heavy and Andy Serkis at the wheel, with his vast talent at creating living, breathing characters from CGI, this is a match made in fanboy heaven. Mind you, some of the digital effects are a tad cartoony in their execution, what with the constant fluidity of motion with both Venom and Carnage as they lumber about, shapeshifting to and fro, though from what can be seen in the trailer the look of the characters is pretty spot on from the original comic, which will be a sigh of relief for the hardcore readers of the original comic property.
Coming back for this one is Michelle Williams as Brock's lost love Anne Weying, as well as Reid Scott, the loveable doctor who wooed Anne from Brock in the first movie. New to the franchise, besides Harrelson, are Stephen Graham along with Naomie Harris, who will play Cletus Kasady's love interest Shriek, also from the comic series.
With no end in sight for comic book movies in our future, it will be interesting to see what role Venom might play in future Spider-Man films, but if we have learned anything from Marvel's past endeavors, nothing is off the table and the rumor mills are churning.