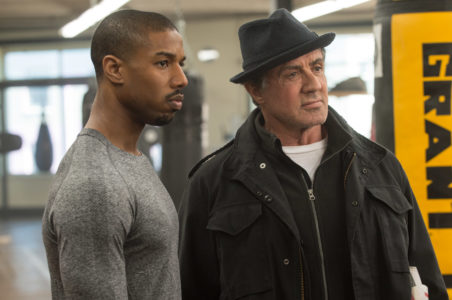 One more round for Creed as Sylvester Stallone has announced on his Instagram post that he will direct and produce the sequel to the blockbuster 2015 film. He will also reprise the role of Rocky Balboa as well. His performance in the first film earned him an Oscar nomination for Best Supporting Actor.
Creed 2 is expected to start production next year. No release date has been announced yet but, most likely, it will be on around November next year (just like the first film) or in 2019. Stallone also wrote the screenplay for the sequel. So, basically, Stallone is back on being an auteur in the Rocky franchise. In his Instagram post (you can check it below), Stallone posted a photo of him and Michael B. Jordan along with a caption, "Looking forward to directing and Producing The incredibly talented Michael B Jordan in CREED 2 next year … One more Round ! #creed2 #mgm #fighting #workout #exercise #boxing."
Stallone has teased that the sequel might be about Adonis Creed on a ring against Ivan Drago's son. To refresh your memory, Drago killed Apollo Creed on a brutal match in Rocky IV. If that's going to be the film's official story, it will be a very interesting sequel that will hopefully be as satisfying as the first film which was critically-acclaimed, blockbuster, and earned Stallone various acting nods.
A sequel for Creed has been planned since the first film was released. It was previously scheduled to be released on November 2017 but it was pushed back to an unconfirmed date. Jordan's schedule is considered as one of the reasons for the delay since he was cast on Black Panther by Ryan Coogler, the director of the first film. It is unknown if Coogler will have any involvement in the sequel. Milo Ventimiglia, who played Rocky's son Robert Balboa in Rocky Balboa, has expressed his interest on appearing in the sequel if ever they will ask him to return in the franchise.
So far, there is no release date set for Creed 2 as it is still in development. We'll keep you updated for any news regarding this.
Save