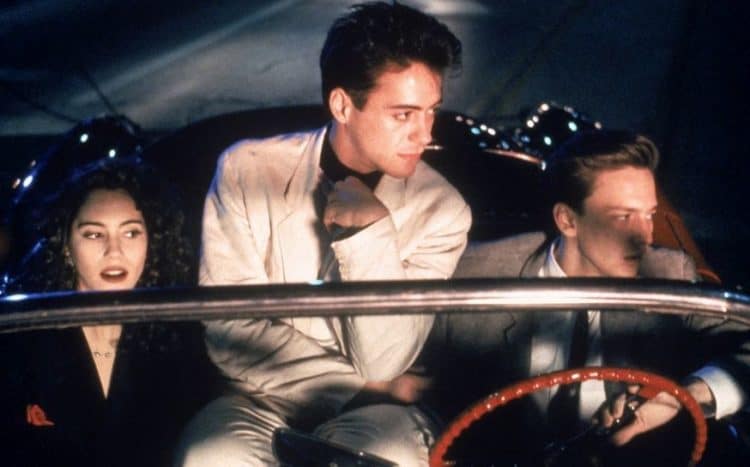 The 1980s were a wild time in America. There are several representations of the strange time in America's history in film and literature, but nothing describes the eerie feeling of Los Angeles in the '80s like the quasi-dystopian realities within the writings of Bret Easton Ellis. Ellis became a best-selling author at the age of 21 with his debut novel Less Than Zero. The novel began for Ellis as a series of short stories he had written for a creative writing course in college. The main character of Less Than Zero reflects that of the author– a west coast kid transplanted in the northeast for his first year of college. The story picks up as the main character, (not protagonist, because there are no real heroes in any of Ellis' works— just aimless souls) Clay, returns home to Los Angeles on a winter break.
Andrew McCarthy
Less Than Zero, like most of Ellis' works feature thrill-seeking but bored, rich but numb, and attractive but ugly young people on the verge of nothing. Who better to play his first leading young man than the youthful, somewhat dopey-looking Andrew McCarthy as Clay. McCarthy is more recently known for his directing prowess in shows like The Blacklist, but 30 years ago he starred in the timeless 1980's films Pretty in Pink and Weekend at Bernie's.
Robert Downey Jr.
Alongside McCarthy, playing the unnerved Clay, is Clay's dope sick prostitute best friend Julian, played by Robert Downey Jr. The idea of showing young kids of the L.A. valley strung out on drugs and peddling their bodies to pay off debts seems to be risqué, even by todays standards, but this is the allure of Ellis' novels— they are showing the ugliness, hypocrisy, and misogyny of L.A. that ran rampant throughout the '80's, '90's, and well, most of modern history. Downey Jr. is more recently known for his role as Ironman in the Marvel Avenger Universe, but before Marvel and Sherlock Holmes, he has had a storied dramatic and comedic career, spanning the decades and even as a cast member on Saturday Night Live in 1985-86.
James Spader
Playing the slick drug dealer to the entire cast of character in Less Than Zero is Rip, played by James Spader. Showing a real shortage of morality through his portrayal, Spader dials in a true flat-toned apathy as his character sells to friends and celebrities, with little care to watch their lives spin out of control with addiction. Spader must have held a Hollywood connection with Andrew McCarthy over the course of three decades, as he was the star of The Blacklist, which was directed by McCarthy. There are character connections all throughout Ellis' novels. The Rules of Attraction take place at Camden College in New Hampshire, the same school Clay is on break from in Less than Zero.
James Van Der Beek
Sean Bateman is the sexually promiscuous, mushroom gobbling bad boy played seamlessly by James Van Der Beek. 25 at the time, Van Der Beek fits the roll well, as his character is a 22-year-old senior who operates as though he will be an undergrad party rat for years to come. Almost never seen in or around a classroom, Bateman's primary roll is prowling frat houses for something to drink and someone to take home on his motorcycle.
Jessica Biel
In keeping with the tawdry nature of the film and Van Der Beek's character, Sean Bateman, we meet another of Bateman's casual college partners named Lara, played by Jessica Biel. 20 at the time and probably looking to shake the cookie-cutter persona she played on 7th Heaven, Biel plays a flirtatious Camden College student with an affinity for drugs and popularity. Jessica Biel's career has blossomed further since The Rules of attraction, starring in The Illusionist and Total Recall. Strangely enough, Biel has gained recognition for her voiceover work in shows like Family Guy and BoJack Horseman.
Kate Bosworth
As Sean Bateman skulks about a frat party looking for "prey" he comes upon Kelly, played by Kate Bosworth, a young coed drinking out of a red party cup by the pool table. After some lying and flirting, Kelly and Bateman leave the party together. This role was not a significantly large role for Bosworth, but it was a positive start for the then 19-year-old actor, as the film did well in the box office and gained worldwide popularity. Bosworth is also known for her roles in 21 and Superman Returns.
Christian Bale
One character that overlaps largely from four of Ellis' novels is Sean Bateman's brother, Patrick Bateman. Playing an obsessive investment banker with a penchant for murdering strangers and colleagues to the tunes of popular 80's hits is Christian Bale as Patrick Bateman in American Psycho. In his first breakout role, Bale, an Australian, plays the sickly smiling Manhattan psychopath disturbingly well. Bale is known more recently to have played roles in films like Ford v Ferrari and Vice. Over the years Bale has made a name for himself diving deeply into roles, implementing method acting on set and drastically shifting his appearance. In 2004 Bale lost 70 lbs. to get into the his character for the film The Machinist, weighing only 120 lbs. for a portion of the production. Bale did the exact opposite in 2018 for the film Vice, gaining a significant amount of weight to portray then Vice President Dick Cheney. We have yet to see what type of transformation Bale makes for his upcoming role as Gorr The God Butcher in Thor: Love and Thunder.
Amber Heard
The last film adaptation of Ellis' books came in 2008 with The Informers. The book is a series of short stories tenuously connected by places and characters furthering the archetypal misanthropic narrative of Bret Easton Ellis novels. The movie The Informers tries to make sense of the book with some drastic artistic liberties, streamlining the characters into telling a story. The film featured big stars like Billy Bob Thornton, Kim Basinger, and Mickey Rourke, as well as 22-year-old Amber Heard. Heard was no stranger to Hollywood at this point. In 2008 Heard's face was on marquees for three different films— Never Back Down, Pineapple Express, and The Informers. In The Informers Heard plays Christie, an aloof party-going L.A. girl who lives with her boyfriend Graham and their two other roommates. Amidst the plane crashes and hostage situations that occur, Christie sees everything as banal, as if she were half asleep and life did not deserve too much attention. Heard plays the character well, living up to her surrounding cast in an overlooked nihilistic film. Heard has since starred in The Rum Diary, and Aquaman, and will soon be in theatres again with Aquaman 2.
Whether you are familiar with Bret Easton Ellis' work or not, his film adaptation that stretched from 1987 to 2008 are worth a watch. It is worth stating that if you are expecting overarching themes of happiness and love, Ellis' works are not for you, as they display the apathetic nature of American excess through consumerism, drugs, and sex. It is most likely those very elements that halted plans for Less Than Zero to become a series. If for nothing else, seeing actors that command the screen today, when they were still working out the kinks of their craft, makes these films special today.
Tell us what's wrong with this post? How could we improve it? :)
Let us improve this post!