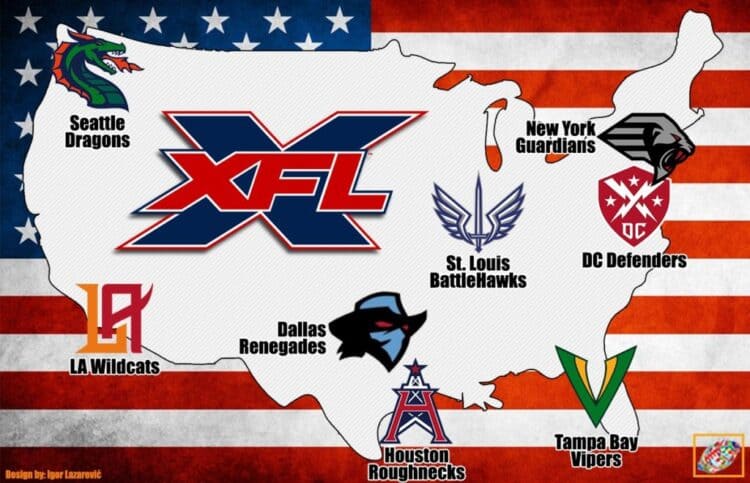 You kind of have to wonder if the third time is going to be the charm when it comes to the XFL, since the fact is that the organization has started up and failed twice in the past, and even with Dwayne Johnson serving as one of the owners it feels as though this league is going to be fighting an uphill battle to keep the ratings up high enough to stick around. The rules might be slightly different than the NFL, and the season appears to last longer, but the fact is that the league is a little more fun for one reason or another. There is word that there are talks about the idea of working with the CFL in order to make this work, but once again, it's fair to assume that people are going to need to be turned on to the idea that this league is worth the effort. There are fewer teams, and therefore less drama, but somehow this league is interesting to watch, and part of it is that the players aren't being paid as much, which means they're a little more relatable.
Since the idea was built up years ago by WWE Chairman Vince McMahon, the XFL has been a league that many people have wanted to see flourish, yet it hasn't really gained much ground over the years. To say that it will ever rival the NFL is more than a pipe dream, it's like trying to climb Mt. Everest in a speedo without oxygen. But there's nothing to say that it can't be a pleasing alternative. There are going to be slightly different rules though, and while nothing is going to compromise the safety of the athletes, the rules are bound to be a little confusing to those that have been used to college and NFL rules for a long time.
For instance, there are three different ways to score extra points after a touchdown, as a team can choose to score 1, 2, or 3 points, and will have to start from different points in regards to the goal line. That one rule alone is enough to make some people raise their eyebrows, but there are others that are bound to make people wonder how effective this league is going to be, and if the rules are going to be a little too out of whack for people to really get into. But the idea is that bringing it back will hopefully create enough interest that it will be something that can last for many seasons to come, and right now, it's easy to say that it would be nice to see it come back since it was a lot of fun to watch in the first place. But traction is one of the biggest hurdles that it needs to overcome since the public interest is what could make or break this league. If people are willing to pay attention to the XFL and bolster it as it needs, then hopefully it will end up sticking around. If not, then perhaps the third time should be the last. If the league can't gain the necessary interest to stick around for more than a season or two, it might be time to state that it was a nice try, but it wasn't bound to work.
But until that moment it's fair to say that going the distance is a definite goal and with Dwayne Johnson behind the effort it could have a shot, and it could be something that, if successful, could go on to become the type of game that the NFL used to be, and will hopefully stand as something that can be seen as a little more positive. Of course, there's always the thought that once something becomes popular, it's very likely that it will continue to grow and grow and eventually become the status quo. One has to remember that at one time, the NFL wasn't nearly as big as it is now, and the business aspect of it wasn't such a huge part that people noticed that often. Even when the business of football was well established and became the juggernaut it is now, it took a while for things to reach the state they're at as of now.
The XFL feels like another chance for football to be fun, since even if college football is more fun to watch, the XFL could be a happy medium between college and the NFL that might exist as a way of enjoying the game without taking it too seriously. There aren't even half as many teams as the NFL, but it does simplify things a bit, even if some folks might think that it might present another challenge. In the long run, it's a big hope that the XFL will do better this time around than it's done before, but we'll have to wait and see what happens.
Tell us what's wrong with this post? How could we improve it? :)
Let us improve this post!