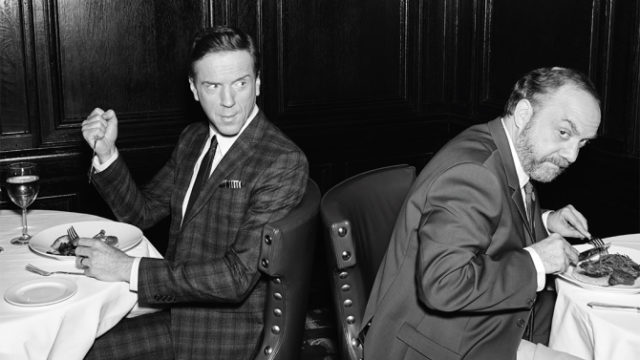 Billions is a world-class Showtime series starring Paul Giamatti as Chuck Rhoades and Damian Lewis as Bobby Axelrod. Their respective love interests are Wendy Rhoades played by Maggie Siff who was last seen on the small screen as Jackson Teller's wife on "Sons of Anarchy", and Malin Ackerman as Lara Axelrod, who played Tom Cruise's main squeeze in "Rock of Ages" on the big screen.
So, the second season actually contained better character development and tighter storylines than the first season. What were the best moments of the season? Well, we've compiled five of them even though the entire season was really dynamite:
Billions Season 2, Episode 7: 'Victory Lap'
This episode is much like another movie about stockbrokers that involves a bunch of Gordon Gekko wannabes who get together at an associate's mansion to watch "Wall Street". They're like little kids, mouthing all the words to the hit movie from memory like it's the holy grail. They cheer for Michael Douglas' Gekko character as if he's a super-hero, and hey, to them, he is. He inspires them to be better-crooked players on the Wall Street playing field. And, to make this particular movie scene even more bizarre is the fact that this mansion is barely furnished.
So, it makes you wonder if this guy just moved in or is he just a neanderthal? So, greed is good, or is it? In "Victory Lap" that question hangs heavy over Axe's head when a big business deal puts him under the gun to make a decision about whether his bottom line is more important than his humanity,……or maybe not. It's a great moment that helps to define whether Axe really thinks like Gordon Gekko as far as how good greed is, especially when there is a fortune at stake.
Billions Season 2, Episode 10: "With or Without You"
In this episode, both Lara and Wendy go back to their respective husbands because, of course, moral compromise and dirty secrets are what bond everybody together on Billions. Sure, both wives have numerous reasons for abandoning their husbands forever but they are both always drawn back into that life that they thought they wanted so badly to get out of. And, in the end, nothing ever seems to change for them, does it? The scene gets the majority of its emotional impact from the U2 song playing in the background that was obviously the basis for the title.
Billions Season 2, Episode 8: 'The Kingmaker'
This episode contains several interesting moments that point out how painfully hard Bobby Axelrod is trying to be an uptown boy but, in spite of all of his efforts, he'll always be on the outside looking in when it comes to high society. Even though he thumbs his nose at them when he wears a rock t-shirt to a formal occasion, he still really wants to be one of them instead of just a kid from Yonkers who made billions.
Billions Season 2, Episode 11: 'Golden Frog Time'
This was a great Season 2 moment when Axe had a successful day on Wall Street and ended it by celebrating with his lovely wife, Lara. They shared a pizza with caviar on top. Wow, what a yummy way to show how their recent upward mobility had fused with their old humble roots and morphed into a culinary classic! I wonder if I can get that at Pizza Hut?
Billions Season 2, Episode 12: 'Ball in Hand'
In this, the season 2 finale, we finally come to the realization that Chuck Rhoades has literally sacrificed everything to put Bobby Axelrod behind bars. And, he saw all of those personal losses coming from a mile away. But, in the end, it's kind of a draw between the two high-powered men. Chuck gets his wish and Axe goes to jail, however, not for long since money can buy him out of just about every jam he gets into. Unfortunately, one hand he plays may cause him to lose the lovely Lara forever as she waited for him to come home as promised before going away to jail, and waited, and waited. So, when Axe does get out of jail, she's not there to pick him up. We'll have to wait to see if he can win her back next season and what new secret could break up Wendy and Chuck Rhoades yet again.
Tell us what's wrong with this post? How could we improve it? :)
Let us improve this post!