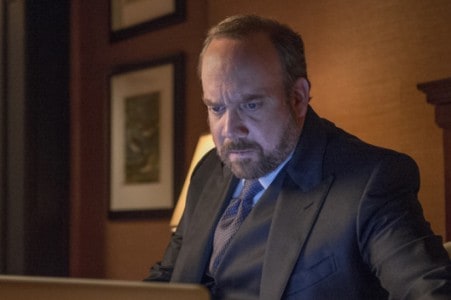 Let's start with the obvious: this was the best episode of Billions by a wide, wide margin. It featured the most deft writing, the most engaging performances, and solid directorial work. It finally managed to write a scene with banter that didn't sound like a room full of people trying to imitate an Aaron Sorkin movie. It even finally managed to make me give a crap about any of the traders in Axe Capital!
This is what happens over the course of a season. This show was always in steady hands, with experienced writers like Koppelman and Levien and an in-the-now journalist like Aaron Ross Sorkin, but it wasn't in the hands of people who had ever made TV before, and it showed. TV is not film; it has different rhythms and cadences, and requires a lot of trail and error, brute force practice before finding the sweet spot.
Oftentimes, it takes a season, or even two, to find footing; of course, most shows don't last that long. But with Billions having already been renewed for a second season, it can rest easy knowing that it'll be able to fix the issues of the past.
* * *
One issue that Billions is going to have going forward is that Chuck Rhoades has now crossed the line from douchebag doing bad things for the right reasons to an irredeemable stretch mark of a human being. Going through his wife's laptop is the height of f**kery, and I can never see him as anything more than a slime-sloughed toad ever again.
I mean, Jesus Christ, my man; you don't even ask your wife about what happened between her and Axe before you go through her stuff? Are you crazy? Are you a sociopath? At this point, I think it's more reasonable to see Chuck as a scumbag than Axe. Axe talks with Wendy and goes home and talks to his wife; Chuck puts his stubby fingers all over his wife's personal life.
They both suck, and suck to a degree that I'm beginning to worry that a black hole will form and swallow up New York, but I'd rather root for a billion opportunist douchebag than a millionaire douche with a badge. It's unconscionable that Chuck is supposed to be protecting people and then goes and pulls some stuff like this.
There is one, and only one, solution: Chuck has to go. I'm 100% serious. He needs to be written out. Send him back to his home planet, please. I'd rather have the malevolent grinning mannequin that Rob Morrow is playing than Chuck in the lead role. It's become intolerable. Paul Giamatti is an incredibly charismatic actor, but that low growl he does no longer sounds authoritative, but exploitative.
You know who I want as a hero? Maffee (quick aside: what the f**k kinda name is this? Do you know how many different ways this was pronounced? I had to Google him to figure out what the hell his name was). Maffee came across as a real human being; I wish they'd stop doing the dumb secretary romance plot with him, because this literally began last episode and we know almost nothing about the secretary, but I'll take it. I think it would've been interesting to use this episode to develop Maffee; they could've set this trade up earlier on, and made it a triumph when Maffee got it right and Axe got it wrong.
But alas.
* * *
Billions has the potential to really slay this last episode and have momentum going into next season. They seem to have a grasp on the rhythms of TV at this point, and that can only be a positive going forward. But they do have to fix their heroes, because while I am super into complicated, shaded, grayed out characters, I'd like to root for at least one person that isn't a total douche.
More Wendy would fix that. I can never get enough of Maggie Siff, who has been dope from the opening tip.