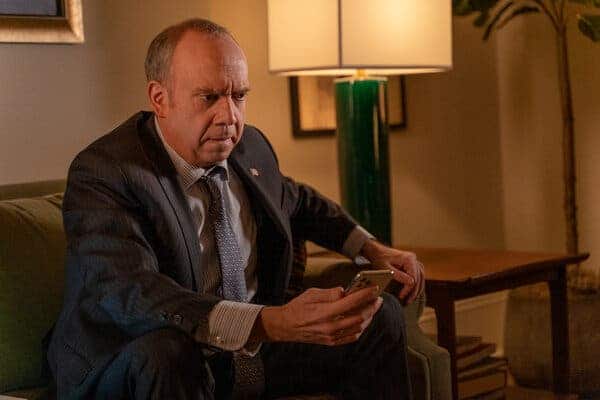 For Bobby Axelrod (Damian Lewis), life is a game of numbers, and he doesn't want to be caught on the wrong side of it. So, in true capitalist fashion, he fixates his eyes on making as much as he can, even if it means stepping on others' toes. One toe, in particular, is a pain that won't go away. It's that of attorney Chuck Rhoades (Paul Giamatti), who's always watching, waiting for Axelrod to miss some of his steps. In the first season of Billions, we are introduced to this cold rivalry, that has Rhoades' wife, Wendy Rhoades (Maggie Siff), at the center of it all. Every attempt Rhoades makes at getting Axelrod for insider trading seems to hit a wall. The last thing Rhoades would want to do is breach the Chinese wall that exists between him and Wendy, who works for Axelrod.
Through the seasons, we see the rivalry escalate, reach a peak, and come to a halt at the end of the third season when Axelrod's own protégé, Taylor (Asia Kate Dillon), pulls a move of her own. In the fourth season, we see much of Axe, Wendy, and Chuck's plan to bring Taylor to her knees, all while Chuck tries to salvage his career, as Connerty (Toby Leonard Moore) makes a plan to bring him down. By the end of the season, the friendship between Chuck and Axe isn't long-lasting, after all, and their rivalry is about to go a notch higher since an Axe-Wendy relationship is likely to happen.
Billions is a thrilling account of what goes on in the world of hedge-funds, bringing family dynamics into play. The show first premiered on Showtime in 2016 and has been on for five seasons. According to some of the show's fans, it is as captivating as a show can be, and keeps viewers glued to the screens. Saswat Mishra says of the show: " Billions really is not truly a show about high finance. It is not really a legal drama or a show focused on political shenanigans. Rather, it sets itself up within the boundaries of all of these arenas to take a closer look at the lives and relationships of some very rich, powerful, and egocentric people who will do just about anything to stay on top. These individuals lie, they manipulate, they compromise, they destroy relationships or stay inconvenient ones. They all play victim while hurting others. Billions chooses complexity. There really isn't any clearly defined good versus evil here."
A Recap Of The Fifth Season So Far
At the beginning of the fifth season, we see Taylor make an Axe Capital comeback, but with strict instructions to keep an eye on Axe. The season also begins with tension in the Chuck-Wendy household, with the pair announcing their separation. Things get thicker when Chuck decides to go for therapy and files a restraining order against his estranged wife. We see Chuck take up a new opportunity at Yale. After his separation from Wendy, Chuck finds love in the arms of Catherine, a professor at Yale. Things on Axe's end aren't too rosy either. Besides being humiliated by Mike Prince at a retreat, his son runs into some trouble of his own, probably following in his father's footsteps.
A new rivalry brews harder when Axe sets his sights on Yonkers but is met with opposition from Prince and Chuck's father. The dynamics of Axe's childhood come to play. His plans with the family that resides in his childhood home are canceled, much to their displeasure, and they talk to the press about it. Eventually, Axe's woes with his family home come to a close when he buys it. At the time production goes on a break, we see Axe, Wendy, and Wags at a not-so-friendly dinner, where Axe throws jabs at Wendy's partner, Tanner. Tension rises after Wendy and Taylor get into what Axe thinks is a bad deal. Given the recent release, here are predictions on what is to come:
The End Of The Road For Prince
When we first meet Prince, he embodies everything that Axe isn't; the kind of honest and philanthropic nature that Axe Capital isn't particularly known for. Axe is determined to find some dirt on Prince, first targeting a gambling addiction that turns out to be legal, and eventually nailing him with his past; how his former partner David gets the short end of the stick, that drives him into depression, and eventually contributes to his death. It's clear that Prince is out of the picture, and Axe finally purchases the company that has his prized possession; a charter bank.
Chuck Finds A New Way To Get At Axe
Earlier in the season, we see Chuck attempt to get Axe for tax fraud and even go as far as having his people camping outside Axe's apartment. The case, however, gets out of his hands, and Axe pulls a fast one on him, staging the apartment as a museum. The newest episode sees Chuck resign from his job at Yale, following a blackmail incident, giving him more time to focus on ways to come at Axe.
Axe Begins To Trust Taylor, Again
Taylor was once Axe's protégé; the one most likely to keep things running in case anything happens. But she went a little over her head and tried to do it on her own, eventually finding her way back home at Axe Capital. When the series went on a mid-season break, Taylor saved the day by preventing a $3 billion loss, therefore getting in Axe's good books. It's likely that, despite the Prince situation, Axe will still consider her a valuable asset.
Wendy Stops Dating, Altogether
No matter how sour things are between Axe and Wendy, it's obvious that the pair will always have a soft spot for each other. He's probably still mad about the situation with Prince, but that can only last a while. Wasn't he the one that tried to sabotage her date? When Axe finally gets over his head and admits he does have feelings for Wendy, she will put a stop to exploring other options.
An Axe-Wendy Reunion
Following Wendy's separation from Chuck, we start to see Axe taking an interest in Wendy. However, his affection for Wendy doesn't come close to his loyalty to Axe Capital, so, when Wendy and Taylor make a deal he's not happy with, we're less likely to witness any romance until the very end. We have four episodes to go, and our prediction is, the season may end with a reunion as the crown to it all.
Tell us what's wrong with this post? How could we improve it? :)
Let us improve this post!