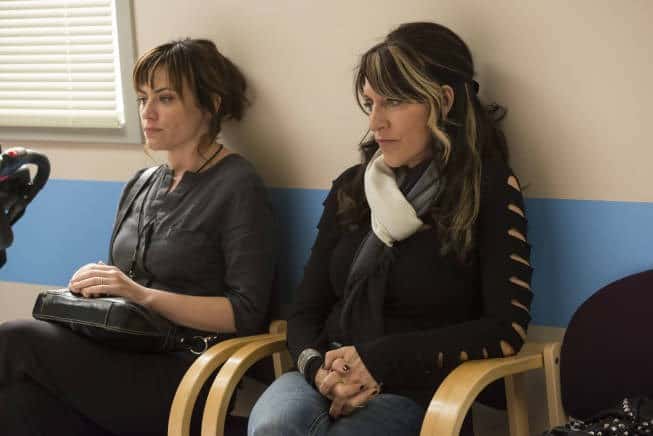 Many people in the field of entertainment are asked "To what do you owe your overnight success?" or something to that effect. One famous actor, when asked that question on a late night talk show, fired back "Overnight? Are you kidding me? I worked for 20 years, taking every job I could get and now that I've clawed my way to the top, people say it was overnight? Not hardly!" And, that same thing happens to a lot of actors and actresses, too, like Maggie Siff.
Now, even if you don't recognize her name, you'll surely recognize her face thanks to two wildly popular recent TV series. One is the now canceled cult classic well-known for its grittiness and extreme violence in a portrayal of a murderous California motorcycle gang called "Sons of Anarchy" lead by a young man named Jackson Teller who is just too good-looking for his own good. Maggie Siff played his wife, who is also a brilliant doctor, but not so bright at choosing her men. But, she's a woman in charge right up until her mother-in-law buries a barbecue fork in her beautiful brain.
Her other major TV role is in the more current series entitled "Billions", which is on hiatus right now but fans are eagerly awaiting its return in early 2018. Maggie plays a shrink and another powerful man's wife as Mrs. Chuck Rhoades. As usual, she's in control whether playing dominatrix to hubby's S&M alter ego or helping billionaire Bobby Axelrod get his head on straight. She clearly has both of them under her thumb and we can't wait to see what the upcoming season has to offer.
But, prior to these roles that she's well-known for, Maggie was working for many years, both on TV and in major motion pictures, as well as a great deal of stage acting, preparing herself for her "overnight success". Here are five roles that you may have seen her in but possibly forgot all about:
2007- "Michael Clayton"- (Major Motion Picture)- Attorney #1
This is what would probably be considered a very small part but it's in a very BIG movie. When your character is simply called "Attorney #1", that's a pretty small part. But, she was really good in it and it was definitely a great movie. After all, with a star like George Clooney, it would have to be, right?
2007- 2015- "Mad Men" (TV Series)- Rachel Menken / Rachel Katz
This very popular television series starring John Hamm was a great vehicle for Maggie Siff to show off her acting talents. She played Rachel Menken who became Rachel Katz by marriage. She ran Menken's department store, which catered mainly to the local Jewish clientele. She was also romantically involved with John Hamm's character, Don Draper. Altogether, she appeared in five episodes of the show.
2007-2008 "Nip/Tuck" (TV Series)- Rachel Ben Natan
In this rather shocking (to some viewers) but nevertheless wildly popular TV series, Maggie plays a character who is seriously injured by a suicide bomber. Her face is badly disfigured, however, she still possesses the inner strength for forgiving the unforgivable. She's in three episodes. These performances could have been easily forgotten because she was so unrecognizable but also due to the amazing number of stars that have appeared on the show from Alec Baldwin to the late great Larry Hagman.
2009- "Leaves of Grass"- (Motion Picture)- Rabbi Renannah Zimmerman
As the good Rabbi, Maggie plays opposite Edward Norton, Susan Sarandon, Ty Burrell, Keri Russell, and the great Richard Dreyfuss. One quote from the movie that her character delivers to Norton's character (he plays twins in this movie BTW) is "We are animals,… with brains that trick us into thinking we aren't."
2012- "A Gifted Man" (TV Series) – Lily Meyerson
This was a really great but short-lived series starring Patrick Wilson as a doctor who keeps getting visits from his dead wife. Maggie was in one episode entitled "In Case of Letting Go", which aired on February 24, 2012.