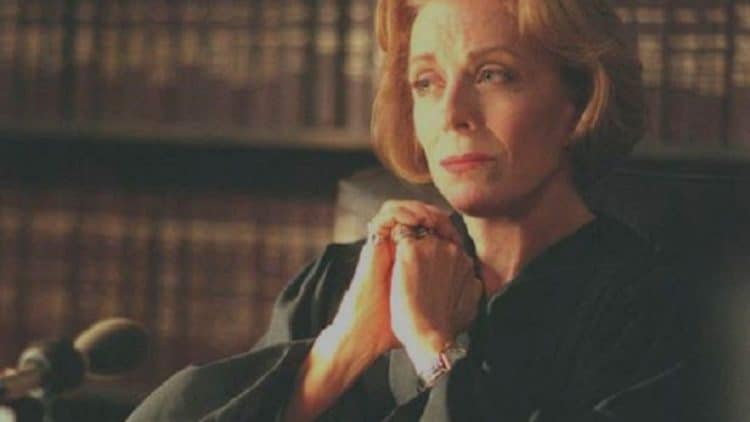 Legendary is one of the best words to describe Holland Taylor and her career as an actress. She has been working consistently for the last seven decades, and her resume now consists of more than 120 acting credits. Over the years, Holland has shown the world that she's capable of playing any kind of character. Her versatility has given her endless opportunities and she's not finished showing us what she can do next. She has a role in an upcoming Netflix series called The Chair and her fans are excited to see her (and the rest of the all star cast) tell a unique story about the chair of a university English department. Keep reading for 10 things you didn't know about Holland Taylor.
1. She's A Philadelphia Native
Philadelphia has a long history of birthing incredibly talented people, and Holland Taylor is one of them. She was born and raised in the Philadelphia area where her father worked a lawyer and her mother was a painter. She eventually moved to New York City to pursue her acting career.
2. She's In A Relationship With Sarah Paulson
In 2015, Holland revealed that she was in a relationship with fellow actress Sarah Paulson. Many were shocked because of the couple's 32 year age gap. It was also the first time Holland had spoken publicly about her dating life as she has never been married.
3. She's Been On Broadway
A career in theater was always Holland's dream and that's what she was hoping to achieve when she moved to New York. Unfortunately, when she got to the city she realized just how difficult it was going to be. Despite the challenges, however, she managed to stick it out. She has had a very successful theater career that includes being part of several Broadway productions including Murder Among Friends.
4. She's Passionate About Social Justice
As someone who is in a same sex relationship, Holland knows the realities of having a part of your identity be criticized and marginalized. This is probably one of the main contributing factors to her stance on social justice. She is a strong supporter of the fight to end racism.
5. She Still Gets Nervous From Time To Time
After spending so many years in the industry, most people would assume that nerves are a thing of the past for Holland. In reality, however, she still deals with nerves just like anybody else. But like the professional she is, she always manages to pull it together and rise to the occasion.
6. She Was Trained By Stella Adler
Holland's natural talent is impossible to ignore, but she's also put a lot of effort into making the most of her skills. She trained at the famous Stella Adler Studio of Acting under Stella Adler herself. Stella played a very important role in Holland's career and was the one who encouraged her to take the role in the series Bosom Buddies.
7. She Loves Giving back To Others
Using her position in the world as a way to help others is something that has always been important to Holland. Over the years she has supported several causes including HIV/AIDS awareness and research. She has also worked with several charitable organizations including Aids for AIDS and The American Heart Association.
8. She's A Private Person
Holland has become more open about her personal life in recent years, but she is still a private person who prefers to keep most things away from the public eye. During an interview with Advocate, Holland said, "I'm a very private person, just generally. I would be no matter what my life was, but I was not private in the sense of hiding."
9. France Is One Of Her Favorite Places
One of the best things about being a professional actress is that it tends to come with plenty of cool opportunities to have great experiences. Throughout her career, Holland has gotten the chance to travel all over the world, and France has become one of her favorite places. She loves the country and its culture and has studied the language and the cuisine.
10. She Is A Proud Aunt
Holland doesn't have any children of her own, but family has always been one of the most important things in her life. She takes her role as an aunt very seriously and she has great relationships with her nieces and nephews. Some of them have even followed her foot steps into the entertainment industry. Actress Tea Leoni is one of Holland's nieces, and her nephew, A.R. Gurney is a playwright.