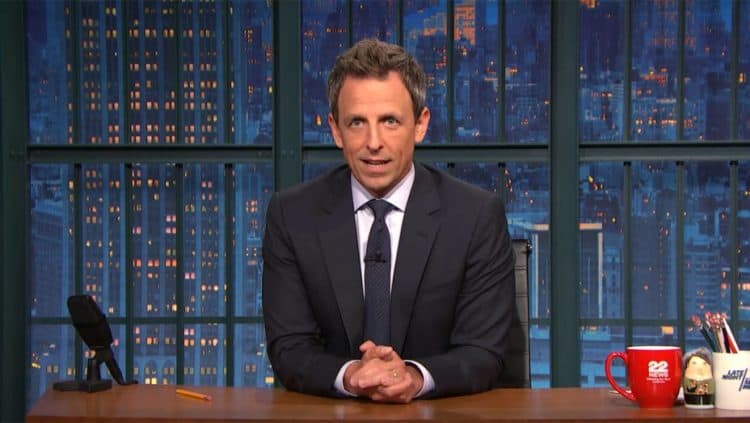 Seth Meyers is one of the most bankable hosts in the entertainment industry right now. While he hasn't yet reached the status of late-night hosts who have come before him, like Conan O'Brien, David Letterman, and Craig Ferguson, Meyers is well on his way to becoming a late-night superstar. Meyers' journey towards stardom isn't an overnight success, however. The talk show host has gone through ups and downs in his career, starting with a humble start in improv to eventually becoming one of the most popular figures on late-night TV. Here are the five most significant moments of Seth Meyers' career, all of which contributed to who he has become as an entertainer.
Humble beginnings in improv
Seth Meyers, like most comedians, started his career in improv, first joining an improv troupe at Northwestern University called the Mee-Ow Show. The group has an impressive list of alumni, which include Ana Gasteyer, Julia Louis-Dreyfus, Dermot Mulroney, and Kristen Schaal. He then joined ImprovOlympic in Chicago and then moved to Amsterdam to join an English-language improv group called Boom Chicago.
Joining Saturday Night Live
Seth Meyers became a cast member of Saturday Night Live in 2001. During his tenure as a performer, he impersonated celebrities like John Kerry, Michael Caine, Anderson Cooper, Carrot Top, Prince Charles, Ryan Seacrest, Sean Penn, Stone Phillips, Tobey Maguire, Peyton Manning, and many others. He also had a few notable recurring characters, which include David Zinger, Zack Ricky, and Boston Powers. Meyers would eventually become a co-head writer of the sketch comedy's writer's room, helming the staff together with Tina Fey and Andrew Steele. He would eventually become the sole head writer for the 2006-2007 season and also host Weekend Update. A fun fact about his writing tenure with Saturday Night Live is that he was the one who wrote the now-infamous line that Tina Fey's impersonation of Alaska Governor Sarah Palin delivered in one of the sketches around the time of the 2008 presidential elections. "I can see Russia from my house." In an interview with Backstage, he admitted that the people who have been most influential on his career are those he met on Saturday Night Live. "There are two: Amy Poehler—I was really lucky to start on "SNL" with her because I already looked up to her, and she was this incredibly kind person. We were new at the same time, but she was far more established than I was in show business; she had already been on television shows, been in movies. She was very kind to take me along on the ride. And then Mike Shoemaker, who was a producer there and is my producer now. He was somebody who was always very honest, and I made a decision early on to trust and listen to him."
Hosting Late Night
Seth Meyers took over hosting duties of Late Night when its former host Jimmy Fallon became the new host of the Tonight Show. His first guest on the show was his former cohost of Weekend Update Amy Poehler. Seth Meyers has always taken pride in having a diverse writing staff on his show, telling Awards Watch: "Yeah, no, I think that we always thought… Mike Shoemaker and I worked together for a long time as SNL, as well as our head writer, Alex Baze, and we always knew from working there that when you have a chance to hire a writer, hire something you don't have. Don't try to get another version of a person who currently exists on the staff. And so from the very beginning, we tried to get voices that were different from mine, people who had backgrounds that are different than mine. And we also looked for people who could perform and that's been an incredible luxury for our show over the last seven years is to know we have writers who are going to be the right kind of people to comment on things in the news that are maybe going to do a more effective job than I would in the same situation."
Hosting the Emmys and the Golden Globes
Meyers hosted the Emmys in 2014, a year that saw wins for shows like Modern Family and Breaking Bad, as well as performers such as Jim Parsons, Julia Louis-Dreyfus, Bryan Cranston, and Julianna Margulies. In a summary of Meyers' monologue for the awards show, TIME wrote: "The Late Night host took aim at the decision to move the Emmys to a Monday night in August to avoid football season conflicts ("keeping with the actor's tradition of running away from jocks"); the head-scratching surrounding certain shows' nomination categories (the past year featured "comedies that made you laugh and comedies that made you cry because they were dramas submitted as comedies"); and HBO's dominance as the network with the most nominations (HBO is "the kid you grew up with who did way better than you expected")" Seth Meyers also hosted the Golden Globes in 2018, which saw movies like Three Billboards Outside Ebbing, Missouri and Lady Bird garner recognition. Seth Meyers' monologue during the awards show was particularly noted by media outlets for its fiery content. According to The Guardian, Meyers took aim at Harvey Weinstein and Kevin Spacey during his monologue. Referring to the disgraced producer, Harvey Weinstein, who is currently serving more than 20 years in prison, Meyers said:  "Don't worry, he'll be back in 20 years when he becomes the first person to be booed at the annual In Memoriam. It will sound like that."
Work as a producer
Seth Meyers has recently ventured into behind-the-camera business, having produced four TV shows so far. The first one was an adult animated comedy titled The Awesomes, a show that he also created. He also produces the mockumentary Documentary Now! He also produced AP Bio, which starred Glenn Howerton, Tom Bennett, Patton Oswalt, and Paula Pell. While the series enjoyed positive reviews, it was canceled after four seasons. Its creator, Mike O'Brien, wrote on Twitter: "I'm sad to announce that AP Bio will not be renewed for a 5th season," he wrote. "But mostly I'm feeling grateful right now. To all the fans who watched the show and fought for it to come back after the cancellation! And to Peacock & UTV for giving us two more seasons after that! (all 42 eps are on peacock so check them out if you haven't). This show has been one of the best experiences of my life and that's because of the hundreds of hilarious, hard-working, positive people that were involved. I'm going to name a few below but can't possibly cover everyone. So if you ever worked with us for even a day, THANK YOU!! And to you other shows, hire these people!"