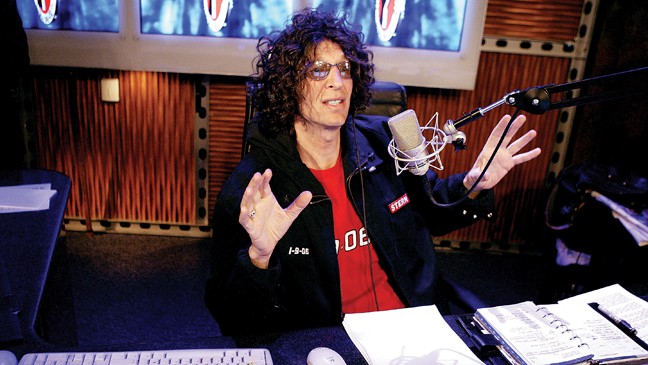 Howard Stern is one of the most popular faces in the entertainment industry and there are only two categories that he falls in — one where he's loved like crazy and the other, where he's hated for all that he says and does and is! And you can be in either of the categories at any given time, depending on which side of Howard you are exposed to. And therein lies the mystery behind how we all view this man as! Well, all things apart, there's no denying that Howard is one of the most influential entertainers we have seen over the last many decades. When he's not cooking up the best radio shows out there, you can see him dropping by on talk shows and entertaining audiences in a way only he can. Of course, there's a lot more to Howard Stern, and if you aren't aware of this particular claim he makes of being the "King of All Media", this list of reasons will tell you how we don't just agree but even second this claim that Howard has been making for quite some time now!
10. Howard Has Been At It For Almost Half a Century Now
The name Howard Stern was first heard in the corridors of entertainment way back in 1975 and now, almost half a century into the game, this guy's still going strong. Born to Jewish parents Howard did it all even as a school kid. He went to Hebrew school and carries the name Tzvi, he learned how to play the piano and showed a keen interest in marionettes. He even went through the usual teenage years and formed a band with his pals from school. It was called Electric Comicbook and Howard took over the keyboard and vocals for his band. When he was only five, Howard first expressed his interest to be on the radio, and thanks to the encouragement his father offered him in terms of a makeshift studio in their basement, got going on his dream pretty early too. It wasn't always a place in the limelight for this entertainer though, and when studying at the South Side High School, Howard remembers being an introvert, something that's a bit difficult for us to imagine today! Well, a communications degree, stints at the campus radio station at Boston University, a major in broadcasting, an early first-class radio-telephone operator license, and a jump into a professional radio job at WNTN in Massachusetts, all came together to create the first beginnings of Howard Stern the entertainer. And boy, has he come a long way! It will be 50 years since Howard's first forays into entertainment a few years from now and this guy's still going strong!
9. Howard Has One of the Highest Radio Deals to His Name
Howard's success on the radio is paralleled by very few, and Howard knows this better than anyone else. This is why he has been one of those radio entertainers who has not only created a unique persona that few others can duplicate even if they tried hard to give it a go but has also managed to keep the moolah flowing, with each deal breaking the records set by the last one. A string of great deals, especially the ones with Sirius, has seen Howard rule radio waves for several decades now, not just in terms of shows and time on the airwaves but also in terms of financial gains. Some of the prowess Howard enjoys on this front has often been mirrored on Forbes lists where he has shared with Simon Cowell the honor of being the highest-paid celebrity on television and in 2015, even clocking the top spot on the list of world's highest-paid media personalities. Whatever success has come Howard's way stems from his popularity on the radio so it's fair to attribute all these earnings directly or indirectly to his radio success.
8. Howard's an Author, a Bestselling One
Yes, Howard Stern, the author is out there too! For someone who has had so much experience in the industry and has so many stories to tell, one would have surely expected at least an autobiography from the man, but there's more to Howard's literary journey than just a book bidding goodbye to an illustrious career at the end of it all. It was in 1993 that Howard first published a book — Private Parts. And the title turned out to be so popular that it not only did complete justice to the $1 million signing amount with Simon & Schuster but also delivered brilliance through what he described as "the most challenging thing I have ever done in my career". So, how successful was Howard's first literary work? The initial print run was 225,000 copies, and this sold out within five hours of the book's release! Within the week, it became the fastest-selling title in Simon & Schuster history and after entering the New York Times Best-Seller list at the numero uno spot, steadily held the number one spot was a whopping 20 weeks. His first book signing session in New York City was attended by ten thousand fans! In 1996, Howard repeated his experiment with literature in the form of Miss America and in 2019, published his third book, Howard Stern Comes Again.
7. Howard Has Found Success on Television
On the telly, Howard Stern has often reigned supreme with his extravagant appearances on talk shows and other events, but apart from this too, Howard has to his name some popular works. His first stint on television did not go down very well. He had five test pilot episodes recorded with Fox named The Howard Stern Show and none of these were ever aired. This was way back in 1987. In 1990, Howard gave television another try and this time around, a show by the same name was aired on the WWOR-TV network as well as its affiliates between 1990 and 1992. Between 1992 and 2005, Howard became part of a staple diet for television audiences when he worked with E! and created two shows The Howard Stern "Interview" and simply, Howard Stern. Between 1998 and 2001, the CBS Network and its affiliates saw The Howard Stern Radio Show taking to the screen. Later, in what would be Howard's longest-running stint on the small screen, Howard Stern on Demand and HowardTV was aired on DEMAND digital cable.
6. Howard's a Cool Comic
There's no denying that Howard Stern has great comic timing and an overwhelming sense of humor that immediately catches the attention of an audience. Whether it is his radio shows that keep audiences engaged at all times, his stand-up comedy routines, his talk show appearances on the top shows in the world, or his videos, books, and movies, there's so much work out there that stands testimony to Howard's ability to make people laugh. This is a man who even makes light of some of the most serious issues of his career. He released an album titled Crucified by the FCC that had works of his that were banned by the FCC. So, one can only imagine how hilarious he can be when it comes to delivering onstage humor.
5. Howard is Part of Some Weird Events, and They Work!
Howard Stern has come up with some crazy ideas during his many years in the entertainment industry and some of them he has transformed into full-fledged events that have at least proved to be the quirkiest out there if not highly successful. Howard Stern's Negligee and Underpants Party, for example, is one such event that doled out some of the most hilarious moments. Another is Howard Stern's U.S. Open Sores, where the main item on the menu was a tennis match with his producer, and to think that the entire event was dreamed up only because the duo challenged one another to a tennis match on air! Yet another event that proved to be a crazy idea, with the New York Post even tagging it "the most disgusting two hours in the history of television", was The Miss Howard Stern New Year's Eve Pageant. Call it just an extension of all that he conjures in that naughty mind of his or simply an extension of his years in entertainment, these events are easily one of the most outrageous.
4. He's Found Great Success on Home Video
When it comes to keeping you entertained at home, Howard Stern sure has got the formula right. In addition to his stints on television, Howard has to his name quite a few home video titles. Howard Stern's Negligee and Underpants Party was his first home video in 1988. Howard Stern's U.S. Open Sores was his second home video. This one was released the next year in 1989. And 1992 and 1994 saw two more titles from the Howard stable, Butt Bongo Fiesta and Howard Stern's New Year's Rotten Eve 1994. Each of his shows, though gaining popularity with the audiences, made headlines for all the wrong reasons, with the surrounding controversies even forcing networks to end professional collaborations with him! Not that all this has ever stopped Howard from delivering what he wanted to!
3. Did You Know Howard Stern has a Couple of Cool Movies to His Name Too?
Radio shows and television are fine. Home videos and books too. But did you know that Howard Stern also has to his name full-fledged movie titles? In career moves that truly help him lay claim to every medium in entertainment, Howard has worked in a couple of movie titles too. The first was in 1986 when Howard played the role of Ben Wah, a news reporter, in the movie Ryder, P.I. In 1997, Howard starred as himself in the movie inspired by his highly successful book Private Parts. Going by the same name as the literary title, the movie got him a mix of reactions. On the one hand, Blockbuster Entertainment awarded him a trophy in the Favorite Male Newcomer category. He also received a mention on the list of Golden Satellite Award nominations in the category of Best Male Actor Performance in a Comedy or musical. On the other hand, Howard's name popped up on the list of nominations at the Golden Raspberry Awards as the Worst New Star.
2. Howard Has to His Name Songs and Albums Too!
If films, radio shows, television shows, home videos, and events were not enough, Howard Stern also has to his credit some cool audio works. These include 50 Ways to Rank Your Mother in 1992, which was released yet again as Unclean Beaver in 1994, the Crucified by the FCC album released by Infinity Broadcasting, and the most famous of his works, Private Parts: The Album, which was so popular that just like the book by the same name, this one made it to the top of the charts too. In 1997, the year of its release, the Warner Bros. release made it all the way to the Number One spot on the Billboard 200 chart and was certified Platinum.
1. He Describes Himself as "King of Media" and No One Really Challenges the Claim!
It all began with the "King of Pop" tag that describes the multi-talented Michael Jackson. As a tongue-in-cheek reference, Howard Stern once proclaimed himself the "King of All Media" and the description simply stuck. Not that Howard ever shied away from the tag or even from proving the case for it! In various public appearances, Howard has gone ahead and explained how his strong presence in different entertainment media as well as the success he has garnered on different media truly make him an entity that should be taken seriously. After all, how many entertainers can boast of bestsellers, Number 1 albums, superhit home videos, and record-breaking radio shows, all rolled up into one glittering career? So, all in all, taking into account every achievement that Howard Stern has clocked along the way, he does indeed deserve the tag of "King"!
This List Sure is More Than Enough to Crown Howard Stern "King of All Media"!
We're sure this list has impressed you in more ways than one and there's no denying the fact that these 10 reasons are more than enough to accept Howard Stern's claim to the mantle of "King of All Media"! More than anything else, we're just glad Howard manages to stir the pot every once in a while and gives us the one thing only he can give us as an entertainer — mastery in almost every medium he works in and delivery of some great projects and titles!