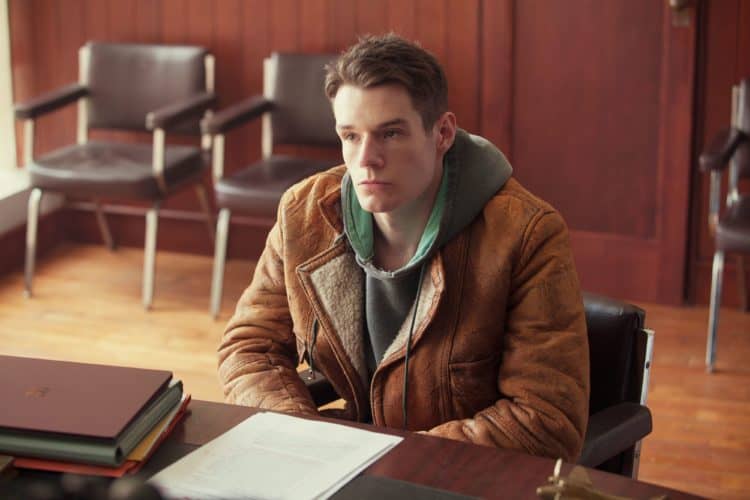 Most actors drop out of school to go into acting, but Connor Swindells has no formal training yet he has become an outstanding actor. Despite a broken dream to be a professional boxer, and not doing well in school, Connors has proven that determination and opportunity are all one needs to be successful. So far he has acted alongside renowned actors like Gerard Butler in the film "Keepers" where he had to have a Scottish accent. Luckily, he is a fast learner, and with "Sex Education," the rise to the top is only beginning. Here is everything else there is to know about Connors.
1. He felt unwanted as a child
When Connors was seven, his mother died of bowel cancer which left the actor to live with his father and grandparents. However, Connors kept being tossed from one relative to another leaving him to feel unwanted. It is, therefore, no wonder that he felt connected to some of the roles he has played onscreen such as on "VS." and "Sex Education."
2. His first time acting
Being a rebellious child, Connors never participated in anything of value while in school; even his studies were not something he took seriously, so he kept failing miserably. Still, one teacher saw in him a star; therefore, she asked him to audition for "The Wizard of Oz." Although Connors could not sing, the teacher edited the play to have a non-singing scene so he could participate. By the time the curtains closed, she could foretell that Connors would be an actor someday in the television or film industry and true to her words, here he is today.
3. He had an eating disorder
With his troubled teenage years, the only way that Connors could process his emotions and release his anger was by hitting up a bag in the gym. He found boxing to be very therapeutic but then it brought him a few health dangers. Connors wanted so bad to retain his weight through the year that he skipped meals and ran every morning; thus, his muscles started to waste away. Although he thought of being a professional boxer in future, one injury led to him realizing that it was not the life he wanted for himself after seeing how much it negatively impacted him.
4. How he ended up in acting
After quitting boxing, Connors joined his brothers in construction work, but they kept telling him he had to pull his weight or find another job. Connors found himself looking for open auditions since his teacher had already instilled in him the confidence to know that he could be a great actor. He went to Brighton with a friend and saw a poster for "The Trial." He said he could act in it and since his friend dared him, Connors went ahead to audition and wound up as the lead. Two more plays later, the actor had found an agent as he told Timeout.
5. He was not afraid to be naked on camera
Putting up your naked body on the camera for the world to see is a difficult eventuality for some actors who have turned down lucrative deals that needed them to be nude. Connors, however, has no problem with nudity and admitted that mostly it affects women. Even talking about sexual stuff is not something he is ashamed of; he loved filming "Sex Education" because he got to see whips, dildos, chains and flashlights but was surprised that there were no double-headed dildos on set.
6. He was appointed the Bowel Cancer UK patron
In April 2019, Connors was announced as the organization's patron during the Bowel Cancer Awareness Month event. The actor felt honoured that he had achieved one of his goals because he wanted to use his celebrity status to raise awareness of the cancer. To him, it was a life mission since he lost his mother to the illness and thus wants the public to know that they can be cured of bowel cancer if only it is diagnosed early.
7. He is studying Brazilian jiu-jitsu
Connors said that young people benefit a lot from martial arts since they learn things that forever impact their lives. He was speaking from his experience; martial arts and boxing are what helped him from going a wrong path in his teenage years when he was processing his pain. According to his interview with Fashionbeans, he thought he would end up being a farmer or laborer until boxing showed him he had other options. He has already begun practicing Brazilian jiu-jitsu to gain mental discipline not just for his sake, but for others too.
8. He was nervous about filming gay scenes
"Sex Education" has Adam and Eric as lovers but getting them to play the scenes was quite a challenge in real life. Although he admits to not being afraid of being naked on the set, Connors was nervous about being intimate with Gatwa which led to him being quiet. On the other hand, Gatwa was loud but also because he was nervous. Still, Gatwa thought that Connors hated him hence the silence resulting in Gatwa wondering if they would put on a good show. However, the anxiety left both of them, and they ended up as good friends.
9. He started dating Aimee after the filming of season one of "Sex Education" ended
Connors does not like talking about his relationship with Aimee; hence the only thing he reveals is that they met on the show. However, even before the series was released, Aimee was more than happy to share with her Instagram fans pictures of her love interest. They have been together for two years, and at first, Aimee regretted making their relationship public via social media, but they have learned to live with it.
10. His sex life
Well, one would assume that whatever intimacy scenes we see in the series are the same ones he and Aimee have in real life. Connor comes clean about their sex life, saying onscreen intimacy is nowhere near their real sex life. He reasoned that if they had to copy their own, then it would be revealing their most personal details which will leave them depressed at the end of the day. He, therefore, prefers to imitate an animal, according to Spin 1038.