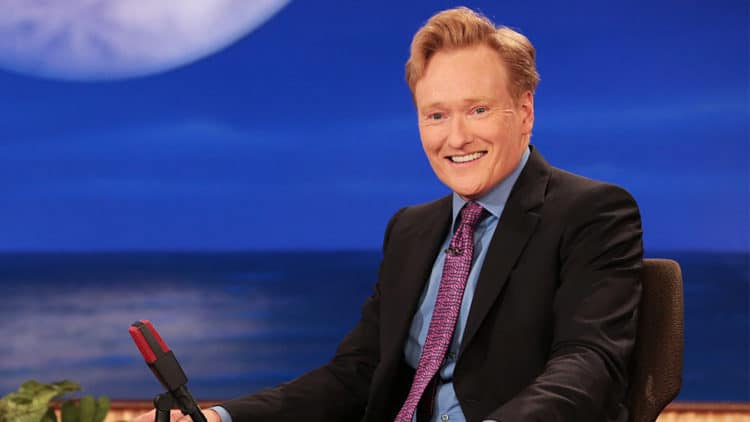 Conan O'Brien has been described by Stephen Colbert as the "elder statesman of late-night TV." When David Letterman retired in 2015, he became the longest-working late-night host, cementing his status as a formidable presence in the entertainment industry. Conan O'Brien's success didn't happen overnight, however; before he became one of the most celebrated talk show hosts in history, he worked in the writer's room of two popular comedy shows. O'Brien recently ended his 28-year run in late-night, officially retiring this year. He is set to appear again in his own variety show in 2022 on HBO Max. In celebration of Conan O'Brien's contribution to entertainment, here are the five most significant moments of Conan O'Brien's career.
Writer for Saturday Night Live
Conan O'Brien famously graduated from Harvard University with a Bachelor of Arts degree magna cum laude. During his time at Harvard, he wrote for the infamous Harvard Lampoon, a humor magazine at the university. This paved way for him to join Saturday Night Live, working in the writer's room for three seasons, from 1988 to 1991. Some of the recurring sketches he wrote include Mr. Short-Term Memory and Girl Watchers, the latter of which was performed by Tom Hanks and SNL cast member Jon Lovitz. O'Brien admitted to having been burnt out during his time in SNL. In an interview with Vanity Fair, Conan said he told Lorne Michaels, SNL's creator, that he just couldn't continue working on the show. "I just realized I was burned out. I told Lorne [Michaels] I couldn't come back to work and just needed to do something else. I had no plan whatsoever. I was in this big transition phase in my life where I decided, "I'll just walk around New York City, and an idea will come to me."
Writer for The Simpsons
Conan O'Brien wrote for the Simpsons during, arguably, the show's best seasons. The Simpsons was notoriously selective of the writers they took in to write for the show. As O'Brien recalled, "everyone wanted to be on that show, but they never hired." Conan O'Brien described his first moments at the show as being very intimidating, as he was working at the time with some of the most talented writers in entertainment. "I was very nervous. I knew a bunch of the writers, but just by reputation—I hadn't worked with many of them. I was self-conscious, I was worried: "Can I do it? Am I going to embarrass myself in front of these people?"" He was able to find his footing eventually, writing some of the most memorable Simpsons episodes. Conan O'Brien wrote the episodes "New Kid On The Block," "Homer Goes To College," and "Marge vs. the Monorail," often considered as the best Simpsons episode to have ever aired.
Host of Late Night
When David Letterman left Late Night, the position of host became available. Lorne Michaels wanted to consider O'Brien as the producer for the new host, but O'Brien wanted to audition as Letterman's replacement instead. Conan eventually snagged the position, and he had to buy himself out of his contract with The Simpsons network Fox, with the help of NBC, to join the show. During Late Night's first weeks with O'Brien at the helm, the show was critically panned, with reviewers harshly commenting on everything about Conan. Some even criticized that he was too tall to be in front of the camera. Because of the show's underperformance, it was constantly at the brink of cancellation, and executives reportedly actively looked for replacement hosts even as Conan O'Brien was still on the air. Thankfully, the show soon picked up its pace, becoming more commercially and creatively successful over the next few years.
Tonight Show and Feud with Jay Leno
Conan O'Brien took over the Tonight Show as former host Jay Leno's replacement. O'Brien's tenure on Tonight Show and the public relations disaster involved became one of the most dramatic moments in late-night history. Looper's summary of the conflict goes as follows: "Fast forward to 2004, when Leno and O'Brien needed new deals, and NBC was again at a crossroads. Both men were extended four years, after which Leno was expected to leave and O'Brien would get "Tonight." Though both men played nice since Leno didn't want another messy move, in private Leno was confused and heartbroken. He and NBC eventually decided that he'd instead launch a 10pm talk show titled "The Jay Leno Show."" Because Leno's show sunk in the ratings game and Conan O'Brien's Tonight Show failed to push the show's momentum forward, advertisers demanded that O'Brien's Tonight Show be pushed to 12:05, which he resisted. The conflict would eventually result in Jay Leno returning to Tonight Show and Conan O'Brien leaving NBC altogether.
When Conan left the Tonight Show in 2010, he had this to say: "Every comedian, every comedian dreams of hosting The Tonight Show and—for seven months—I got to do it. I did it my way, with people I love, and I do not regret a second [of it]…. All I ask is one thing, and I'm asking this particularly of young people that watch: Please do not be cynical. I hate cynicism; for the record it's my least favorite quality. It doesn't lead anywhere. Nobody in life gets exactly what they thought they were going to get. But if you work really hard and you're kind, amazing things will happen."
Host of Conan and Conan O'Brien Needs A Friend
After the heated drama involving Conan O'Brien, Jay Leno, The Tonight Show, and NBC, Conan went into hiatus. Soon enough, he'd find employment again and host a new show in TBS, self-titled Conan. The show pushed the envelope, taking advantage of current events. When the relationship between the United States and Cuba began to thaw, Conan O'Brien found himself visiting and shooting scenes in Cuba, becoming the first American TV host to go to the country in 50 years. Conan lasted from 2010 to 2021 for a total of 11 years. Earlier this year, he officially announced his retirement from late-night TV. His final episode included Will Ferrel and Jack Black. In 2018, Conan began hosting his own podcast, titled Conan O'Brien Needs A Friend. On his podcast, he's interviewed personalities like Barack and Michelle Obama, Hillary Clinton, Quentin Tarantino, David Letterman, and Tina Fey.
Tell us what's wrong with this post? How could we improve it? :)
Let us improve this post!