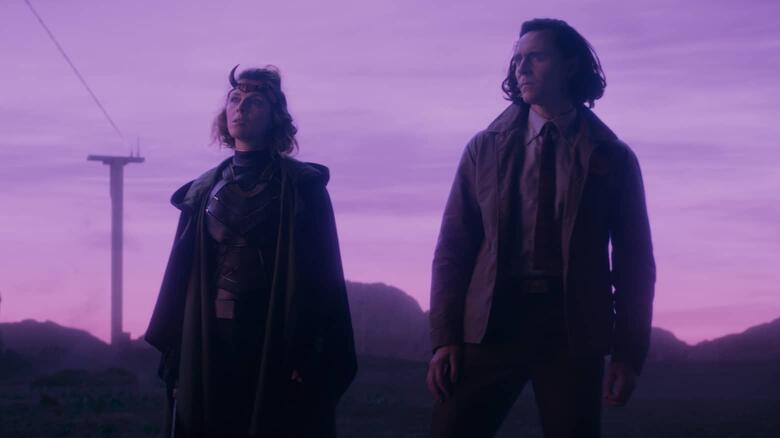 It'd be great to say that more has been revealed in the Loki series, but really it feels as though the reveal in this episode has led only to more questions and doubts, and of course, a cliffhanger ending that many fans will be biting their nail over until next week. Just before I forget, for those that haven't seen the episode yet, there are SPOILERS coming, so keep in mind if you haven't flitted over to Disney+ yet today you might want to stop reading. Now that that's out there, let's get into it. One can't help but think that Loki is a little pretentious and definitely arrogant enough to think that he's bound to gain control of the situation at some point, but the sentimentality he's shown up to this point appears to be real enough, and though Tom Hiddleston IS a good actor, some of the emotions he's putting into the character feel a bit out of whack, but it could be that we're simply used to Loki being a master manipulator, which is why anyone would doubt the character's ability to be genuine. But if Loki is a strange hodgepodge of sentiment and carefully crafted deceptions, his variant, who goes by the name of Sylvie, is locked up like Fort Knox.
The interesting thing is that one can look at Sylvie's posture and see the look in her eyes when Loki speaks of his adopted mother and the lessons she taught him, there's something very guarded there, a past that she doesn't share with just anyone and something that might have caused her a great deal of pain as well. But the trust issues between these two variants is easy enough to understand since it would appear that any version of Loki is going to be difficult to get along with for various reasons, though Sylvie is definitely willing to resort to violence far more than Loki is at this time, though her intuition is just as strong as his, even if this doesn't serve either of them that well at the moment. It's funny to think that this level of equality is being shared by two variants of a trickster that has made it a habit of trying to outfox everyone that he's come across. Being stymied by another version of himself is amusing.
But there are a few missteps to be had of course as Loki, hedonist that he is, can't avoid getting drunk, or 'full' as he calls it, not long after the two are able to find their way on a world that's about to be destroyed by a falling moon, and are able to find passage on the only train leading to an escape vehicle that is only for the ultra-rich. Of course, the fact that the escape vehicle is destroyed at the end of the episode kind of puts the kibosh on their plans of getting away before this apocalyptic event happens, which leaves the viewers astounded since this is how the episode ends, and we're thereby forced to wait another week to find out what happens. Obviously, Loki and Sylvie aren't going to die since that would negate the purpose of the show, but seeing how they're going to get away from this impending doom is still going to keep many people busy for the next seven days since that was one heck of a way to end an episode.
But the fun thing about this episode is that Sylvie is by far the more aggressive between the two of them, and it shows when she makes her way back to the TVA, apparently to confront the Time Keepers. She's already said she has no plans on taking over, but that doesn't mean she doesn't plan on wiping out the Time Keepers if given the chance. Now that she and Loki are stuck on a planet that's about to be destroyed, however, her years of planning appear to have been for nothing, and it's likely a miracle won't cheer her up unless it happens to bring her directly to the Time Keepers, who it would appear she wants to end.
One could say that Hiddleston's own act is a little lighter and more introspective than it's been in other movies, but one has to remember that Loki is an opportunist and even when he's been seen as more aggressive he's usually scheming and trying to sort out every angle. The fact that he's not bulling his way through this story thus far speaks highly of the idea that he knows he's in unfamiliar territory and is still trying to get his head wrapped around everything. Once that happens, if it happens, one can likely expect that the tables will turn in a big way. Until then though, it's kind of fun to see Loki and Sylvie squabble.