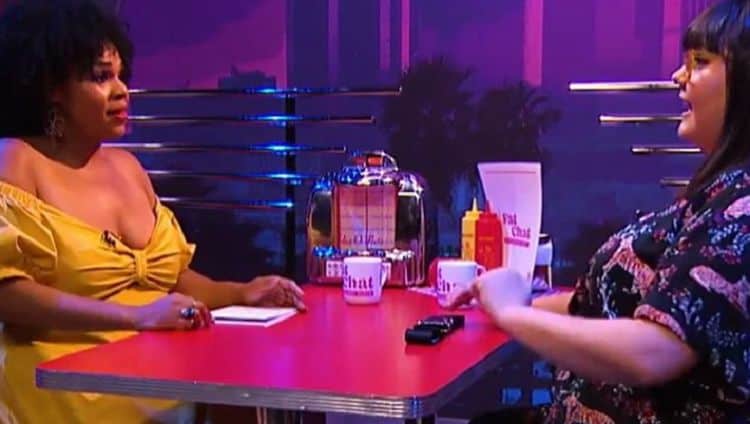 One of the most memorable elements of Netflix's Too Hot to Handle is the narrator. Always ready with a witty remark, the narrator adds an extra layer to the already entertaining show. But who is the voice behind the comments? Many viewers assumed Too Hot to Handle was narrated by Michelle Buteau who narrated The Circle, but that isn't the case. Comedian, Desiree Burch is the show's host, and she has a very impressive resume. In 2015, she won the Funny Women award and has appeared on shows such as The Fake News Show and Live at the Apollo. Continue reading for 10 things you didn't know about Desiree Burch.
1. She Went To Yale
Having a career in comedy wasn't always at the top of Desiree Burch's list. During her time at Yale University she studied theater. Since completing her degree, Desiree has worked in several stage productions including a role in the play, Tar Baby.
2. She Lives In England
Desiree Burch moved to England several years ago to be with her boyfriend at the time. Although the two are no longer together, Desiree decided to stay in London. Moving to London has proven to be a great move for her career and she is really enjoying working in the UK. She told London Inside, "I like working here. It's not so much about fitting into a box. My style is both highbrow and lowbrow. I'm both intellectual and filthy and those things co-exist a lot better here."
3. She Used To Be A Dominatrix
Before her comedy career really took off, Desiree worked as a professional dominatrix. Lots of people would consider this a very unusual career path, but Desiree felt like it made sense for her at the time. She said, "As a woman I'm going to be exploited anyway so why should I not be exploited like this – getting paid to do s**t that I do for free. I guess it's a way to make the most money in the shortest time, but for me it was also a way of exploring myself on a basic level."
4. She Was In A Podcast
Over the years, Desiree has shown that she can do just about anything. In addition to her stage, TV, and standup work, she has also worked in the podcast world. She had a role on the podcast Welcome to Nightvale where she played the former mayor of Night Vale, Pamela Winchell.
5. Too Hot To Handle Isn't Her First Netflix Show
On top of narrating Too Hot to Handle, Desiree Burch also hosts the Netflix game show, Flinch. The British game show puts contestants' reflexes to the test. People on the show are put in different situations that are designed to make them flinch. However, flinching results in negative consequences for contestants.
6. She Has Struggled With Weight Since Childhood
Desiree Burch has been dealing with weight issues for most of her life which sometimes resulted in low self esteem. She told The Guardian, "Growing up, I was always fat. We were the only black family in my neighbourhood. And all that was against the backdrop of Hollywood, where everyone just wants to be attractive and get some sort of Hollywood validation. For me, it was about surviving 18 years to get to some place where I thought life might happen to me."
7. She Does Stand-Up Shows
Before anything else, Desiree Burch is a stand up comedian. She is well-known for her unique sets which often include jokes about her life and time as a sex worker. Although she began her stand-up career in New York, she has really found success once she began working in London.
8. She's A Founding Member Of The New York Neo-Futurists
In 2003, Desiree helped create the New York Neo-Futurists. According to the website, the goal is the New York Neo-Futurists is "to create interactive, highly personal, emotionally and intellectually challenging art for the general public."
9. She Was Raised In Los Angeles
Desiree Burch was born and raised in Los Angeles. Although she loves where she's from, the culture of L.A. often made her feel ostracized as a black woman who did not have a thin frame. Burch eventually decided to relocate to New York after completing college.
10. She Was A Phone Sex Operator
Podcasting isn't the only time Desiree has been able to use the sound of her voice to make money. On top of working as a dominatrix, Desiree also worked as a phone sex operator in the past. Although her job was to speak to customers, Desiree said she actually ended up having to say very little.
Tell us what's wrong with this post? How could we improve it? :)
Let us improve this post!