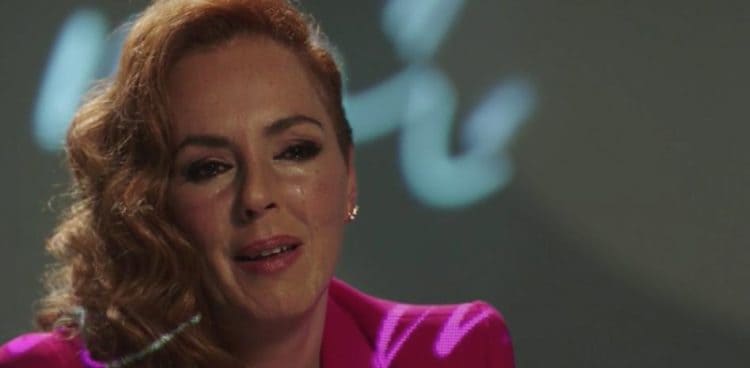 Her name is Rocio Carrasco Mohedano, but you know her as Rocio Carrasco. She's spent the vast majority of her life working as a television presenter and a woman who has dealt with some terrible situations. She comes from a lineage of famous faces, and she's lived her life with much of the same press following her around. Her entire life has been spent in the spotlight, and nothing has changed as she's grown older – especially since her very publicized marriage and divorce that left her with a long history of horrible memories she's struggled with her entire adult life. Her fans want to know more about her and the life she's lived, so we've done some digging to see what she's all about.
1. She's in Her 40s
She was born on April 29, 1977. The world was very different back then, and she did have a lot more privacy as the child of famous parents then than she would in today's climate. She did not have to face the media via social media and the internet. She did have a lot more privacy as a child, and her parents also had a lot more privacy when she was growing up. The times have changed tremendously.
2. She's Divorced
She's been divorced for more than 21 years now. She married a man by the name of Antonio David Flores. He was an officer, and their marriage ended in 2000. He's very well-known for another relationship that he had – this one involved the very famous Nuria Bermudez Antona. Carrasco was married only four years to her husband.
3. She's A Mom
She's got two children with her ex-husband. Their daughter, Rocio Flores was born in 1996. Their son, David Flores, was born in 1998. They are both in the public eye, yet neither one of them has a relationship with their mother.
4. Her Parents Are Famous
She's got very famous parents. Her mother is a Spanish singer and actress. Her father, Pedro, was a famous Spanish boxer. He passed in 2001 when his daughter was in her 20s and his grandchildren were still toddlers.
5. She's Speaking Out
For the first time in many years, she's speaking out. It's been 25 years since she's come out and spoken to anyone about her marriage, her divorce, and the kids she has no relationship with, but she's speaking out now. Her marriage and divorce were in the public eye for a very long time, and she's ben dragged through the mud more than a time or two because of her marriage.
6. She Attempted Suicide
It was 2019 when she chose to take her own life. The attempt did not work. It was the day she found out that her only daughter was on the side of her father. She never spoke about it, but she's speaking about it now because she knows that other people know. She wanted to get ahead of them and make sure that when the news breaks one day that she attempted to take her own life, it's her telling the story and not someone else.
7. She's Been Seeking Treatment
Since 2011, she's been in therapy; both psychiatric and psychological. She suffers from anxiety, depression, and a bevy of other issues. She says it's a direct result of the fact that she's experienced violence against women, and it's harmed her more than many other things in life.
8. She's Dealt with a Lot
Her personal struggles throughout her life have caused so much pain in her life. She's been called a bad mother, a bad wife, a bad person. She's lost her parents, and she's lost her children. She's felt alone in the world for many years, and she's struggled all by herself.
9. No One Knows the Truth
The real problem in her life is that no one knows the truth of what happened. There are so many rumors, so many speculations, and so many things that have been said and done over the years, but very few things have been proven. She's got one feeling, her family has another feeling, and no one knows the truth.
10. She's an Unhappy Woman
The life she's led has been a difficult one, and it's left her feeling sad, empty, and unhappy. She's dealt with abuse, violence, and many other things that no one should ever deal with, and she's lost her kids. Without a relationship with them for so many years, she's felt empty inside, and she's been unhappy more than she's ever been happy. It's a devastating side effect of being willed with anxiety and depression, and it's hard.