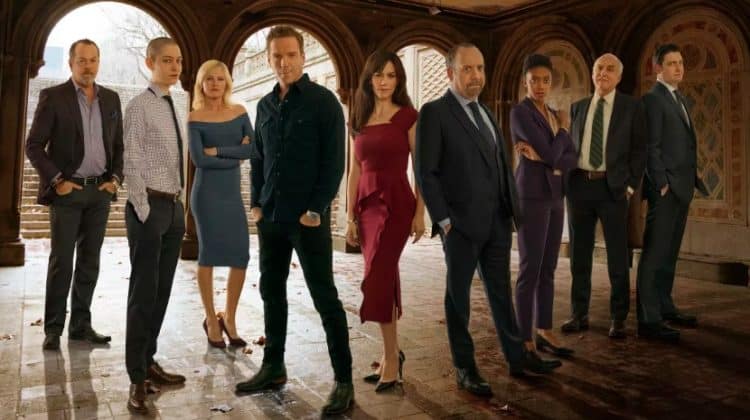 Some television productions barely make an impression on the audience while some become an instant hit. "Billions" falls in the latter category and so far, maybe it is because it is inspired by actual events or perhaps people love anything related to money. Whatever the case, the series has remained a favorite for the three seasons it has aired and the fourth season that premiered in March 2019 is still pushing people to the edge of their seats. So, with such a cult following, what's in it for the cast? Let's see if they are taking anything to the bank.
5. Toby Leonard Moore – $1 million
According to his mother, Toby was destined to be an actor as she recounts a few moments when Toby attracted attention with his mischief. Toby must have shared her opinion since, at only eight years of age, he said he wanted to be an actor and would go to the National Institute of Dramatic Art. While his mum has been very supportive of his acting career depicted by her attending his plays and always encouraging him to be optimistic, her only time to see him on the set was in "Billions." While he has acted in several productions such as "The Pacific," "Legend of the seeker," "Robot Chicken" among others, the film that made him famous was "John Wick" which grossed $89 million worldwide. Most sources estimate his net worth to be $1 million and now that he is part of the main cast of "Billions" the amount is bound to increase.
4. Maggie Siff – $6 million
Maggie grew up in The Bronx and attended The Bronx High School of Science and gained knowledge for her acting career from her master's degree in Fine Arts at The Tisch School of the Arts in New York University. She did not land on the stage immediately but instead worked as a temp in a hedge fund which was an experience that facilitated her role in "Billions." She was mostly on theater before her debut on television in 2004 with the film "Third Watch Cindy" followed by other appearances in shows such as "Rescue Me," "Grey's Anatomy" and "Mad Men." Maggie has a net worth of $6 million, and besides her acting career, she is also a spokesperson for "Betterment" which is an online investment service she has been with since 2018. Her hedge fund knowledge has come in handy in so many ways, evidently; guess nothing ever goes to waste even when we feel like we are wasting our efforts learning something new. Her annual salary is $727,273 while in other films she raked in another $700,000 specifically $375,000 for her role in "Sons of Anarchy" while $342,857 was for her role in "Funny People."
3. Malin Akerman – $10 million
Some of us struggle with wondering what our talent is while others are multi-talented and are not afraid to utilize all their gifts to grow their bank accounts. Malin is a Swedish-Canadian actress who was once a model before turning to television. While she has starred in many movies, her role on "Billions" as Lara Axelrod has made her famous, but that is not all; she is also is a producer working on "Friendsgiving;" an upcoming comedy-drama. Malin's net worth has grown over the past few years, adding a couple of million each year since 2016 when her net worth was $6 million, to have it standing at $10 million as of 2018. We should, therefore, expect that by the end of this year, her fortune will have increased to maybe $12 million as she continues to work her magic both on-screen and off-screen. Malin's hectic schedule has resulted in her owning Electic Hollywood Retreat which she used to rent but now use it as her go-to destination to get away from the busy city life.
2. Damian Lewis – $14 million
It looks like some people know in their early years precisely what they want to be when they grow up, and maybe that is why they become successful. Some of us have to try our hand in anything that comes our way until destiny pushes us in the right direction. Damian is among the lucky few who knew that in adulthood, he would become an actor and he started working towards it. At 16 years he enrolled in Guildhall School of Music and Drama where he graduated and started doing a few plays such as being Little Eyolf and Cymbeline. These roles might have been small, but Steven Spielberg noticed him playing Laertes and that was the beginning of a prosperous career. Today he ranks among the top 10 highest-paid actors in the world for 2019. However, the shows that have catapulted him to fame are "Billions" and "Homeland." For every episode of "Billions" Lewis earns $250,000 translating to $3 million per season, and since the show renewed for the fourth season this year, Lewis is bound to make more money. His net worth now stands at $14 million and it will of course increase with the renewal of "Billions."
1. Paul Giamatti – $25 million
For someone who wanted to be a college professor maybe to follow in his father's footsteps since he was a professor at Yale and went on to become the University President, Paul has turned out to be one of the most sought-after actors. Still, running around the house wrapped in toilet paper pretending to be a mummy could have been a not-so-straight-forward sign that he was destined for the screen. Nevertheless, Paul got into the theater while at Yale University and maybe that is when he discovered he was good at it because he enrolled for a Master's in Fine Arts at Yale School of Drama. Paul has starred in various films, but the most notable one in his career has to be Hangover Part II which became the highest grosser of Paul's career with $254, 464, 305 as the Cinemaholic reveals. Paul's net worth stood at $25 million as of 2018 which is quite a handsome amount for a person who never thought of ending up in Hollywood.