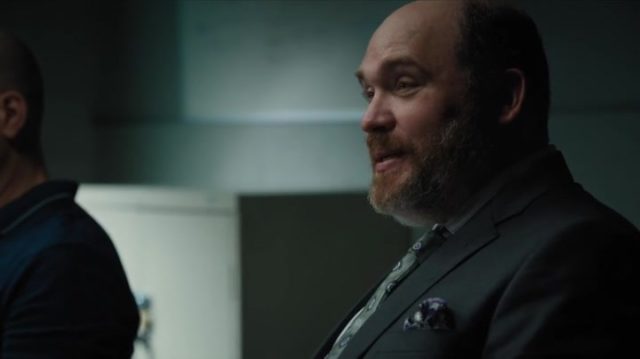 Not much is known yet about Glenn Fleshler which is odd considering that he's been active in Hollywood since 1993. He's been in several TV shows and movies but has either been featured in films that did not get a lot of attention or cast into roles that were of little to no significance. As of late he's been gaining more and more notice as he finds himself being placed into more prominent roles. The actor is as of late starting to really come into his own as a real talent and is showing that he has what it takes to be given more of a presence in whatever film he's cast into.
Here are a few more things you not have known about Glenn Fleshler.
5. He's been active since 1993.
Glenn wasn't much more than a glorified add-on in TV and movies until around 1998. It's hard to get known when you're playing the guy with the black hair or the coffee clerk. The background actors don't typically get much in the way of credit for anything other than showing up and making the main actors look good. Fleshler has spent his time and paid his dues in this manner.
4. He graduated from Tisch School of the Arts.
This school's primary function is to preserve and practice the art of theater through a strict and well-ordered classroom setting. Located in New York it is a very well-used school that has graduated many talented students that have gone on to create a very successful career.
3. His first major role came in 1998.
The movie, A Price Above Rubies, was Fleshler's first big hit and the chance to show that he was for real. In this film he plays a Jewish father whose wife cheats on him with his brother. When she rejects the brother for another man he tells the family of her infidelity and she is ostracized. Later on when she shows that she has changed she and her husband agree that the custody of their son will be changed so that she can be a part of his life.
2. He's been very active in theater.
Like a lot of actors he's had his time on the stage. Broadway seems to be the gateway for a lot of people in the movie industry to pass through. Much like paying your dues in any other industry it seems to be one of the true measuring sticks that can show just how dedicated an actor is to their craft. Fleshler has done well to show that he is entirely dedicated, as he has been featured in several big hits.
1. He will be starring in Suburbicon, which will be coming out in November.
It's not certain what part he'll play as of yet but he will be featured in George Clooney's new film Suburbicon. Likely it will be seen that Fleshler will play an important but somehow overlooked role that people might not think is crucial until everything is revealed. Or maybe he'll just be a supporting character.
Glenn Fleshler is an actor on the rise, as his current and upcoming roles definitely indicate.
Save