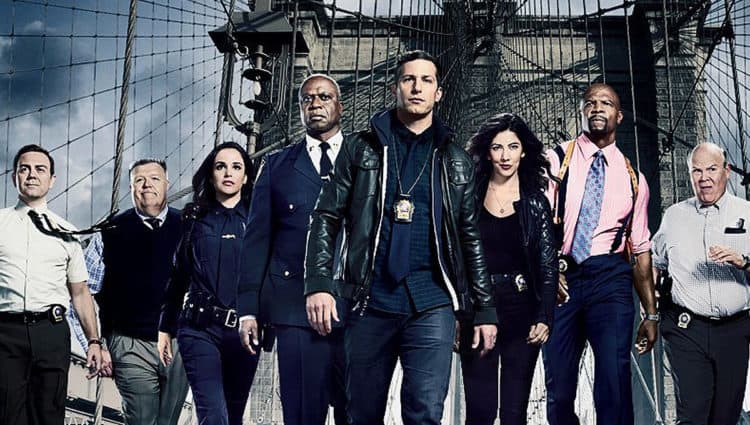 Brooklyn Nine-Nine recently said goodbye with their final season officially in the can. For the past eight years, Jake Peralta, Ray Holt, Terry Jeffords, Rosa Diaz, Amy Santiago, Charles Boyle, Hitchcock, and Scully have made us laugh, dance, sing, cry, and laugh again throughout each tremendous season. To celebrate this amazing show, we'll count the five best episodes of seasons one through eight. Let's not waste any more and check out the top five episodes of season six.
Honeymoon
Coconut, sluts, and Holly Gennaro! So Amy and Jake are officially married and thanks to Gina's referral, the newlyweds go to Mexico for their honeymoon. Unfortunately, the loving couple has deal with their boss Holt, who's sulking in sadness over not getting the commissioner position. Once again, Brooklyn Nine-Nine does as excellent job of balancing comedy and character development and Holt's storyline got a chance for audiences to see a different side of his character to hilarious effect. The running gag of Holt's vacation t-shirts always made for a good laugh. Who knew pineapples were so promiscuous? Holt inadvertently ruining Jake and Amy's honeymoon made for a highly entertaining 30 minutes. The side plot of Jeffords trying to find Holt's manual had its nice share of laughs, especially him overreacting to the computer shut down by smashing it into pieces instead.
Hitchcock & Scully
Can you believe that Hitchcock and Scully were such studs in their younger days? This episode dived deeper into the young days of the lazy desk jockeys and it put a nice spotlight on Hitchcock and Scully who were actually really good at their jobs. The episode provided several great moments, namely the cold open played by Alan Ritchson (Scully) and Wyatt Nash (Hitchcock). The story of the two detectives protecting Goods wife, an innocent victim involved in the case helped round out the two men as good people. The childish fight between the upstairs and downstairs people was a amusing distraction, with the show cleverly tapping into Amy's over competitive nature.
Four Movements
After six seasons, Gina is officially leaving the 99th precinct. The cold open of Gina's meeting kicked off a wildly entertaining episode; From pretending to do a tremendous flipping route, to her elaborate warm-up, and the running gag of her sweat shirts that saw Amy become Arnie for one episode, this was the perfect way to exit out Chelsea Peretti's character and her signature "Gina" moments were both sweet and hilarious. The best moment was her and Holt playing chest. The Captain's frequent trash talk provided some hilarious one liners; however, him trying to make sure that Gina had a plan was a nice tender moment. Despite being polar opposites when it comes to personalities, Holt and Gina felt like brother and sister throughout the series and it helps that Peretti and Andre Braugher have such amazing chemistry.
The Crime Scene
We officially got a dope murder for Jake Peralta! This particular episode mainly focused on a sweet (and very gruesome) murder of a mysterious man in an apartment building. Despite the crime, Brooklyn Nine-Nine doesn't typical treat their murder cases seriously; however, the show does a good job of not going too over the top. While Jake's excitement over officially having a dope murder is a goofy, the actual crime itself is treated with respect and its pretty cool to see these detectives and their personalities clashing with these unique crimes. Jake and Rosa promising the mother to solve the crime was a "tug at your heart strings" moment; however, it ultimately made the arc compelling and it was hard to not root for the two detectives to finally solve the murder case. The running gag or Rosa's hair and the quirky Franco McCoy (Michael Mosely) helped balance out the serious moments of this episode. Another highlight was Jake promising nearly every one under the sun that's he'll solve the case was a good laugh as well. Perhaps the best moment was with Rosa reuniting with her mother at the end of the episode.
Ticking Clocks
So the 99th Precinct has a hacker and Rosa is having love problems; This sounds like a match made in heaven. Brooklyn Nine-Nine continues to carefully craft their characters in a relatable manner, and Rosa's plight with her girlfriend was a nice side story that had some nice growth for Ms. Diaz. We've seen her put up a front before, but it's always great to see the Rosa character grow more comfortable with expressing her feelings. The big plot that kicked off this entire episode was a fun time filler with Amy desperately running from the Dentist arguably being the best gag of the arc. Hitchcock and Scully's silly quest over their Lasagna and Garlic bread made for some great laughs as well.final seasonBrooklyn Nine-Nine