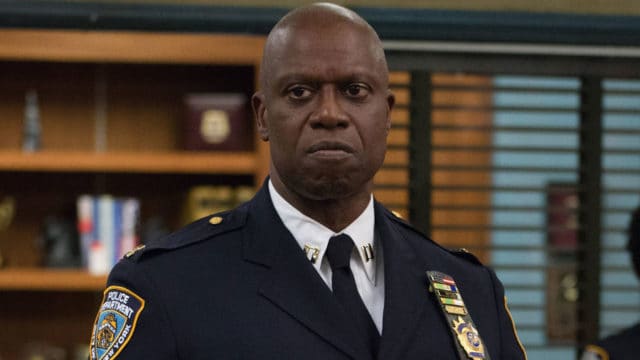 Andre Braugher is an award winning actor and producer. He is classically trained, obtaining a Bachelor's of Art in theater from Stanford University and a Julliard School's Drama Division Master of Fine Arts. His television roles began in a late 1980's film revival of Kojak. His star power grew playing Detective Frank Pembleton on Homicide: Life on the Streets series. He received a Television Critics Award and was nominated for a Primetime Emmy Award for Outstanding Lead Actor in a Drama Series. In 1997 he was selected by People magazine as one of the "50 Most Beautiful People in the World". And now he's what many people consider to be the funniest character on Brooklyn Nine Nine. His film career began in in 1989.
His 5 most awesome films include:
Glory
Braugher played the role of Corporal Thomas Searles, a young man who joins the first black regiment, the Union Army's Massachusetts 54th Volunteer Infantry Regiment. The cast included Matthew Broderick, Denzel Washington, and Morgan Freeman. The American Civil War film won three Academy Awards, Golden Globe Awards, and many other tributes. Braugher's supporting role was a bookish, second-generation free black from Boston, "it turned out quite well because the people on the film were all very passionate", Braugher commented in 2009.
Primal Fear
A dark crime tale showcasing Richard Gere's as an attorney defending an altar boy from murder charges, this film dealt with extreme issues. Braugher's character is Tommy Goodman, a private investigator with an agenda of his own. Critic David Forsmark said that the actor "steals every scene he is in". It's a film that showcases human duplicity, corruption and disillusionment.
Frequency
This film is a mix of thriller and fantasy, Braugher's character is Sergeant Satch DeLeon, the main protagonist. Plot twists abound, particularly because of dual timelines throughout the movie. As one of the main characters, DeLeon plays a vital role in both time periods. The film was lauded as one of the best released in 2000, critics applaud how moments of time are stretched out and intercut between different events. Frequency was nominated for the Hugo Award for Best Dramatic Presentation.
Get on the Bus
Spike Lee directed this story of men traveling to the Million Man March. Braugher stars as Flip along with characters played by well-known actors such as Ossie Davis, Charles S. Dutton, and Richard Belzer. Flip is homophobic, charismatic actor on the bus with 15 other men from various backgrounds and expectations. Political arguments are plentiful as they go from Los Angeles to Washington, D.C., however, strong bonds develop during transportation breakdowns, an episode of reverse racism, and illness. The film received an Honorable Mention at the 47th Berlin International Film Festival.
Poseidon
A tidal wave could qualify as the main character of this disaster film thriller. After a luxury liner is capsized, survivors are forced to unite and determine an effective strategy to overcome the resulting hazards. Braugher is Captain Michael Bradford, who is injured and incorrectly assumes that standard emergency procedures will be sufficient. Released in 2006, Poseidon was nominated for its visual effects at the 79th Academy Awards. Critic Cynthia Fuchs' felt Braugher's acting skills were not fully utilized in the movie.
Save
Tell us what's wrong with this post? How could we improve it? :)
Let us improve this post!