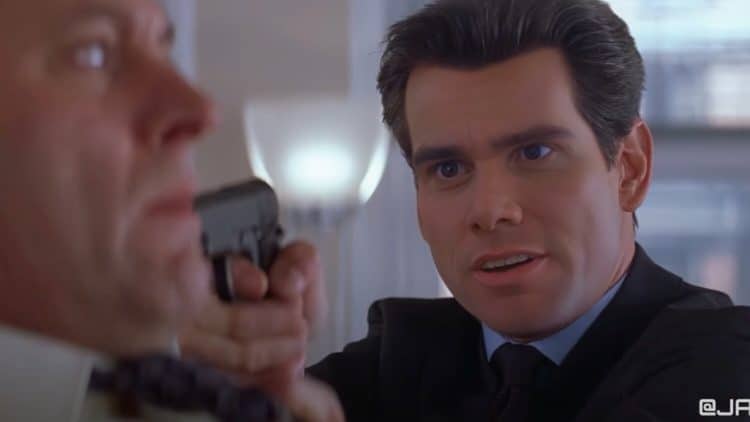 It's not hard to admit that Jim Carrey cleans up well and definitely makes a decent case as a stand-in for Bond. It's not likely that it would have ever happened since much of his act was always geared around comedy during the years that it might have worked, but this Deepfake is one of the better ones that have been improving over the past year or so since it's more than a little convincing. When put side by side with the actual movie this looks pretty good, almost as though Carrey would have been a decent Bond at one point. But it's likely best that he never was considered since he made a much better comedian in the early years of his career and kind of had to work into other genres. As an action star, it's not likely that he might have gone as far simply because this doesn't appear to be where his greatest skill lie. If ever there had been a reason for a more accurate spoof movie though this would have been a killer idea since Jim could have rocked it in the style that only he knows how to do.
Just imagine Carrey taking on Bond and spoofing the hell out of the character, and how insanely funny it could be. It's fair to say that a lot of Bond fans might be divided on the idea, but likely some of them would see the value in it. With the odd names that some of the villains have had in the past and the quirks that they're often given the comedy could have been serious gold from one movie to the next since as anyone should be able to remember, Carrey was capable of taking just about anything and making it funny. Seeing something like this probably would have made a lot of people stop and stare for a moment, especially since it would have felt like making fun of Bond would be out of bounds in a big way. But seeing Carrey create a serious act that would have had him playing a superspy doesn't really feel like something that would have worked.
In fact, it's easy to admit that seeing Carrey in The Truman Show and The Majestic was a big switch since everything he'd done up to that point, for the most part, had been comedy. When he did The Number 23 it was even more apparent that he was stretching out and doing something that was far different than anything he'd done before. He's still done a bit of comedy over the years, but nothing like what he used to do, which is to say that he hasn't gone so far out of control that he's seen as anything but a dramatic actor employing a bit of humor. His turn to the dramatic has been kind of a huge turning point for his career and for a lot of people since while he's still immensely popular it does feel like Carrey had to lose something along the way, even if he still has the capacity for it. He can still be a funny individual, but it almost feels as though time and lack of practice on the big screen are diminishing the way that people see this guy since he's not doing the same thing he used to.
Some might say that's a good thing since it shows a sense of growth and maturity that he didn't really have when he first stepped into character, no matter that some of his funnier characters were brilliant. But seeing Jim as a serious character for so long might make some people think that he's lost his edge as a comedian, especially since it feels as though getting older has tempered him in a big way that a lot of folks can see but can't fully understand. People change, there's no denying that, and as they change, their interests change and they end up taking on a different type of persona over the course of their life. It's fair to think that Jim could still do comedy if that was what he was angling for, but at this time it does feel as though he's turned the corner in a big way.
But a Bond he was never intended to be, and while he does look pretty suave in the suit it's very easy to imagine that he would be cracking a joke here or there and coming up with a few quips that might not be something that people can see Bond saying. It's very easy to admit that the Deepfakes are getting better and better as time goes on, but it's still a wonder as to what else they're going to be used for since it's tough to think that they'll continue to be created just for the sake of amusing those that are willing to watch.
Tell us what's wrong with this post? How could we improve it? :)
Let us improve this post!