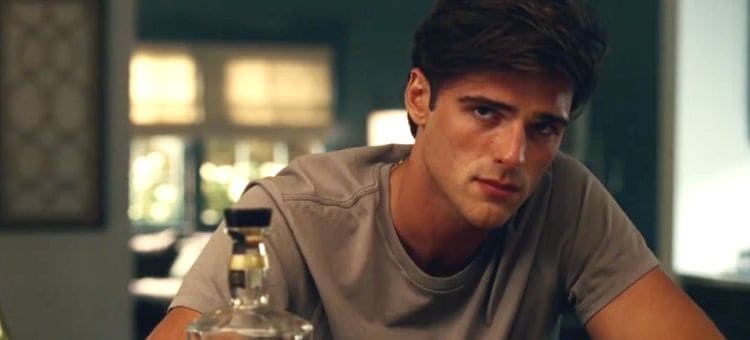 If you're a fan of Euphoria, then you know that Jacob Elordi's character, Nate, is nothing short of complex. As a result, he has been at the center of some of the show's most intense scenes. As a viewer, many of these moments have been very difficult to watch. However, what some fans may not know is that some of these scenes have also been difficult for Jacob to film. Even though the show is fictional, its heavy subject matter and intimate moments can be a lot for the actors to deal with. Despite that, however, Jacob manages to put on great performances every time he's on camera. Keep reading to find out which scenes Jacob Elordi has had trouble filming.
Who Is Nate Jacobs?
If you haven't gotten the chance to tune into Euphoria yet, I thought it would be a good idea to provide some details on who Nate Jacobs is. Having a better understanding of the character can help provide context as to why some of his scenes may be difficult to film. Like the rest of the show's main characters, Nate is a teenager. From the outside looking in, it may seem like he's had a great life, but the reality is that there is much more to Jacob than meets the eye. For starters, Nate has a very complicated relationship with his father, Cal. When Nate was a kid, he discovered pornographic videos that depicted his father engaging in sexual acts. As Nate got older, he developed a very complicated relationship with sex which includes moments where he seems to question his sexuality. On top of that, he also became prone to violent outbursts. To make the character even more interesting, Nate has a somewhat unpleasant disposition that has made it difficult for many of his peers to like him. Underneath it all, however, it's clear that Nate is just someone who wants to be loved and accepted – particularly by his father. However, it quickly becomes evident that there is nothing he can do to truly earn his father's respect which results in Nate being stuck in a constant downward spiral.
Which Scenes Has Jacob Had Trouble Filming?
Since season one, several of the scenes Nate has been involved in have involved sex in some capacity. While these moments may look seamless on-screen, there is a lot that goes into filming them. According to Elle, Jacob revealed that he struggled a bit during the show's first season when it came to acting out those intimate scenes. This was largely due to the fact that an intimacy coordinator was on set to make sure that everyone felt safe while filming. Jacob said,
"In the first season, I kind of struggled with it because I thought it killed the spontaneity of the scene and it was a little bit hands-on, but working with her this season was such a treat. It was delightful, she was so helpful and so caring. She was there for the actor and it made the scenes just like playing any regular moment — she saved the day."
Intimacy coordinators have become a regular presence on many sets across the entertainment industry. Especially in the wake of the #MeToo movement. By having these coordinators on set, producers are hoping to limit the amount of harassment and inappropriate contact. This role is especially important on shows like Euphoria where sex plays a big role in many of the show's pivotal moments. In addition to Elordi, other Euphoria cast members have shared how much they appreciate the work of their intimacy coordinator. Sydney Sweeney, who plays Cassie Howard, told Elle, "It's important to always have an intimacy coordinator even if it's not a sex scene and it's making out or something like that. It adds another level of comfort (and they have a lot of mints and gum). I'm really lucky because all my cast mates are so kind and Sam [Levinson] is amazing. It's a very safe and incredible environment to do such scenes in and having the intimacy coordinator adds another level of 'I feel okay, I feel safe and this is for my character. " As the series continues, Jacob (and his castmates) will likely find that there are even more scenes that may be difficult to film. If there's one thing viewers can always count on, though, it's the fact that Euphoria is never afraid to push the envelope and show a side of the teenage experience that isn't usually depicted on screen.