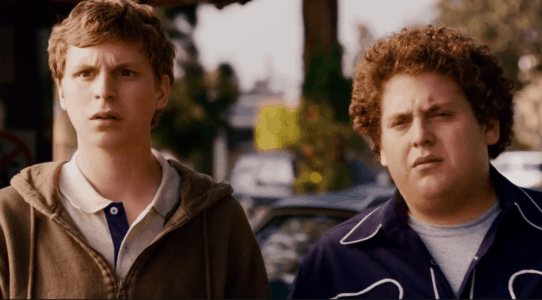 It's amazing to think that the reason that Seth Rogen gives for not wanting to do a Superbad sequel is that he's afraid that he might mess it up if he tries to build off of it. Did anyone else's brain just short-circuit with the idea that someone in Hollywood actually stated they didn't want to touch a sequel because it might ruin the original? It's almost as though this is an idea that has never really been touched upon before, meaning we've been given countless sequels that get worse and worse with only a few that are that great when it truth people could have seen the sense of leaving classics alone without having to drill the same idea into our heads over and over. Granted, some sequels haven't been that bad, but a Superbad sequel might have been something that took away from the original in the sense that it was bound to try to do the same thing that the remake of 21 Jump Street tried to do when it came back with 22 Jump Street. The first remake wasn't too bad, but the second started going downhill pretty quickly. It's still hard to see what people saw in Superbad to such a degree, but at the same time, it gained the kind of attention that people couldn't help but enjoy since they were drawn to it after a while and proclaimed that it was one of the best high school movies ever. That's a bold claim to make, but its financial success definitely backs this up in a big way.
Actors such as Jonah Hill, Michael Cera, and Seth Rogen are definitely acquired tastes since some folks might think that they're insanely funny, while others can't really see the humor they bring other than the sarcastic manner they affect and the fact that they get laughed at for doing almost nothing. True, they have the capacity to be funny and they have plenty of fans, and their success kind of proves as much, but from the standpoint of a person that still doesn't fully understand their level of fame, it's hard to say that they're that great. Superbad was one of the many movies that people would state was so great that they would recommend it to just about anyone, but those that haven't seen it, or have perhaps seen only clips, might still beg to differ since it's one among many movies that might divide the fans when it comes to determining just how great the movie really is. It's an argument that's best initiated with those that love the movie and those that don't care for the actors in it, but overall the point is moot since a person can like whatever movies they want, but the fact is that Superbad will remain a singular movie since a sequel isn't bound to be coming any time soon.
Beyond Seth Rogen's reasoning, the fact is that new actors would need to be found unless the sequel was bound to follow the two lead actors past college and into adulthood, which might be kind of awkward but still workable as a story. It would take a pretty good deal of ambition to make this work since if it was still bound to be a teenage movie it would need a new cast, which would be awkward, to say the least. But even if Cera and Hill could be brought back it wouldn't be convincing, and it certainly wouldn't feel like it was worth the time and effort. Rogen apparently knows this or felt that it was true at least since he hasn't made a single move to try and bring a sequel forth. At this time he's moving forward, doing what he can to keep his career moving up and towards other roles that could possibly make him appear far more versatile and a lot more valuable in the long run. Superbad is a movie that, to many, has managed to stand the test of time thus far as many people still feel that it's one of the better movies out there, as people apparently keep telling Rogen.
High school movies are a funny lot since some of them are glorified like Superbad while others are vilified, such as American Pie. The really funny thing about this is that a lot of them deal with the same issues and the same kind of content, but some are seen to be favored and others are filed under the 'you couldn't make that movie now' section for one reason or another. Superbad is unfortunately one of those if a person looks at things honestly, that couldn't be made today in the same manner since to be fair, it deals with just as many controversial issues, no matter that people tend to ignore them for one reason or another.