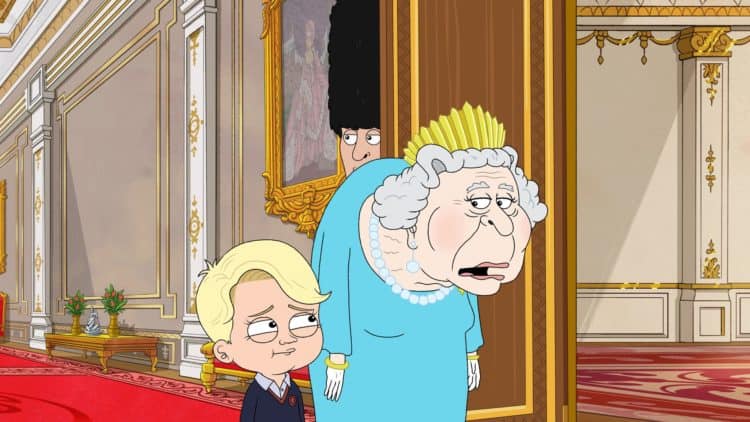 There's just something about the British royal family that the public can never quite get enough of. This ongoing fascination has led to countless of interviews conducted, books published, movies produced, and television series aired. Members of the family have also become the apple of the media's eye. It's as if being born into the family automatically generates a certain kind of celebrity status that will last for generations to come. Whether this benefits them, or works against them will always be an age-old question. One thing is for sure though, there is no stopping the royal clamor anytime soon.
What to Expect from the Series
HBO Max's new sitcom, The Prince, has added another show to the royal family's growing repertoire. The family (literally) takes on a different form this time around, as they are animated into full-blown cartoon characters. The adult animated sitcom is created by Gary Janetti, who is behind comedic hits, such as Will & Grace and Family Guy. Janetti is also known for his meme-worthy Instagram spoofs that have gone viral and even amassed close to a million followers already. His posts mainly contain photos of the royal family members, paired with hilarious captions that feature Prince George, the eldest child of Prince William and Kate Middleton, as a snarky commentator. The satirical posts that were once just meant to amuse is now being brought to life.
The show is set in the grounds of present-day Buckingham Palace, and follows the story of an 8-year-old Prince George, as he navigates everyday life as a British monarch. Royal family aficionados will also get to spot a bunch of familiar animated faces, as the highly fictionized storyline also includes the other well-known members of the royal family. Viewers might recognize some familiar voices upon watching the show too, as the voice cast includes some notable names. Janetti leads the pack as the voice of Prince George, while the other voice cast members include Frances de la Tour (Vicious) as Queen Elizabeth II, Dan Stevens (Downton Abbey) as both Prince Charles and the late Prince Philip, Orlando Bloom (Pirates of the Caribbean) as Prince Harry, Condola Rashad (Billions) as Meghan Markle, Iwan Rheon (Game of Thrones) as Prince William, Lucy Punch (Bad Teacher) as Kate Middleton, Sophie Turner (Game of Thrones) as Princess Charlotte, and Alan Cumming (The Good Wife) as a royal butler named Owen. Apart from the star-studded voice cast, a couple of other famous names are also set to appear on the sitcom as guest voice talents. Some of them include Paul Anderson (Peaky Blinders), Samuel Barnett (Dirk Gently's Holistic Detective Agency), and Sacha Dhawan (Doctor Who). Some reality stars and television personalities are also joining in on the fun as guest voice talents, as well. These include Brad Goreski (Fashion Police), Kelly Ripa (Live! with Kelly and Ryan), Andy Cohen (Watch What Happens Live with Andy Cohen), and even a couple of Real Housewives of Beverly Hills stars, Kyle Richards, Lisa Rinna, Erika Jayne, Teddi Mellencamp, Dorit Kemsley, and Garcelle Beauvais, who will play themselves.
The sitcom has already stirred some controversy even before it officially aired. The storyline was received with a mixed reception, as the satirical portrayal of the royal family did not sit well with some critics, who viewed it as a form of mockery that is just plain wrong and disrespectful. Prince George, the show's main character, is introduced as an entitled child who has a thing for lavish playdates and who has the palace staff at his beck and call. The other characters are not spared, as well. Queen Elizabeth II is likened to a mafia boss, while Prince Charles is portrayed as a mama's boy with an ulterior motive. Prince Harry also plays a spoiled brat who deems his LA mansion with Meghan, as the "smallest palace" he's ever been in. This is just a preview of what the viewers can expect from the series. Even though the show is received with some backlash, Janetti and his team remain unfazed. He stresses that the show is not to be taken seriously, as it is purely fictional and is meant to be humorous. Guess it's fine not be everyone's cup of tea.
The Prince was initially supposed to be released in early 2021, but was pushed back due to some unforeseen events, which included the death of Prince Philip. Alas, after a couple of roadblocks, the sitcom finally aired last July 29, 2021. It contains a total of12-episodes and is available on HBO Max.
Tell us what's wrong with this post? How could we improve it? :)
Let us improve this post!