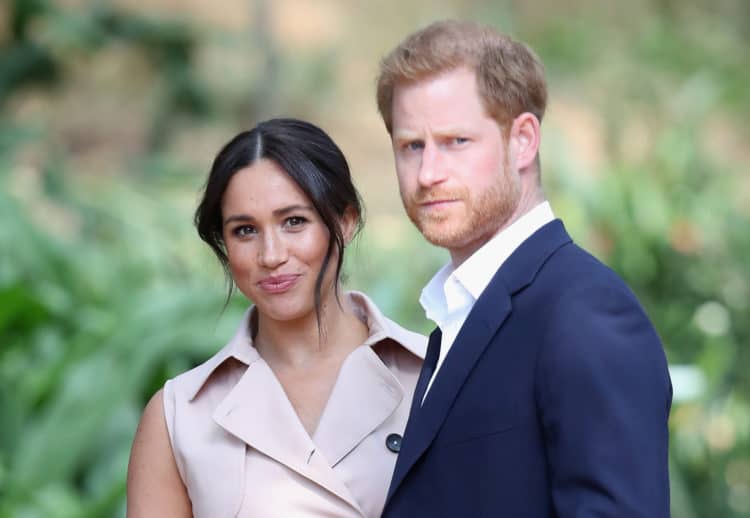 Prior to becoming a royal, Meghan Markle had everything going for her. She'd found fame and fortune through the legal series Suits, a role that came with a noteworthy regular paycheck. Meghan also earned herself a solid fanbase through her blog, The Tig, which she ran until 2017. So successful was she that she managed to churn not one but two clothing lines. She was well on her way to continued success as an individual.
Prince Harry, on the other hand, had grown up as a royal. Born to the late Diana, Princess of Wales, and Charles, Princess of Wales, Harry often came off to the public as a rebel who could do anything he pleased, unlike his brother, Prince William, the Duke of Cambridge. His unconventional royal journey led to him and Meghan Markle crossing paths. The pair made a perfect match and have continued to live like peas in a pod. With a memoir on the way, the world is looking forward to Harry telling it all.
The love story between Meghan Markle and Prince Harry began in 2016 when the couple was introduced to each other through a mutual friend. In October of the same year, word got to the press that the pair was dating. Later, Kensington palace would confirm the rumors in the form of Prince Harry's displeasure with racist attacks aimed at Markle. By the end of 2016, the press got visual proof that indeed Harry and Meghan were dating, and it seemed serious.
In September 2017, Markle appeared on the October issue of Vanity Fair, confirming her relationship with the prince. "We're a couple, we're in love." She said. True to her word, the pair made their first appearance as a couple at a tennis match. In November of the same year, they announced their engagement. Towards the end of the year, Harry and Meghan made their first appearance as a couple at a royal event, and a wedding date was set.
In May of 2018, the entire world was glued to the screens when Meghan Markle walked down the aisle. The royal wedding had an estimated 1.9 billion viewers worldwide, making it one of the most viewed real-time events in the world. At the star-studded event, Meghan's Suits castmates and who's who in the entertainment industry were in attendance. Meghan and Harry had a great run as royals, had baby Archie along the way, and fulfilled their duties until it was time to go.
Stepping Down From Royalty
In January this year, it was announced that Meghan and Harry would, going forward, not be senior members of the royal family. A statement from Her Majesty The Queen read: " I am pleased that together we have found a constructive and supportive way forward for my grandson and his family. Harry, Meghan, and Archie will always be much loved members of my family. I recognize the challenges they have experienced as a result of intense scrutiny over the last two years and support their wish for a more independent life."
The Queen further thanked the Duke and Duchess of Sussex for their dedication towards accomplishing their set royal duties all over the country. She also pointed out how fast Meghan had become part of the royal family and wished the pair a happy and harmonious life. While The Queen appeared to take the exit well, not the same could be said for the press who kept sending vitriol down the couple's way.
Following Harry and Meghan's exit as royals, their first destination was the United States. Harry would later reveal in an explosive interview with media mogul Oprah Winfrey that no sooner had they exited royalty than their security was stripped off, and Tyler Perry came to their aid as they found their footing. In a bid to achieve financial independence, the couple signed a partnership with Netflix and Spotify.
Partnership With Netflix
In a joint statement announcing the partnership with the streaming platform, Harry and Meghan said they were looking forward to creating content that inspired and gave hope. This was echoed by Netflix's Chief Content Officer, Ted Sarandos, who was elated that the couple had chosen Netflix as their home. Speaking to Oprah, Harry revealed that the decision to partner with streaming platforms was majorly to be able to provide security for his family. The deal was suggested by the couple's friends, and we'd like to assume it was a script borrowed off the playbook of former POTUS Barrack Obama and former first lady Michelle Obama, who also signed a deal with Netflix back in 2018. Prince Harry and Meghan Markle's deal with Netflix is an all-inclusive one that covers docuseries, animations, movies, and scripted series. Collectively, it's estimated to be worth a reported $100 million.
'Pearl'
In April this year, Meghan and Harry's first project was announced. The project is being developed in partnership with Canadian filmmaker David Furnish, who's also known for Rocketman, Sherlock Gnomes, and Gnomeo & Juliet. Through his Instagram, Furnish made the announcement: "I'm delighted that we are finally able to announce this exciting animated series. Meghan, the Duchess of Sussex, and I are deeply passionate about bringing the inspirational and positive stories of extraordinary women around the world to a global audience of all ages."
'Heart of Invictus'
In 2014, Prince Harry founded the Invictus Games, a sports event for ailing and wounded servicemen who are either still serving or veterans. Invictus means 'Unconquered', and the name choice is in line with Harry's intent; to highlight the fighting spirit of sick military personnel. Harry himself served in the British army for ten years and rose to the rank of captain. In a tweet made by Netflix in April, it was revealed that Heart of Invictus would 'join competitors- all service members who've suffered life-changing injuries or illnesses-as they train for the next games in The Hague.'
With the partnerships Harry and Meghan have made, it's clear that the couple's goal to be financially independent is as good as done. Just like The Queen wished them a happy and peaceful life, they have chosen to do it their way. It may be far from royalty, the lights, and cameras, but it definitely is peace in its entirety; their version of Happily-Ever-After.
Tell us what's wrong with this post? How could we improve it? :)
Let us improve this post!