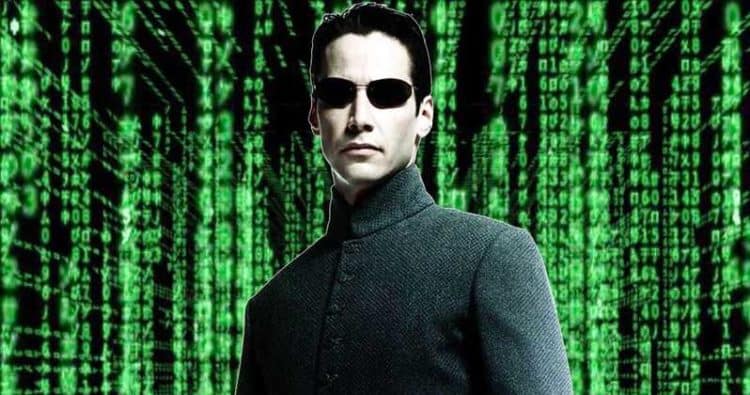 If you think of Keanu Reeves nowadays, you'll probably think of John Wick instantly. But before he was Mr. Wick, he was Neo in The Matrix. First of all, hats off to you Keanu Reeves fans who were fans of him before the John Wick days. Yes, let's be extremely grateful that the John Wick series brought him back from the brink, but what really put him on the map was The Matrix. If you remember the sequels, that's probably not the best example of how much of an impact that series has on films. For me, it blended the science fiction of the '90s and the over-the-top martial arts Kung Fu action. And let's just say it added on some seriously thick layers of weirdness and confusing ideas. Who would come up with the idea of the world we live in being an actual virtual reality?
The answer is the Wachowski Brothers. I'll give them credit for being creative and giving us some eye-popping action scenes, but they certainly fell short with the sequels. First of all, who can possibly not appreciate the level of awesomeness when Neo dodged that Agent's bullets in slow-motion? That was seriously revolutionary for the realm of science fiction/action films. It's no wonder why they decided to pursue a trilogy for The Matrix, but filming them back-to-back was clearly not the smart move. What we got was The Matrix: Reloaded and Revelations, and the third one was worse than the other. A disappointing conclusion to a a decent trilogy that started out strong.
It's no real surprise that a fourth movie never really happened, but I would've like to have seen the series make a comeback. Well, it looks like I now get to see that happen with the upcoming Matrix 4. The fourth movie, which was co-written and directed by Lana Wachowski, is slated for a December 22 release date. Returning cast members will be Keanu Reeves as Neo, Carrie-Ann Moss as Trinity, and Jada Pinkett Smith as Niobe. Wait, no Laurence Fishburne coming back as Morpheus? The one main character who didn't die in Revelations? Yeah, I'm not sure if that really makes sense. Plus, Morpheus was probably the coolest character in the trilogy. Why would they possibly count him out?
Oh, and also no Hugo Weaving as Agent Smith. So no Morpheus and no very awesome villain who carried the weight of the sequels on his back? Despite that, I'm still very interested in seeing how things play out in the next Matrix. We remember how it all ended in the last one. In short, Trinity died and Neo died. That seemed like an obvious way to end the story, but this is also the world of the Matrix we're talking about. I mean, what happened to all the people still living in the Matrix? And now that the war between the humans and the machines is over, where did humanity go from there? Oh, and are Neo and Trinity alive now?
These are questions that should be answered in the next Matrix. Whatever the circumstances of their return are, I'm sure Lana Wachowski can come up with some very weird explanation as to why. But what further details do we have on the next Matrix? We actually have the title revealed, thanks to the Warner Bros. CinemaCon reel. The title for the next Matrix movie will be, guess what? The Matrix: Resurrections. Rather fitting, huh? Not only did Warner Bros. reveal a title at CinemaCon, but they also released a short trailer.
While the trailer isn't open for the public eye to see just yet, Deadline reported on some of the details. According to them, the trailer shows Neil Patrick Harris' character talking to Neo himself. Apparently Neo is stuck in a dull and meaningless world where he questions his own sanity. As weird as it sounds, it's apparently a therapy session. But it gets even better from there, since Neo apparently meets with Trinity in a cafe. It sounds like a happy reunion on paper, but it turns out, Trinity doesn't even know who he is. Everything after that is a shot of some blue pills spilling in a sink, followed by Jefferson Airplane's "White Rabbit" song. And after that, there's a shot of a younger Morpheus giving Neo a red pill and saying, "Time to fly".
And what's a trailer without a quick montage of action? For the Matrix, it's all jumping, crazy Kung Fu, and super insane stunts. This sounds kind of cool, in my opinion. As a huge fan of the first Matrix movie, I'm still very anxious to see how this next movie is handled. Will it be a serious comeback for the series or will it be another Revelations? I seriously hope it's the former. If we're not getting Laurence Fishburne and Hugo Weaving back, I just hope Keanu Reeves goes all-out as Neo in this new Matrix. And of course, I'm expecting some amazing action scenes from Trinity as well. It literally started with her fighting and jumping across tall buildings.
So what are your thoughts, fans of the Matrix and Keanu Reeves? Are you content with just Mr. Reeves still being John Wick or do you want to see him return as Neo? We have no word on when the trailer will be released on social media, but at least we now know the title. The movie itself will still be released in December, so let's hope that release date sticks. Okay let's be honest, we're just interested in seeing if Keanu Reeves kept his John Wick hairstyle.