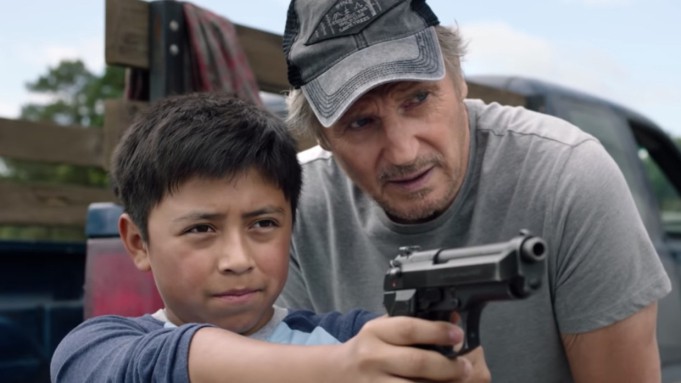 Liam Neeson is back again with his cinematic tradition attributes. He plays a character with particular skills which need saving the good people from the bad ones. This year he plays The Marksman, a mediocre subgenre. Neeson's character does not have much to present, neither does the other characters in the film. The action sequence is not inspiring, with pale suspense and a thin story. Robert Lorenz, the director of the film, seems to be focusing on movies similar to those directed by Clint Eastwood. It relates to Lorenz being behind the production of Eastwood films for the last twenty years. They include Gran Torino and Million Dollar Baby, but they lack the subject matter as sheen movies exist. Though Neeson's presence is always formidable, he seems to go through the motions.
Plot
Neeson play Jim Hanson. He is a decorated Marine and Vietnam war veteran leading a humble life along the Mexican border. A year before, his wife succumbed to cancer, leaving him spending most of his time with his dog, Jackson. The bank wants to claim his property; therefore, he leaves the dog patrolling it. In the opening scene, Jim drives on his pickup, holding a shotgun. The setting shows the landscape of the desert having a swarm glow, which means that the cinematographer, Mark Patten, does the shooting to make the patriotic imagery look like the Chevy trucks commercial. They differ in that Bog Seger is missing to present his "Like a Rock" song. We see a woman and her son crossing the borders from Mexico to the United States. They had to pass through Jims' land; little did they know that they shattered his peace. As they are running from the cartels, the woman gets shot. She then gives a death wish for her son, Miguel, to be taken good care of, to which Jim agrees.
As pragmatist as he is, Jim chooses no stance on whether entering the country was right. He is more concerned about dealing with the corpses in his land since many immigrants die from the dangerous journey. Miguel shakes that he remains silent for a long time. However, a scribbled paper with a Chicago address dictating where he should be to reunite with his family. As a result of living alone in the Mexican borders for many years, Jim cannot speak Spanish. The only vocabulary he is good at is "Comida" and "Familiar," which look irresponsible.
What Transpires?
Instead, Jim talks to Miguel in exaggerated and frustrated English and agrees to everything while on the journey. He thinks that the pack full of cash that the woman handed to him would clear his debts. Similar to Taken, he does the taking, but this time for a good cause. The Marksman is all about Miguel, Jim, and Jackson traveling to Illinois from Arizona, running from the cartel villains led by Juan Pablo Raba. The script from Danny Kravitz, Chris Charles, and Lorenz does not focus much on their roles. All the characters are violent stereotypes and Mexican thieves. Even Miguel, featured almost in the entire movie, isn't explored beyond the essential traits like fear, sweetness, and Pop-Tarts lover.
However, he is thoughtful to hang out with Jackson while Jim sleeps from Whiskey from the previous night. But be cautious; there is a scene where the dog is dangerous, which makes sense since the pursuers are hazardous. The journey has no many surprises. Jim does not care that he is phoneless, which allows him to have hiccups along the journey. However, he manages to get to a small town based in Texas. He finds a gun store this time without Yelps' help. Katheryn Winnick, playing as Jim's stepdaughter, is a border patrol officer who keeps tracking his whereabouts. Winnick tries to persuade him to surrender himself to the authorities to no avail. As the title conveys, Jim does not perfect his sharpshooting skills until the climax of the film when his carriage softens.
The Review
The events around Jim make it seem that he would remain alone on the ranch with his dog. Katheryn Winnick (Sarah) is a border patrol agent. His wife is dead from a brutal illness. And the most disturbing part is when Miguel runs in front of his pickup with his mother behind. On their tail is a group of cartel assassins. What's next is a shoot-out, a woman dies, and a death wish. Jim finds himself as Miguel's guardian and is responsible for taking him to Chicago to reunite with his family. All these events make the movie entertaining with a deep and intelligent meaning.
Jim Hanson and his property are the main attractions in the film, but one has to note little things like this. There is a watching and waiting dilemma sustaining the plot. The vicious cartel villains are dangerous but fun to watch. They take no prisoners and offer qualities beyond wickedness. But Neeson's image is the soul of the movie, with his shoulders draped with an American flag. Or preferably when he narrates to the bank about his wife's ashes near his property.