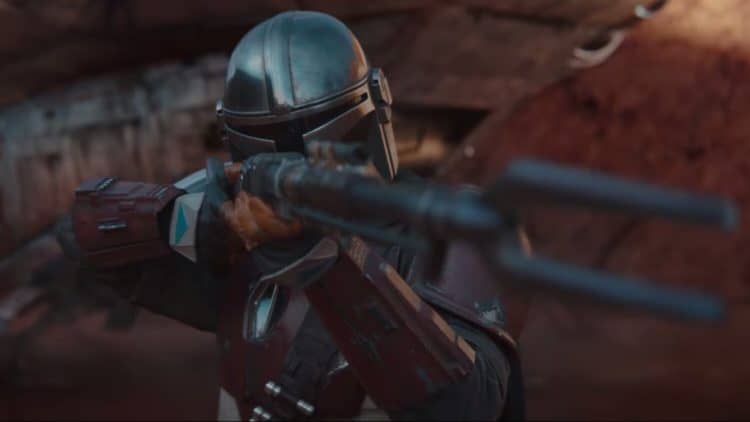 It's bound to happen to anything and everything that a person loves or hates since Honest Trailers isn't about to allow an opportunity to go by without commenting on something that offers itself up for criticism, be it good or bad. The Mandalorian has been mostly good thankfully since it's been the kind of entry into the Star Wars franchise that most people, no matter what kind of fan they are, can agree has been a welcome story and something that a lot of folks have been anticipating for a while since it's the type of story that jogs away from the main theme that's been prevalent for so long, but doesn't exit the franchise entirely. In fact, the realization that the Jedi have only been mentioned a couple of times at best has been kind of nice even for those that might love the idea of the Jedi, the Sith, and of course, lightsabers. Some people might be able to state that it makes the act of forgiving Disney for botching the most recent trilogy a little easier, but there are plenty of fans that wouldn't go quite that far yet. But it's an act of goodwill and a serious nod to Jon Favreau and Taika Waititi when one really looks at it since their efforts, and the efforts of many others, to make this happen have been outstanding, and well-received.
What's really great is that people are getting a different look at the franchise since despite not seeing how the various trades that make one world after another work, they are getting to see that there's more to Star Wars than the Rebels and Imperials, even if both are represented in the story. The Mandalorians are a group of warriors that haven't been represented that much in the franchise when compared to many others, and it's kind of a shame since they're a truly interesting culture that at one time was confined mostly to the books and comics. In recent times their culture has been explored in a much bigger way thanks to the Clone Wars, Rebels, and now The Mandalorian. At one point it would be great to see if someone is ambitious enough to go back and see if they can recreate the war between the Mandalorians and Jedi, and see if they can fully explain why each side has little but disdain for each other. As of now, it's enough to think that what we're seeing is good enough, that Din Djarin's story will sustain us and possibly keep the drive to create other, equally interesting stories in the Star Wars franchise alive.
Hopefully, it won't spawn a host of spinoffs that won't go anywhere, and will instead continue to inspire storytellers to come forward and put a new perspective on the Star Wars universe in an attempt to tell stories that have been written but not yet presented to the wider public. Like it or not, a lot of the Star Wars lore that is out there to be enjoyed is still in print, and much of it would be a huge boon to the franchise if Disney would simply admit that what has come before and even the Legends canon has some merit. The Mandalorians can exist in both, and the embracing of the old canon would be a way back to prominence despite the financial success of the most recent movies. The Mandalorian has done well thus far for a number of reasons, but one of them is that it hasn't reached so far as to make itself the ultimate story in the galaxy. Despite what the Child might be worth, the whole story has thus far downplayed the importance that the small creature plays and has kept Din as a big part of the tale since this is his story and his journey. At one point it might be that the story will have to let the Child go or perhaps jump forward and show how the Child has developed, but at the moment people are intrigued as to how Din is going to find the Child's people or a Jedi to take care of his young charge.
As of now, The Mandalorian is one of the best parts of the Star Wars franchise, at least that's current and able to be enjoyed by many upon many fans. Where it will go and how it will continue to develop will be watched very carefully by the fans and those that are behind the camera, but it feels safe to think that things will continue to unfold in a manner that will allow the fans to continue enjoying the series and possibly foster some faith that the franchise will continue to expand and improve upon its various stories. After all, this is the way.