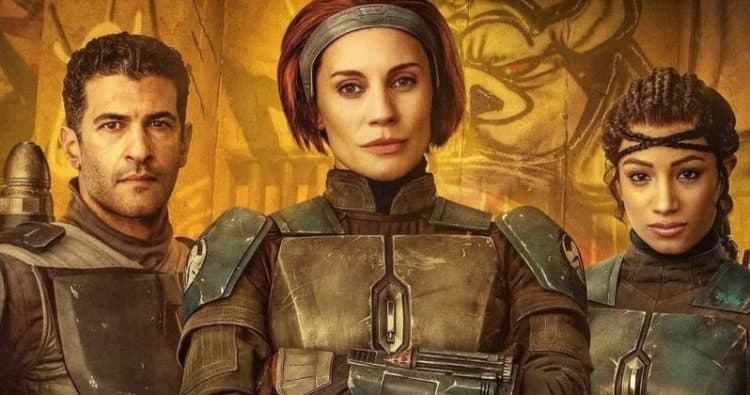 The only real disappointment with seeing Sasha Banks in The Mandalorian was that she wasn't playing Sabine Wren as a lot of people were hoping, but instead took on the character of Koska Reeves, a member of Bo-Katan's entourage and someone that was just as deadly in a lot of ways. But apart from that, it's very easy to be excited about seeing her on the show, especially since it's likely that we could see her again. Learning that Jon Favreau picked her out due to her appearance on Hot Ones is kind of funny since it indicates that Favreau watches this show and that if not for that small fact that Banks might not have been selected. The idea that he was impressed with her appearance and her story isn't too hard to determine since Banks has obviously been working extremely hard to cultivate the Boss persona that she's known for and has taken the time and effort to really push that idea through in the past several years. As one of the ranking WWE superstars and a current champion she's definitely a big deal in the WWE at the moment, which is another reason why having her on The Mandalorian is such a good idea and possibly why Favreau took a shine to her in the first place. Not only that, but she does have a great deal of personality that is able to come through on-screen and this is one aspect that helps in a show such as The Mandalorian.
To hear that she was nervous about being asked onto the show isn't hard to imagine or believe though since even experienced actors still get the jitters now and then when they're asked to perform for big franchises such as Star Wars. From the first time she showed up in the trailer to now, Banks was accepted as a part of the cast since she's a huge celebrity that people know about and that can draw a crowd. But learning that Bryce Dallas Howard, who directed the episode she appeared in, walked her through the part was kind of nice since it indicates, once again, that actors aren't perfect and do manage to get nervous, but that she's branching out as well and could possibly have a career outside of the WWE if she so chooses. She wouldn't be the first wrestler to do this since several others have attempted, and succeeded, at taking on other interests outside of the ring.
Whether she would continue to be an action star or go some other route though is kind of hard to say at this moment since her role as Koska is the first official time she's stepped outside of the ring to take on another role. But so far, despite not having a lot of lines, she's been fairly impressive since she delivered what lines she had with enough expertise to make it clear that she could possibly cut it on the Hollywood scene. One has to remember that a lot of the pro wrestlers that come through the WWE need to be convincing enough in the ring and on the mic to really get the attention of the fans, and Banks is one of the best to date since she knows how to work her persona and make it convincing. To think that we might be seeing her outside the ring even more in the years to come isn't difficult at all since it would be kind of interesting to see what else she could do and how far she would take her acting career. It's easy to point to stars such as John Cena, Dwayne Johnson, Dave Bautista, and several others when it comes to the success stories that have come from their foray into Hollywood, but there have been a few others that didn't pan out as well despite the fact that their status in the WWE was solid when they attempted to make it in the acting world.
Jon Favreau obviously thought that Banks had something worthwhile when he contacted her and it allowed him to go through the process of seeing what she could do and putting her in one of the most popular shows on streaming today, so obviously, Banks has what it takes to impress people and it's likely that if she's really interested in doing so that she'll stick around for a while to come since The Mandalorian is no doubt gearing up for something big if more Mandalorian's are being brought in to help out. Plus, it almost feels likely that the second season finale could be even bigger than the first season's, so it's a big hope that we'll see Banks' character again once things really start to heat up. As it stands now, her character is definitely one that people would like to see more of.